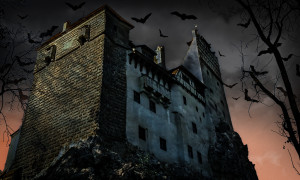 Trip is Full – A Dracula Adventure in Transylvania, Romania (Oct. 28 to Nov. 2, 2015) 
This tour is the best Halloween invitation I've ever sent out in my life! Our six-day Romanian adventure, which includes dining in the house where the real-life Dracula, Vlad Dracul, was born in 1431.
Our Transylvanian guide (with whom I explored Romania with extensively), has designed a journey that will take us to his favourite local haunts: medieval castles with gruesome history, torture chambers, a local Halloween party, moody cemeteries, all contrasted with one of the most beautiful times of year to visit Romania which will be glowing in autumn colours. Christopher Campbell, professional photographer (Chatelaine, Food Network, Harper Collins), will be guiding you during our escapades to capture photos of a lifetime, whether you're using a mobile device, point & shoot, or a DSLR with multiple lenses.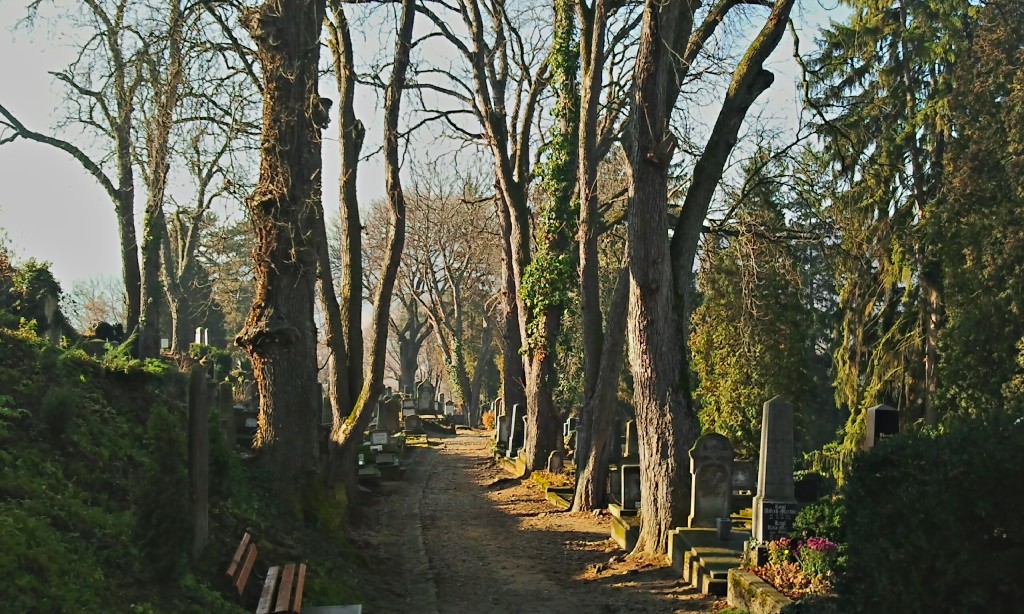 Oh, and BYOC ("C" stands for costume) – the rest is included: all meals, accommodation, and transportation while on this fantastic tour.
Kirsten Koza
Adventure Travel Writer
Writers' Expeditions Host: info@kirstenkoza.com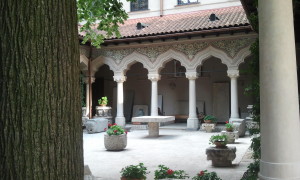 Itinerary and Prices (October 28 – Nov 2):
Day 1 – Welcome to Romania – October 28th
– Check-in to our hotel in Bucharest.
– Late afternoon group meeting – a taste of tuica (plum hooch) or if you prefer you can indulge in some award winning Romanian wine accompanied by tips on night photography, plus a surprise.
– Enjoy a Romanian dinner and a walk through Bucharest's historic center.
Day 2 – Bucharest tour – October 29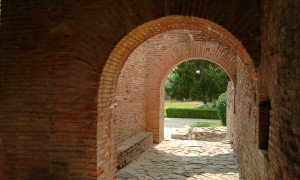 – Breakfast  (and photography tips for the day)
– City tour of Bucharest in the morning: Bucharest was first settled in 70 BC and by the 1400's was the wealthiest city in Eastern Europe. We'll visit the ruins of the Princely Palace, the castle that Dracula (Vlad the Impaler) built in celebration of his own greatness or evilness. And we'll go to the Palace of Parliament, second largest building in the world, a legacy of a more recent "Dracula," the communist dictator Ceausescu (executed in 1989).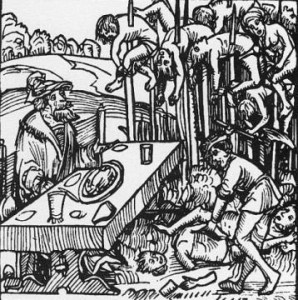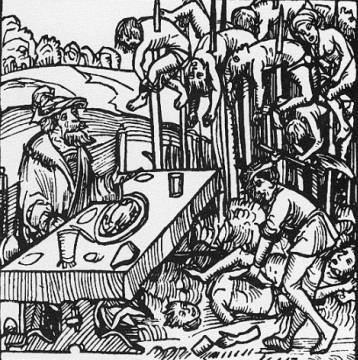 – Drive to Targoviste (100 km west of Bucharest) a thriving market town since the 1300's and the capital of Wallachia during Prince Vlad Dracul's time.
– We'll delve into the ruins of the Royal court, a place riddled with stories of greed and cruelty.
After dinner we'll share photos and will talk about the scariest movies, books and stories both fiction and non-fiction, to prepare for tomorrow.
– Overnight in Curtea de Arges in Montana 3*** Hotel.
Day 3 – The real castle of Dracula – October 30
Today we'll visit the most spectacular of Dracula's castles, the ruins of Poienari, perched high on a rugged crag over the Arges gorge. There are 1480 steps leading up to this fortress, but someone better count because the sign at the bottom differs. In 1462 Prince Vlad was besieged here by the Turks. He sent a message to the village of Arefu for help but his wife, fearful of capture, threw herself off the cliff before rescue. The villagers arrived at night and managed to smuggle the Prince across the high Carpathians to the safety of Transylvania, and in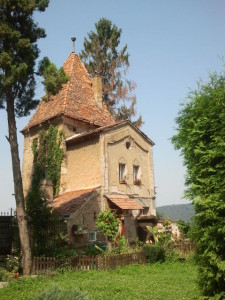 return Vlad gave them 16 mountains as pastureland, a reward the people still celebrate more than 500 years later, and this makes this blood thirsty and vengeful ruler a hero still to this day.
– Drive to Sighisoara.
Tonight we'll dine in the house where Prince Dracula was born.
– The medieval city is lit at night, offering a great opportunity for photos.
– Overnight in Casa Wagner 3*** hotel in Sighisoara
Day 4 – Halloween Dinner at Dracula's – October 31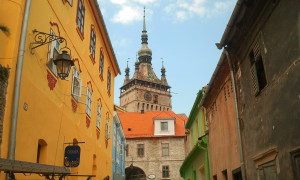 There will be a guided walk round the old walled town of Sighisoara, one of the best preserved walled cities in Europe. We'll visit the clock tower, the torture chamber, and the arms hall.
– Later we'll climb the covered stairs to the 13th century Hill Church, and will prowl the gloom-dripping historic cemetery.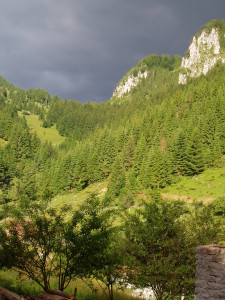 – Drive to Moeciu, just 15 minutes from Bran Castle, the castle known as Dracula's castle. The first time I saw Bran Castle there was forked lightning over it—I kid you not!
– Halloween dinner: then depending on local happenings; we'll aim for the best party.
– Overnight at Horia's family's farm in rural Moeciu in the Carpathian mountains, where they'll give you treats not tricks and chop firewood to heat your bath.
Day 5 – The Draculas' Castles – November 1
We'll explore Bran Castle, built circa 1377. The castle belonged to Vlad the Impaler's grandfather (Mircea the Old) and was attacked by Vlad in 1460.
– In Brasov: we'll conquer the medieval ramparts, watch towers, and Saxon churches (if they don't conquer us) – but best of all, this city boasts the narrowest street in Europe!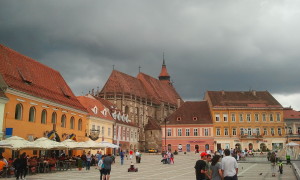 – Overnight: back in the Carpathians pass at Moeciu, you'll be encouraged to eat too much from the farm's fresh organic harvest, and will get to sample homemade cheeses (like this one ripened in tree bark) and Romanian brandy.
Day 6 – Escape – November  2
Return to Bucharest (2.5 hours) with a stop to visit Snagov Monastery where Vlad Dracula is buried. (If your flight is today but not too early, we can bring you to the airport.)
Prices and Inclusions: 
Tour price is $1800 USD (single supplement is just $210.00 USD for the entire tour). Normally I encourage people to have their own snore and burp space, but on this tour, if you think your imagination might play games at night, you may want a roommate) – a $350.00 deposit reserves your spot.
All accommodation (rooms are doubles when staying at the farm)
All meals
Photography sessions for those who wish
Writing tips for any who wish
All transfers and transportation on tours
English speaking guide
All entrance fees to castles and museums
Exclusions:
Airfare
Alcohol (unless listed on the itinerary)
Visa (not something for North Americans or Europeans to worry about)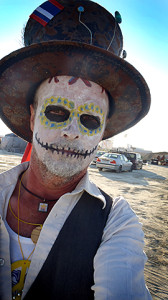 I've invited one of my favourite photographers (and one of the best travel companions you'll ever meet) to lead our photographic adventures and share a lifetime of tips, tricks & technique. You have probably seen his images displayed on TV's Food Network cooking shows or in publications as varied as Chatelaine, Spa Magazine, or Harper Collins cookbooks–and most definitely in ads–he's the one you can blame for making you crave Absolut Vodka, Kahlua, that dew dripping glass of Gordon's gin, Florida oranges, late night fast food at Wendy's or McDonald's (blame him for that), or test driving a Mercedes—that's Christopher Campbell's fault too.
Kirsten Koza, your host and expedition designer, is a professional adventure travel writer, author, humourist and journalist. Kirsten's first book, Lost in Moscow, is published by Turnstone and her anthology, Wake Up and Smell the Shit, comes out this fall and is published by Travelers' Tales.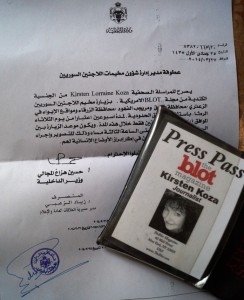 Kirsten writes for TheBlot business and pleasure magazine (Wall St., New York) on topics as varied as going inside the largest Syrian refugee camp, to the psychology of bullfighting, cannibalism, dildos, and politics. Her articles and photographs have been published in newspapers and magazines around the world, in publications such as DreamScapes travel & lifestyle magazine in Canada and The Guardian (UK), to the Iquitos Times in Peru and the Guatemala Times in Guatemala (obviously), to OUTPOST (a hardcore travel magazine) and Open Central Asia (a business and society magazine), plus she's even made the front page of Kyrgyzstan's national newspaper.