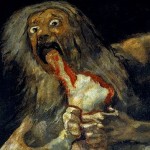 (This is the first article I wrote for
TheBlot magazine
, Wall St., New York.  It was published on Sept. 27, 2013.)
According to Cornell University Law School, there aren't any laws in the US prohibiting cannibalism (the nonconsensual consumption of people).
In July (2013), Tyree Lincoln Smith (Fla.) was found not guilty for gorging on a vagrant. Then on Sept. 9, three Superior Court judges committed Smith to 60 years in a Connecticut psychiatric hospital. They feared he'd eat more humans if left free to roam.
Unlike Tyree Lincoln Smith, or serial killer Jeffrey Dahmer — whose flesh fetish landed him in prison — many cannibal cases are cases of survival.
Every time I fly over the Andes Mountains I look at the icy peaks piercing through the clouds and imagine the infamous 1972 plane crash survivors eating their frozen rugby teammates to stay alive.
Would I eat people? Of course I'd eat people.
But last month I tucked into alpaca steak and was overwhelmed by the maleness of the alpaca meat. My little alpaca had that masculine essence of a big buck killed by a car instead of a bullet.
Would the meat of a human male killed in a plane crash have the overpowering rankness of roadkill buck? Maybe women would taste better. And what is that man taste — is it hormonal?
I knew the perfect expert to ask, so I fired off a Facebook message to Paula Lee, PhD, at University of Chicago, author of the new book "Deer Hunting in Paris; a Memoir of God, Guns & Game Meat" and, on a more serious note, author of "Meat, Modernity, and the Rise of the Slaughterhouse." (read more…)