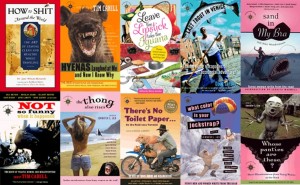 Call for Humorous Travel Stories for Travelers' Tales Anthology: Wake Up and Smell the Shit
I'm the editor for Wake Up and Smell the Shit, the Travelers' Tales 2015 anthology of outrageous travel misadventures. You're invited to submit your true stories of shitting, barfing, farting, bad situations, snakes, demons, hookers, robberies, accidents, peculiar medical procedures, hilarious sex-ploits, gun-toting drug crazed militants, or bureaucrats gone wild. This book can have it all. We want crazy travel stories that will make the reader laugh as they wake to the realities we are often protected from at home.
Travelers' Tales is dubbed "the travel publishing giant" by Matador. Their books and stories are often award winning, sometimes bestselling, and the quality of writing is exceptional. If you're not a pro at submitting to publishers, a good tip is to always read some of their work before sending them yours.
I'm looking forward to reading about your shitty trips, rollicking disasters, and upchuck-worthy experiences abroad.
Sincerely,
Kirsten Koza
Story length
1000-8000 words
Multiple Submissions
Yes, and you may also submit more than one story for consideration to this volume.
Deadline
Submit stories from now until September 1, 2014. Don't wait for the deadline if you have something ready now or in the near future. A few tales have been uploaded to the website already that have made me incontinent with laughter—we've started to make some decisions.
Remuneration
The writer of a story selected for the anthology receives a $100 honorarium, one free copy of the book, and the right to purchase an unlimited number of any Travelers' Tales titles for 50% off the cover price (plus shipping and handling).
Submission
Send your submissions in .doc or .docx files to Kirsten Koza: WUSS.editor@gmail.com. Please indicate in your email whether your story has been published previously or not, and if so where it was published.

And also upload to the Travelers' Tales website:
 www.travelerstalesstories.com (there is a form to be completed on the website)
Please include on your essay all of your contact information, plus a 3- to 10-line bio about yourself. Essays will not be returned; notification of acceptances only, close to publication date. Essays not selected will be considered for future Travelers' Tales books, unless the author explicitly requests otherwise. We collect year round for various collections, so if you miss the deadline your story will be considered for the following year.
Rights
Travelers' Tales is interested in non-exclusive rights, in all languages, throughout the world. Our use of the material does not restrict the authors' rights in any way to have their stories reprinted elsewhere.
Caveat
In most cases we will do some editing of accepted stories for considerations of style, grammar, or length and may also alter the story title. Due to the large number of submissions received we will only contact you if we decide to include your submission in this collection. Final decisions are made near the end of the editorial process, and all authors whose stories have been accepted are notified at that time.
In addition to publishing books, we like to promote the best travel writing we can find and do so in our Editors' Choice section and elsewhere on our website. By submitting your story to Travelers' Tales, you agree that we may post it on our site as an example of good travel writing. You will not be paid for this use, but you will retain all rights to your material, and as a Travelers' Tales contributor you will be able to purchase any TT books at 50% off. If you do not wish us to post your story, please indicate this clearly at the beginning of your submission. If we select your story for publication, we will contact you regarding permission and payment.
___________________
CBC Radio Canada International: "Some writers are famous for writing love poetry—Pablo Neruda, for instance. Others, like Scott Adams, have managed to pin to the page the preposterousness of corporate America. Rohinton Mistry is known for his poignant portraits of Mumbai; Sir Arthur Conan Doyle changed the face of detective novels by creating Sherlock Holmes. But no one can describe an unfamiliar bathroom quite like Kirsten Koza."