There's a Plunder of Uranium in Them Thar Hills
story and photos by Kirsten Koza
(first published in Perceptive Travel Magazine – USA)
My travel insurance provider said Kyrgyzstan was a "no-fly zone" due to the revolution. Sergey, who'd been organizing my mountain bike ride across the Tian Shan Mountains, looked out his window in Bishkek and declared he couldn't see a revolution. Regardless, media showed it to be gruesome, so nobody from North America would join me. My Kyrgyzstani cycling guide and I had spent the first two days cut off from our support vehicle and supplies by rockslides. We felt lucky to be alive and were now reunited with our driver and translator.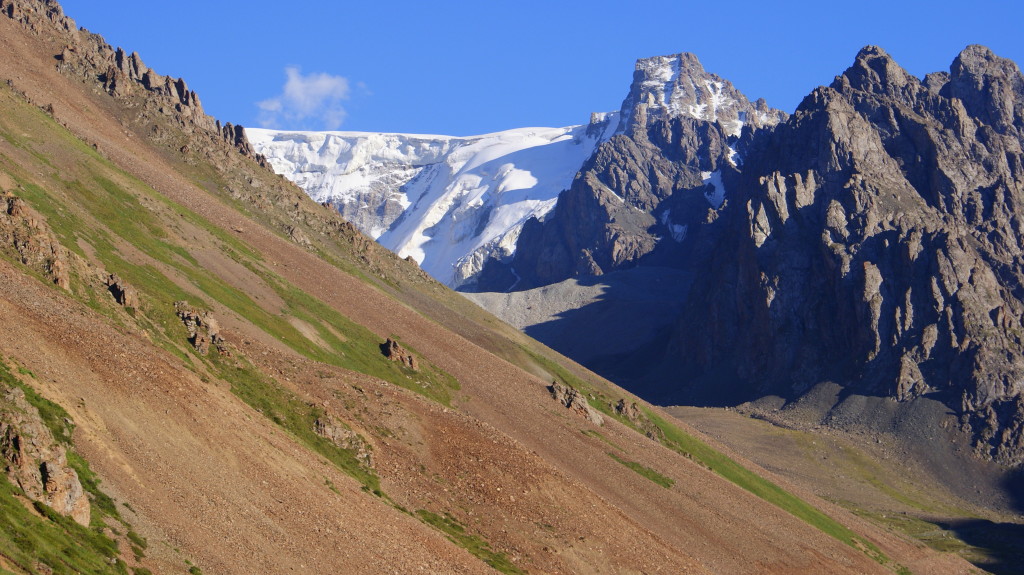 Alexey turned the 4×4 onto a dirt track but Kyrgyz nomads surrounded us, blocking our path. The nomads' Mongol features were all malformed, faces too narrow, impossibly close set eyes; one of them in a crisp white shirt and tweed vest surely had Down syndrome. He shoved his head through Alexey's open window and inspected my petite, blonde bike guide in the passenger seat and then, Cholpon, my pretty, young, Kyrgyz translator in the back beside me. His small eyes finally seized me. These men weren't leering; they were sizing up livestock at a market. I hid my middle-aged breasts behind my knapsack and reached for my camera. If something was going to happen, I wanted to capture it. I was still haunted by the parting words of a magazine editor a few years back who'd threatened me as I left for Easter Island with, "No picture; no story."
"No, don't," Cholpon covered my camera. "Alexey, please put up your window." She transitioned from English to Russian to talk to Alexey and Yena and then back to English. "There's something wrong with these men. They only speak rough Kyrgyz—they have just a rudimentary knowledge of language." Kyrgyzstan had formerly been part of the USSR and most people spoke Russian, but these men didn't, and apparently they barely had a grasp of Kyrgyz.
Alexey revved the engine. Alexey had grown up in Soviet times. His parents were rebels, so, instead of speaking to him in Russian when he was a baby, they only spoke to him in English. Two nights ago, between vodka shots, he'd asked me to imagine his first day at school—a Russian kid from Kyrgyzstan, in the USSR, and English was his first and only language.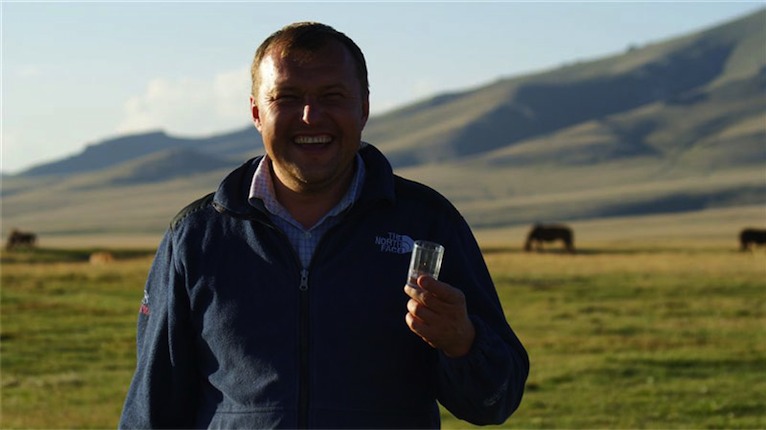 The nomads ignored the urging from Alexey's engine.
Cholpon was panicking. "Please, let's get out of here. They're primitive."
This wasn't just primitive. Why would every single one of them have obvious mental and physical afflictions? We were in the middle of nowhere Kyrgyzstan.
"Alexey, we need to go!" Cholpon hissed in my ear.
Two of the men banged the hood. They wanted us to take a tire up the mountain. Alexey indicated that the Toyota was packed with our camping gear and bikes and said "no." He coaxed two deformed heads out of the window with the automatic window button. He nudged forward, pushing them and then gunned it leaving the primitive men and their wheel.
Ak-Köl, Lake of Secrets
Cholpon babbled about how terrifying they were as we drove through streams and gullies and swamps and headed up the tricky track until we reached a mind-blowing emerald, turquoise, and copper-green lake. Lake Ak-Köl hadn't been on any of my maps, so Alexey marked it for me. The water shimmered like a chameleon as it reflected both the sky and the red, mineral-laden mountains that were dotted with trees. There was a plunder of riches in these hills. As we rounded the lake we came upon a ghost town of matching, dilapidated wooden houses with boarded windows. Alexey made a U-turn, and we headed back a short distance to set up camp on a patch of grass at the water's edge.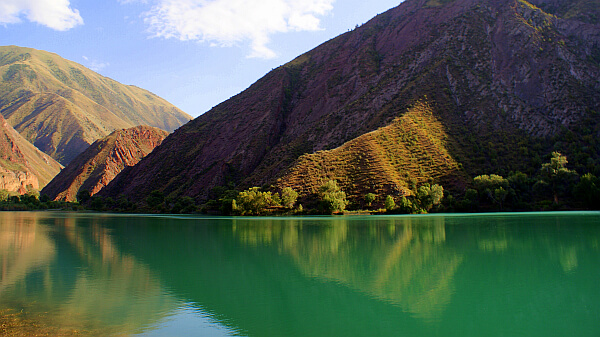 As we unloaded the gear, Cholpon seized my hand with an eagle claw grip. She pointed speechless with her other hand. Where had he come from? Marching past, looking dead ahead, in his crisp white shirt and tweed vest was the man with Down syndrome. He hadn't even broken a sweat climbing the mountain on foot as fast as we had done in a 4×4. We all stared. His shirt still looked freshly ironed. Cholpon pleaded with Alexey and Yena that we leave. They told her to stop being silly.
I decided to take photos of the lake and find a bush to pee behind while my guides argued. Alexey and Yena were irritated with Cholpon. They said she was overreacting. Cholpon was assigning supernatural powers to the man with Down syndrome. I didn't like how he'd suddenly appeared. It should have taken him hours. I peed and looked across the lake as the distinct feeling of being watched crept along my arms with a gaggle of goose pimples. Then I heard voices from the far shore. No, maybe closer. There was laughter. I struggled to pull up my pants. I used my camera like binoculars but couldn't see anyone.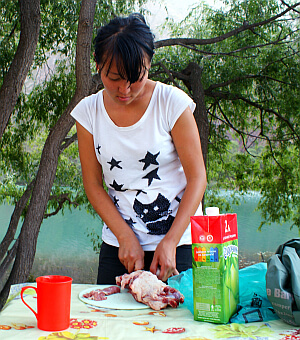 I rushed back to camp. Cholpon was crying and chopping up a chicken. Alexey was pumping up his air mattress in the van. Yena was erecting the tents. I poured myself a glass of wine and grabbed my laptop. "Yena, what's up with Cholpon?" I asked.
"Pfft," Yena dismissed. "She thinks she is going to be kidnapped bride, like her sister." I pictured Cholpon being carried away by a village of deformed men.
Cholpon had told me about her sister just minutes after she and Sergey had met me at the airport. Cholpon's sister had attempted suicide to escape the family of nomads who'd kidnapped her. The nomads thankfully had brought her to a hospital which was how she got away. Sergey had seen my concern and assured me I had nothing to worry about because the nomads liked docile women (not me) who could also make kumis, fermented mares' milk, and I couldn't even milk a horse. He was kind not to point out that I was also too old.
Two men approached from the abandoned mining town, which I was suspecting, although boarded up, was far from abandoned. I hadn't seen a sign of a woman. But they had to be here—doing laundry maybe? I wondered if they all shared the same mother and how many generations of incest this was. The men were asking Alexey for cigarettes. I took a photo.
"No!" Yena whispered motioning me to put my camera down. "And hide your laptop." She dropped her jacket on my equipment.
The men stumbled back to the village. They looked like they'd been imbibing in something stronger than horse milk. They were met with whoops and war cries.
"Have you ever seen the movie, Deliverance?" I asked my guides. Alexey had a huge stack of DVDs of international films which he watched in the van while Yena and I biked. None of them had seen Deliverance. Dueling banjos dueled in my head. "It's about a camping trip that goes wrong." I chose not to tell Cholpon about the sodomy scene.
We ate, and Cholpon wiped a steady stream of tears from her face and actually drank some of my wine, which she didn't do normally, being Muslim. This rule didn't seem to apply to Kyrgyz men. Many embraced the Russian tradition; if you open the bottle of vodka, you finish the bottle of vodka.
Darkness devoured the landscape. And soon as it did the howls and cries of mounting excitement from the ghost town started to move in the blackness. We heard wolf cries and then lights flickered—lanterns had been lit as if on cue and were bobbing as they were carried from the village in single file along the far shore. Another line of lights snaked towards us. They were going to surround us. Maybe someone would be killed and then I'd have something to write about. Did I just think that?!
A Night Escape
"We're going!" Alexey was pulling tent pegs. I could stop him. Sergey had said my guides were to do whatever I wanted. The villagers were circling. If I gave the order to stay, I'd definitely have something to write about. What would happen? Rape, murder? Cholpon was sobbing. She threw pots in boxes. A sensible wave of terror swept over me. What was I going to do, just stand there and take photos of a massacre on a mountain? Yena and I pulled down a tent.
"Hurry," Alexey panted. "Don't remove the tent poles. Throw it in the van. We'll deal with it later. Don't worry about the garbage!" That wasn't like Alexey. "Fucking leave it for them."
Their screams and lights were all around us. Yena and Alexey jumped into the front and Cholpon and I had to lie on Alexey's air mattress in the back with the chaos of tents and gear. He spun the tires. We frantically locked the doors.
"Don't get stuck, Alexey," Cholpon cried and held my hand. That was my big fear too. We'd made our way through rivers and sucking mud in the daylight. This was treacherous at night. Nobody else knew where we were. We'd changed our route because of the landslides. There wasn't cell service. Cholpon whispered in my ear, "Do you think they'll rape us?" Yeah, I actually figured that might be the best case scenario. It was the murdering that had me even more worried.
I was exhausted the next morning. I sat with my feet in icy rapids. The water here too had a mineral rich hue. I'd hardly slept. Even though Alexey assured us we'd driven far enough from the not-so-abandoned mining town and its horror film of inhabitants, I couldn't stop thinking about how the man with Down's could appear from nowhere. Maybe there were shortcuts they knew. Yena handed me a cup of coffee. "Yikes," I looked at the curdled artificial creamer.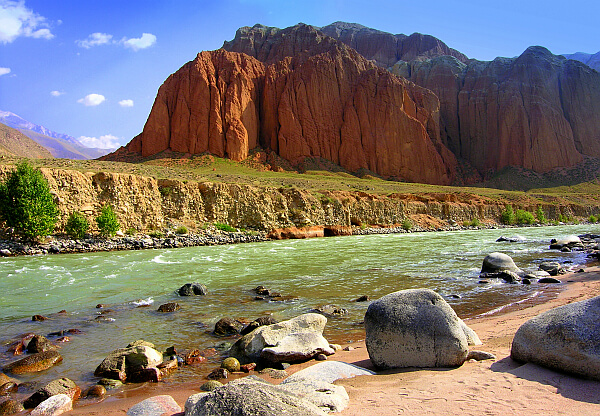 "Yes, I don't know why it do this," she said.
It looked disgusting, but I drank it anyway. I was still perturbed by my dangerous urge of last night. I'd actually fantasized someone dying for writing fodder. Sure, there was a lot of competition out there for an exciting story, and not many of us were unfortunate (or fortunate) enough to have to hack off an arm to survive, or be taken hostage in Afghanistan, but for me to wish for something like that was as gross as the paparazzi who took photos of J.K. Rowling's crotch when she was enjoying a day at the beach. No, maybe not that gross, because I'd never take a photo of a children's author's privates…perhaps John Grisham or Dan Brown in a Speedo—but not to sell.
I went for a second cup of coffee. I sniffed the powdered creamer. Could anything even go wrong with the stuff? I spooned it into the cup of instant coffee. It curdled. I sipped it again. It tasted okay. Perhaps it was the PH of the antifreeze-green water. Cholpon had filled our water containers at Ak-Köl.
"Nobody Lives There"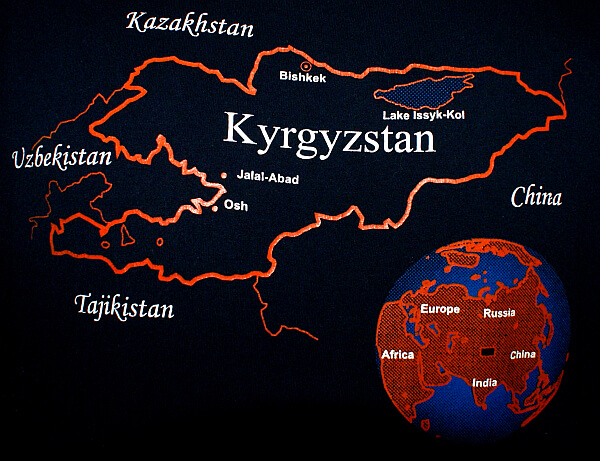 Yena and I had been biking all day along a two-track. We were lost. Somehow we were going to have to find Cholpon and Alexey with no cell service. Just ahead was a red Mercedes and several generations of Kyrgyz males packing up their fishing tackle. They agreed to give us a lift. As we took the wheels off our bikes to fit them in the trunk, they wanted to know where I lived in Canada and why I was here during a revolution.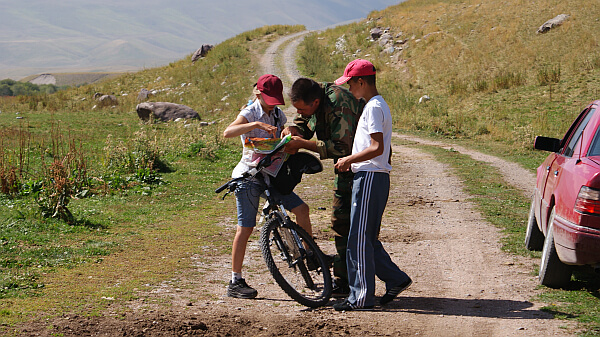 One of the men was an executive at a Belgian mining company. Yena told him about Ak-Köl. He kept saying, "No." The rest was Russian. I looked at Yena to translate.
"He said nobody lives at Ak-Köl. He said it's closed. The lake is contaminated with uranium."
Visions of my curdled coffee swirled before me. I'd been drinking uranium while imagining taking dirty photos of John Grisham and Dan Brown.
Four years later, Cholpon, Sergey and I are sitting in an exotic, tented restaurant in Bishkek. The white fabric billows in the summer breeze which carries the scent of grilled meat and fresh bread. I'm back. I'm here to photograph Kyrgyz nomadic life—the horse games, eagle hunters, markets, yurts, and food.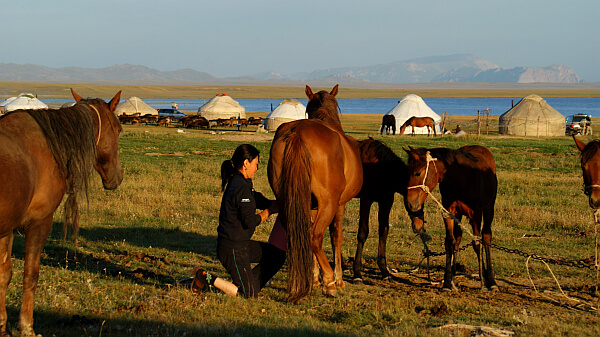 "When I teach tourism classes in the winter, I always tell the story of Ak-Köl." Cholpon hands me a skewer of sheep meat. "Nobody believes me."
"That's weird," I agree, "because when I've told the story, I've had people deny that anyone lives there and even say there is no such lake. Maybe I should return. The lake is killing people. That's got to be why they're all deformed."
"You can't," Sergey says. "It's forbidden. It's closed. Nobody lives there."
I have the distinct feeling that people do still live there. My pulse quickens. They are hiding in the hills, camouflaged like their toxic chameleon of a lake.
 _____
Kirsten Koza is an author, humorist, and journalist. She edited the Travelers' Tales anthology Wake Up and Smell the Shit: Hilarious Travel Disasters, Monstrous Toilets and a Demon Dildo, and she is the author of Lost in Moscow: A Brat in the USSR. Always looking for her next adventure, Kirsten has covered topics (for newspapers, magazines and anthologies worldwide) such as tornado chasing, cannibalism, insect eating, mummies, Putin, gluten, and body disposal. See more at www.kirstenkoza.com.