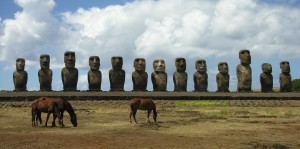 In Deep Doo-Doo: but just how deep is that doo-doo? It can be 164 feet deep at the ecological paradise of Islas Ballestas off the coast of Peru. The Inca didn't just mine gold; there was guano to mine and lots of it for fertilizing their thousands of varieties of potatoes and corn.
When the Inca were conquered by the Spaniards, it wasn't just Inca gold that the Spanish valued, there was an abundance of explosive producing poo for profit (actually bat scat has more bang for your buck). The Spanish navy fought for control of the Chincha Islands off Peru in the mid 1860's. And slave traders ("traders" is too polite a term) brought slaves from Africa for dung digging.
History books often call these slave raiders "Peruvian slave traders" but you can stop visualizing four-foot-tall Amazonians with lip plates and bad haircuts or coca munching Quechua helming an Armada of slave ships  because the slavers were European not Peruvian-Peruvians. These slavers invaded Easter Island (3800 kilometres from Peru) in 1862, slaughtering and abducting around 1500 Rapa Nui. They took those who weren't infirm, the warriors, the priests (the educated), chiefs with long fingernails who lifted bananas not shovels, bare breasted beauties, fishermen, and youth, to mine bird and sea lion droppings.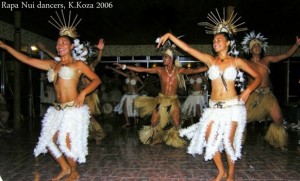 International outcries demanded that the slavers return the Rapa Nui to Easter Island. They did return about a dozen of them, with smallpox. The Rapa Nui were the only Polynesian people to invent a written language and their educated people who could read it were all dead. Their Birdman Civilization (or cult) was wiped-out for bird shit. By the mid 1870's there were 111 Rapa Nui left on Easter Island.
Even though the Rapa Nui population was so low, their numbers have grown to over 4,000 today. It's remarkable that they're so freaking good-looking, too, and not just inbred and freakish.
By Kirsten Koza