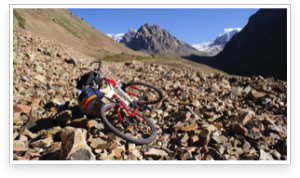 Regardless of a high risk travel advisory, Kirsten went to Kyrgyzstan for three weeks and mountain biked the Kyrgyz Republic section of the Silk Road and the rugged mountain tracks with Elena (a Kyrgyzstan/Russian guide) and drank fermented mare's milk with Cholpon (a Kyrgyz cultural guide) which Kirsten vomited up the rest of the day while carrying her bike up Chok-Tol and then back down again in the dark.
Sergey of Nomad's Dream in Kyrgyzstan put together this incredible adventure of a lifetime (here is the itinerary with details and prices) and supplied a list of cultural Do and Do Nots and some as well — which Kirsten managed to botch.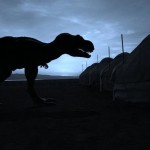 Mare's Milk, Mountain Bikes, Meteors & Mammaries
 A nipply night in nomad's land.
By Kirsten Koza
(First published in the book, The Best Women's Travel Writing, Volume 8: True Stories from Around the World)
"Oh, no, Kirsten!"
My Kyrgyzstani guide's warning came too late, and stepping in poo had never felt so good. My cycling shoe sank into the dreadful yet luxurious warmth of fresh animal dung. I was chilled to the point where I was actually lingering ankle-deep in feces, by choice.
Yena shone the light of her cell phone, its only feature that was still working, onto the molten mound enveloping the bare skin of my lower leg. The droppings looked like something a brontosaurus might have deposited. A meteorite seared across the night sky, so close that you could actually hear it crackle as it hissed down the vertical gorge to the Chong-Kemin valley.
The point of light from Yena's phone caught me in the eyes. When I'd first met her, yesterday, after traveling thirty-six hours from Canada, I'd told her that I had two irrational phobias. The first one—fear of the dark—I fabricated as an excuse for not wanting to climb the unlit, steep, winding stairs of an eleventh-century minaret. I wasn't worried about the lack of lighting; I was being lazy. The second phobia—which I'd added to brighten the mood after she looked disappointed that I didn't want to go up the tower—was real: I was terrified of meteorites. I was seriously scared of being struck by a shooting star. I'd lie in bed at night imagining them out there in space.
Now here we were on a mountain, in the dark, unable to make it across the pass with our bikes because a fresh rockslide had strewn unstable boulders and scree for several kilometers in every direction, including on the slope directly above us. We'd had to turn back and were descending on foot from an altitude of four thousand oxygen-deficient meters above sea level, as night smothered Chok-Tal Mountain. The blinding dark was being shredded by the Perseid meteor shower—shooting stars so close it seemed I could even smell their trails of smelting iron and sulfur. I snuggled into the poop.
"Yena, why did the old Kyrgyz nomad ask me if I was afraid of wolves?"
"I no know why. Is very strange."
It was weird. It was the only thing he'd communicated, as we'd left his family's yurt in the afternoon to head up over the mountain chain. He had a wind-whipped and sun-lashed face, a riding crop, a long white moustache, and a traditional white felt hat that made him look like he was wearing a small yurt on his head.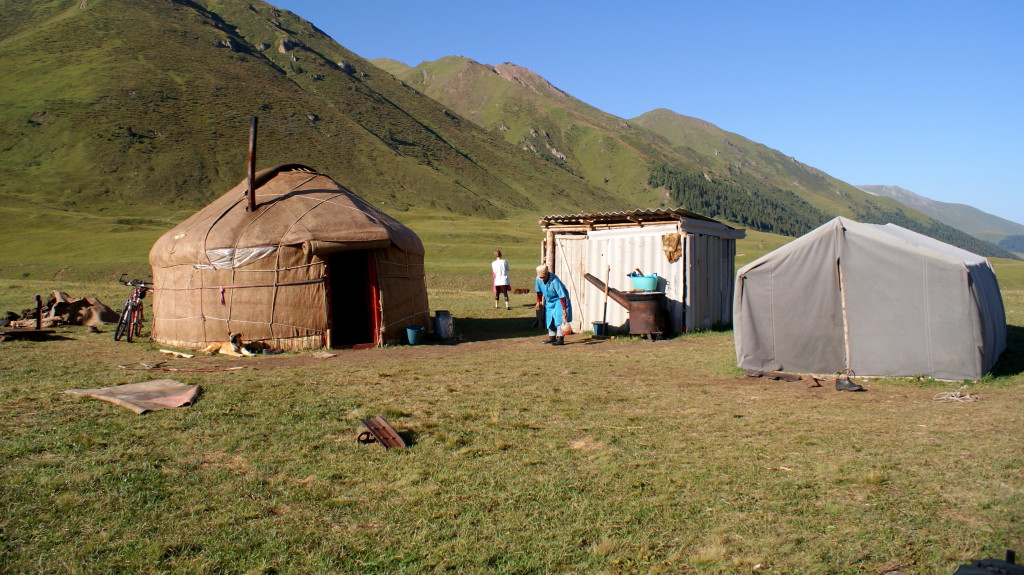 "I'm not scared of wolves," I said to Yena as she skidded away down the rocky trail beside her bike.
"I know, you say dis already." Just a few feet ahead of me, and she was invisible.
Suddenly, she shrieked. A clatter of falling rocks started above us and immediately bounced and slid past on all sides. Stone and shale tumbled over the sheer precipice.
I screamed. I didn't know what was going on, but screaming felt right.
"A horse!" Yena cried.
"Oh, God. Did it go over the edge?"
"It go off." My guide was somewhere near the edge of the gorge. I couldn't see her.
"It went off the edge?" All I could hear were the glacial rapids roaring thousands of meters below.
The light from my twenty-two-year-old guide's phone darted around the nearby mountainside. There was nothing to see in its beam but rocks balancing on good will.
I was too old for this.
Wait, did I seriously just think that? I was furious with myself for even entertaining such a thought. I was not too old for this. I was forty…something. Mid-forties. I'd been lying about my age, saying I was older than I was, for so long that I'd actually need to do the math to figure out my real age. I had never understood why movie stars claimed to be younger than they were. If you lie up in age, then people are amazed by how good you look. But today's mistakes were those of a twenty-two-year-old. I'd made such errors in judgment decades ago and there was no excuse for repeating them at forty-five-ish.
We had no water, food, supplies, flashlights, or gear of any kind. Everything we needed was in our support vehicle with our driver, Alexey, and my Kyrgyz cultural guide, Cholpon. Everything that could save our lives was on the other side of this snowy mountain range, a six-hour car ride away—if we had a car. When the sun vanished, the temperature had plunged below freezing, and I was wearing shorts and a t-shirt. I'd suggested turning back hours ago, when I'd begun to suspect that I'd misunderstood the plans for the day; I didn't want to get caught high in the mountains at night.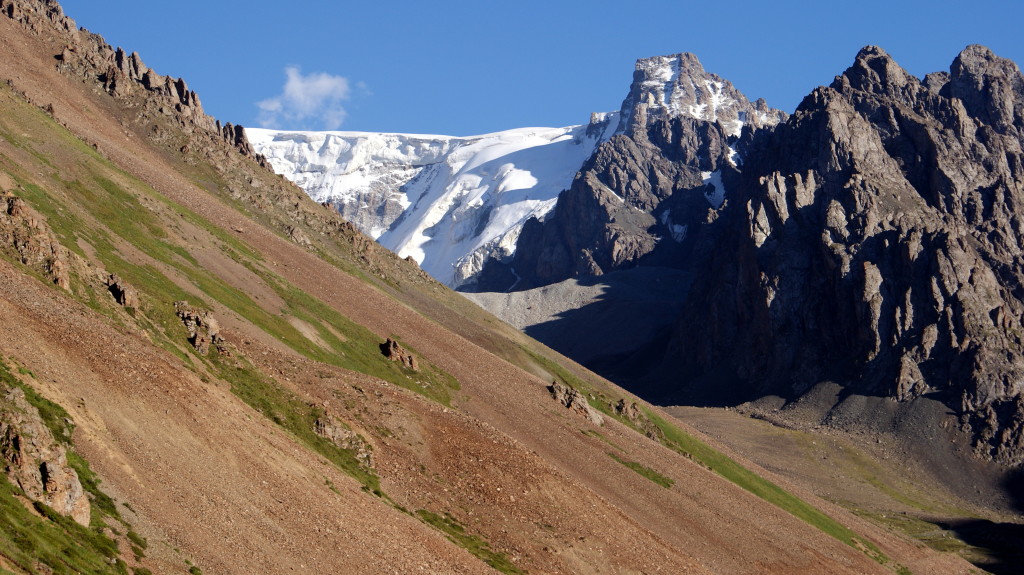 "Hello, Alexey, hello…." Yena tried her useless walkie-talkie and her useless cell phone for the hundredth time. I knew she was just putting on a front for me. She was fully aware that there was no cell service here, and the transceiver radios were only good if you had a line of sight with the other person. "Hello…" Static.
There had been a tense fight last night at camp between my guides. Alexey had said—in English, for my benefit—"The lady is tired and she has come from living at sea level. We are too high in elevation. Change tomorrow's ride. Do a small ride, Yena. Don't cross the mountains." I agreed with Alexey. Then the arguing continued in Russian, the common language of the three guides supporting my bike trip across Kyrgyzstan.
I didn't normally travel with a team of babysitters. I'd hired them all before arriving in Bishkek, back when I assumed I'd have a group of cyclists accompanying me. But it turned out nobody else in the world wanted to come to Kyrgyzstan, mostly because of a recent revolution and government overthrow and killings. I'd even received death wishes from an Arizona prison guard on an online mountain biking forum for daring to invite Westerners to a Muslim country. He'd lusted for guns pointed at my head.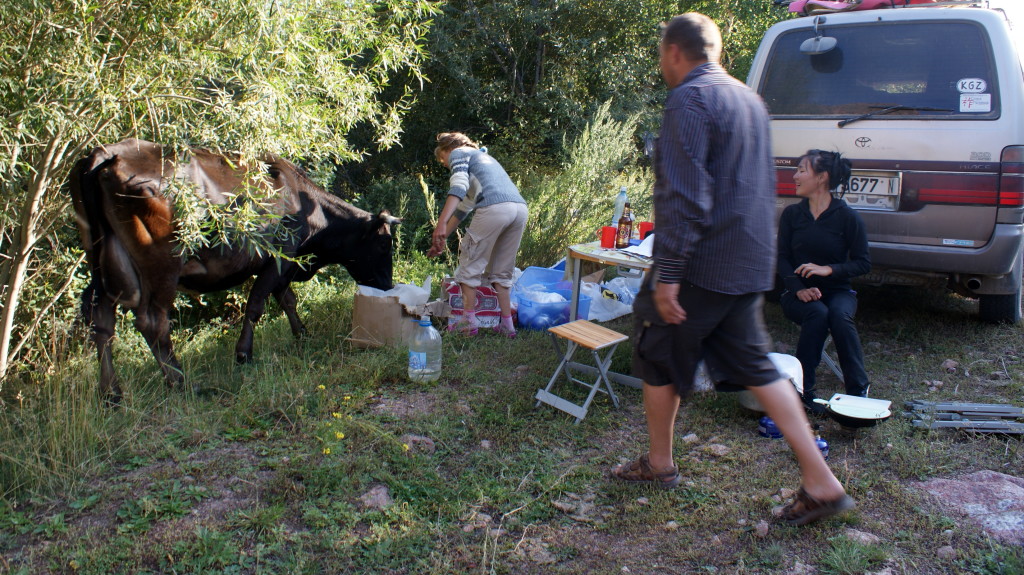 Maybe Yena hadn't understood Alexey's English when he said we shouldn't cross the Celestial Mountains. She spoke Russian and French. I could barely understand a word of her English and none of her French, and I was beginning to think she didn't understand my English, either. Or perhaps she'd won the argument, and nobody thought to tell me. But when we'd left so late in the day, and when I'd watched her hand two bottles of water back to Alexey, complaining they were too heavy – these two clues had indicated we were doing a shorter, easier ride, and not crossing the mountains. She'd even thrown out our food, at which point I was completely certain we'd just be doing a quick jaunt.
Four hours later, when I was vomiting horse milk, clambering over rockslides, carrying, pushing and dragging my bike continually upward, I realized we were doing the full mountain crossing.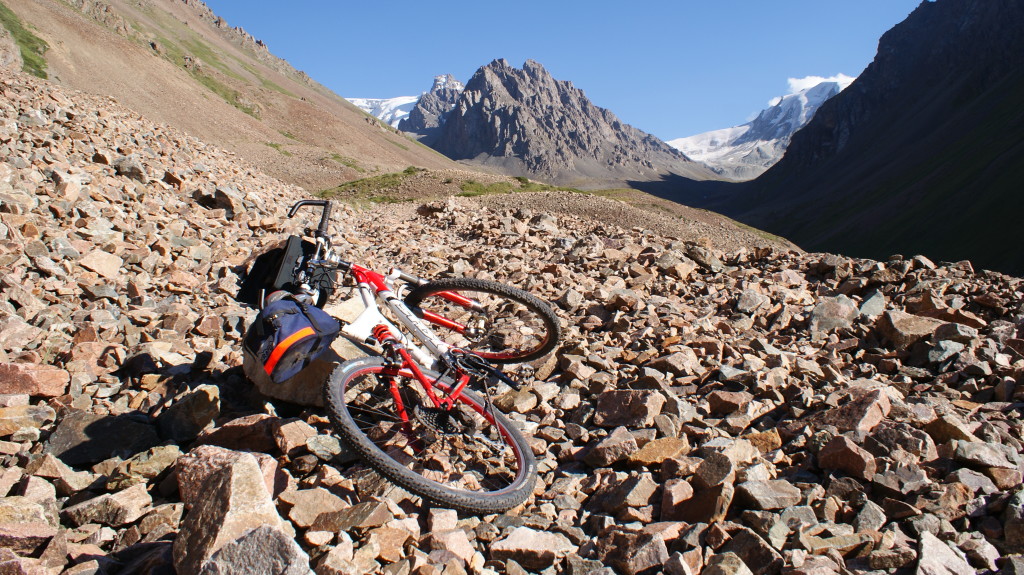 Now, one foot in front of the other, defeated, we were feeling our way back down the mountainside, trembling with cold and muscle fatigue. The incline was so vertical that I was using my bicycle brakes to help slow my pace. I winced as a rock tore the skin off my shin, and again as a shooting star whizzed in front of me. I didn't make a wish. I wasn't superstitious. I was just fully freaked out.
The nomads, though—they were superstitious. The Kyrgyz woman who'd served us fermented mare's milk and bread with jam and clotted cream in her yurt this afternoon had stared at my upside-down bread on the table and shot me a look of horror. I'd also pointed with my foot at her adult son. I was showing him the hardware that attached my shoe to my bike pedal. He'd jumped back and protected his face with his hands. You'd have thought I was going to kick him in the head.
Before traveling to Kyrgyzstan, I'd been sent a warning list on how not to offend or upset the nomads. One of the items on the list said, "Do NOT put your bread upside down on the table," and the other said, "Do NOT point at anyone with your foot." I'd cursed the Kyrgyz family with bad luck and brought the devil into their yurt and now I'd startled one of their horses to its death. Maybe they wouldn't notice. They had lots of horses.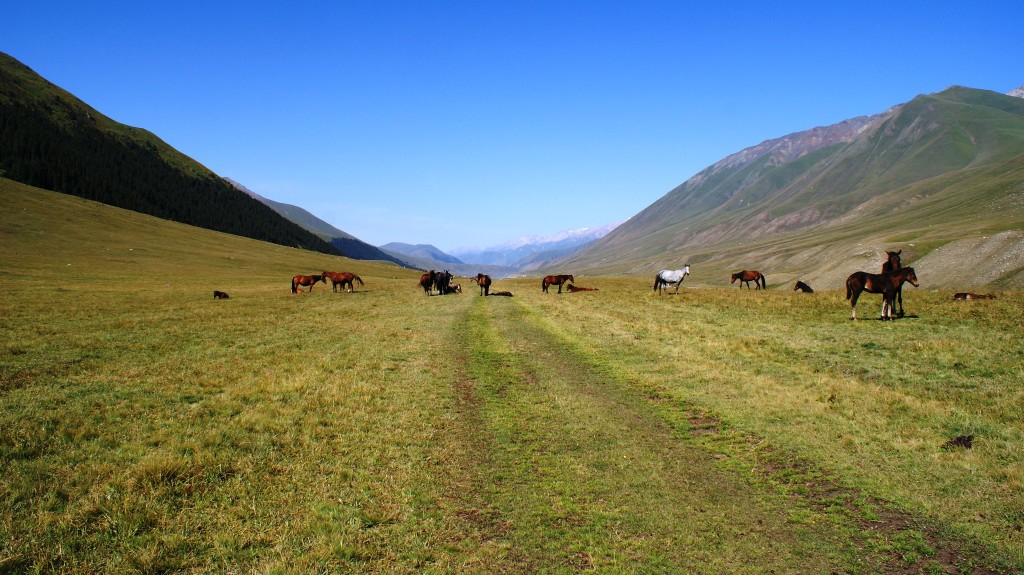 "We leave the trail, now. Here. Here. See light. Is yurt. We go there." Yena pulled my handlebars to direct me off the trail toward a wavering speck of light in the far distance.
"What? No." Leaving the trail was insane. Bad things happened when you left the trail. Besides, if we stayed on the trail it would lead us right back to the yurt we were at today. Unless the light was coming from the first yurt we'd stopped at earlier in the day, not the second one.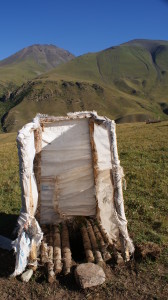 At the first yurt, a nomad woman had made cheese balls with her bare hands, and I could see her dirty handprints in the sour cheese. My stomach turned at the thought of putting it in my mouth. I pretended to enjoy my golf balls of cheese but palmed them into my pocket, intending to drop them in the outdoor toilet. But when I went to the squat latrine, I realized my cheese balls would be visible to anyone who looked in the shallow hole, so instead I feigned washing my hands in the stream and ditched the cheese there. They instantly sank to the bottom and stayed. The nomads had probably found my cheese after I'd left. They'd know it was my cheese. I didn't want to go to the first yurt, but then I'd insulted the nomads at the second yurt as well. Plus, there was the issue of the horse.
Following Yena, I stepped off the trail onto an impossible incline of slick wet grass. I turned my bike wheel sideways, as not even the brakes helped stop the downward slide. My front tire suddenly plunged straight down and stopped.
"What's that?"
Yena shone her cellphone light. It was a marmot hole. She cast her light over the slope. Between where we stood and the far-off flicker from the yurt was a minefield of marmot holes, all just several feet apart. Before leaving for Kyrgyzstan I'd learned that the marmot was the second deadliest creature known to man, but that was because the marmot carried the flea responsible for the Black Death, or Bubonic Plague—not because their holes were waiting to trap and snap your leg bones like twigs.
Using my bike like a senior citizen's walker, I inched my way down the hill as slowly as possible. It was still too fast. A compound fracture out here would mean certain death. I wasn't going to die at the hands of Muslims, as the Arizona prison guard had been desperate to prove—I was going to die by marmot.
Just then I became aware of motion, black moving against black, and far too large to be a marmot.
"Yena, what's that? There's something out there. No, not something, lots of things."
We were being surrounded. Large shapes were closing in on us.
"I no know," Yena whispered.
"Oh, it's just cows," I said, relieved.
Except that right then, we heard a deep, guttural, angry growl above us on the mountain. A T-Rex-sized beast was roaring and approaching fast.
"Bull," Yena cried out in dismay.
The bull circled. I couldn't see it, but I could hear its hefty hooves impact the soil. It started to paw. It was going to charge. Yena and I made a barricade with our bikes. I heard myself panting—tight, short, breaths that sounded exactly like The Blair Witch Project whimper puffing. People really did make that silly noise. I couldn't stop doing it. The Minotaur was bearing down on us. We'd be gored.
In a split second, the bull rounded our makeshift bicycle-fence. We were now on the same side of the bikes as him. Yena fumbled with her phone and the weak ray hit the bull's eye. He charged. We scrambled around our bikes and held them in front of us, sidestepping with them, our bikes locked together in a panicked tangle of handlebars and spokes. I closed my eyes, bracing for impact. He thundered past and around us again. We were an awkward, gasping, four-legged matador.
"Call the nomads to help us," I begged Yena.
She cried out in Russian, shouting her pleas toward the swinging lantern that marked the safety of the nearby yurt. Then all of a sudden, Yena let go of her bike and ran at the animal—all eighty pounds of her, shrieking threats as she waved her arms over her head and hurtled toward the horned mass of muscle.
I heard men's voices to my right, speaking in Kyrgyz.
"Help us," I whinnied.
Where were they? I was still making that pathetic whimpering-huffing noise.
A shepherd whistled a command. A lantern was lit. Dogs. Dogs and nomad men. Muslims. Muslims with guns. I was so happy to see Muslims with guns.
We were ushered into the family yurt. It was the second yurt.
"Kumis?" The mother offered me mare's milk that had been fermented in a smoked goat's stomach, again. I'd been up-chucking her kumis all day. Even in my dehydrated state, there would be no swallowing horse milk; the alcohol content was too low to be worth the risk.
I declined politely as Yena spun our adventure to the nomad woman who poured me the traditional half-full cup of tea, which I drank in one gulp. This happened ten times in a row. I wished she'd just pour me a full cup of tea. I wasn't superstitious.
Her eldest son, whom I'd pointed my foot at earlier, eyed me from under his pile of colorful quilts. It was midnight, and the family lay on the floor, shoulder to shoulder. Where would we sleep? I wasn't entirely comfortable wedging myself between the nomads on the ground; maybe I could spend the night huddled with the manure-burning stove and the teapot.
"I tell her about rock slide," Yena said. "I tell her we cannot cross the pass and she say she know this. The same thing happened with Germans on bikes. They come down the mountain last night and sleep here."
The nomad woman smiled at me with her gold teeth.
"Why didn't she tell us that this afternoon?" I asked.
"I know. I no know. Is strange," Yena replied. "We go now. They make bed for us in barn yurt."
I was so thirsty. I hadn't had nearly enough half-cups of tea, and as I followed several nomads back out into the freezing night, to the "barn yurt," I was shaking with the beginning stages of hypothermia. My teeth rattled in my skull. Yena wrapped her icy, spindly arms around me. I don't like being touched, but I could feel the warmth from her heart on my back, so I didn't pull away. We shook together as nomads kicked the dogs out of the barn yurt and moved saddles, boots, and riding tack.
"I d-d-don't mind d-dogs," I chattered. The dogs ran off into the darkness in a barking frenzy, chasing something unseen.
Yena was handed a lantern, and we stepped into the yurt. I took off my poopy shoes—not that it mattered in the barn, but the nomads were superstitious about shoes—and one tipped over on its side. That was bad luck, too. Now I'd brought bad luck to the barn, as well. I quickly righted my offensive cycling shoe, but not before it was noted by the old man.
On the ground was a mat for us to share. Yena snuffed the lantern, and we crawled under the mountain of handmade blankets on the felt mat and spooned for warmth, feet of course pointed to the flap of the door, for luck. I heard the flap move, and then something else.
"Something is in the tent with us," I whispered.
"No," Yena answered.
Something sat down. "Maybe a dog came back," I suggested.
The dogs responded by barking maniacally in the distance.
"Yes, something is in here," Yena agreed.
We heard scratching. "Dog," she sighed.
I suddenly had the feeling that it wasn't a dog. It was the wolf. But I wasn't afraid of wolves, I told myself.
Then I coughed. It was a horrible racking cough. Yena rubbed my chest.
No, she was rubbing my boobs. Yena was rubbing my breasts.
O.K., this was worse than wedging in with the family. Did she think I was paying for this service along with her guiding skills? It was beyond awkward.
"Yena," I coughed, "I'm not scared of shooting stars anymore." I barked painfully.
"Dis is good."
"Yeah, now I'm scared of pulmonary edema." I could feel my lungs filling with fluid. I choked on mucus. Yena rubbed my boobs again.
Day one was over—I hoped. But there were three more weeks to go.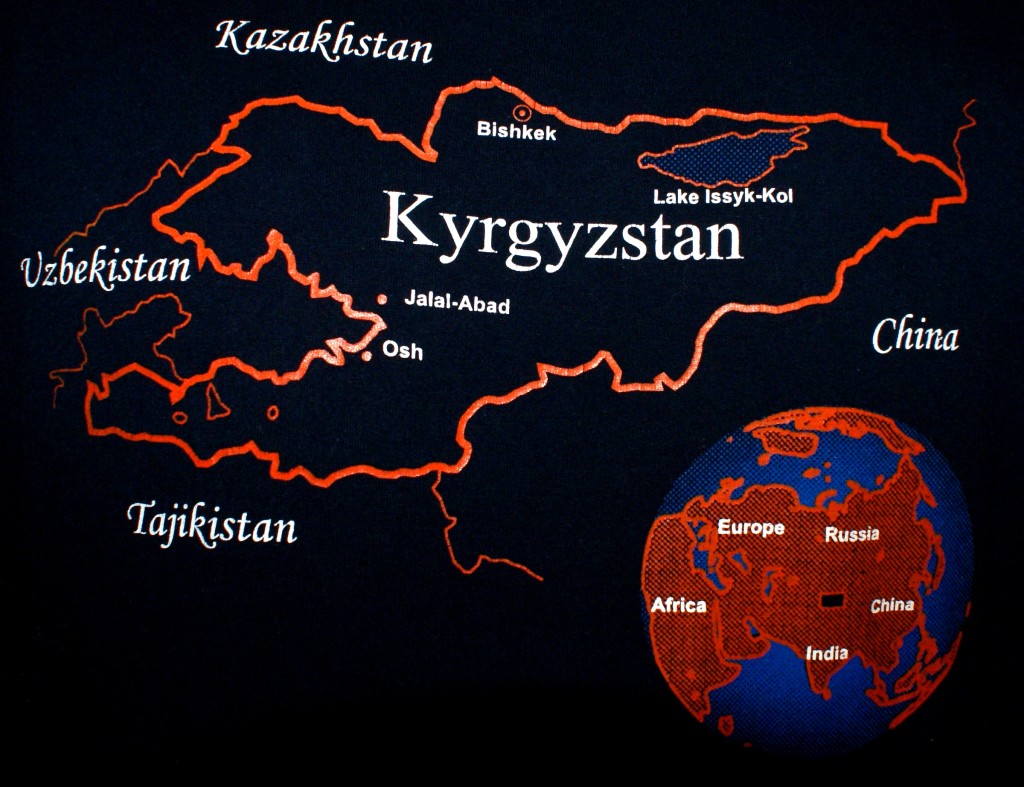 ________
Kirsten Koza is an adventure writer, speaker, and the author of Lost in Moscow. Her articles and photographs have been featured around the world in books, newspapers and travel magazines. Kirsten has mountain biked (badly) across twenty countries, was rewarded with a ham for the first mountain bike ascent up Romania's Mt. Cocora, has driven the intercept vehicle tornado chasing for 19,900 kilometers, kayaked inches from alligators, was held at gunpoint in Honduras for twelve hours, was tattooed by a Rapa Nui tafunga, and has put testicles and penis and many other unusual food items in her mouth. To see pictures and read more about Kirsten's misadventures visit www.kirstenkoza.com
*I have spelled Elena, Yena, throughout, as that was how I was instructed by her to pronounce her name. Alexey pronounced it Lena and Cholpon said it like Elena.
T-Rex added with Efexio.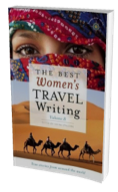 This story was first published by Travelers' Tales, in the 8th volume of The Best Women's Travel Writing, a series of anthologies edited by Lavinia Spalding. (Click here to see the book on Amazon.)