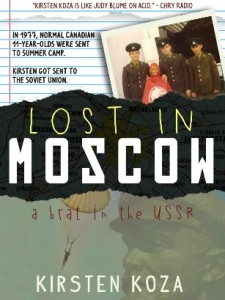 Book Description: When most parents consider sending their child to camp, they imagine a sunny lake a few hours from the city. In 1977, the parents of 11-year-old Kirsten Koza sent their pigtailed, sass-talking offspring on a trip to the Soviet Union — with only fifty dollars in her pocket.
Lost in Moscow tells the story of Kirsten's summer camp hi-jinks: evading the Soviet Red Army in a foot race through and around Red Square, receiving radiation treatments for a minor case of tonsillitis, and making a gut-churning, unauthorized parachute jump — without being certain whether her parachute would open or even stay on.
Told from the point of view and in the voice of the young Kirsten, Lost in Moscow is sex, politics, religion, fashion, and finance through the eyes of an eleven-year-old. Hilarious and hair-raising, this is a highly unusual travel memoir — a story about children, but definitely not for children.

Kirsten Koza is a humorist and adventure travel writer. Her first book, Lost in Moscow, was published by Turnstone Press, in 2005, in paperback and is now also available as an e-book from Kindle and Kobo.
Kirsten is a contributor to Travelers' Tales anthologies and was the editor of their most recent humour book. Her story "Chasing Tornadoes" is in The Best Women's Travel Writing (volume 9), her Kyrgyzstan adventure "Mare's Milk, Mountain Bikes, Meteors & Mammaries; a nipply night in nomad's land" is in The Best Women's Travel Writing (Volume 8) and her misadventure "Easter Island: The Chilean with the Brazilian" is in Leave the Lipstick, Take the Iguana, the 9th book in the Travelers' Tales best-selling humour series.
Kirsten has a BA in theatre from Dalhousie University in Canada, and completed the post graduate programme at East 15 Acting School in England.