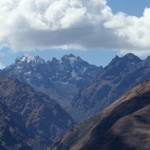 Travellers Beware—tea that makes your pee test positive for cocaine: Coca leaves aren't cocaine. You don't get high from coca but it helps you deal with being high in elevation. I get more kick from coffee than coca tea and coffee tastes better. Coca whether chewed or brewed tastes like what I'd imagine a horse turd tastes like. I've consumed large quantities of coca leaves in Peru to help prevent altitude sickness and felt nothing and wasn't sure it even did anything. Then at high elevation in Kyrgyzstan my face swelled, sticky fluid seeped through my skin and my lungs gurgled. It was the first time I'd been over 13,000 ft. in elevation without coca and I suffered dangerously from edema. (read more…)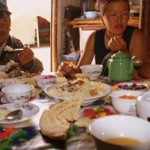 Heads-up Travellers: double dipping in Kyrgyzstan is the norm whether you are dining with a family in their yurt or in a restaurant. Many locals shove the spoon that was in their mouths into the communal serving dishes of food, and also into the shared condiment bowls that stay on the tables.
(read more…)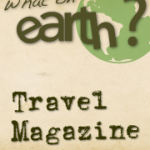 The team
at Leap Local spent 17-hour days/nights for weeks developing
Leap's new website
, and 
What on Earth?,
 our new travel magazine. This magazine isn't a glossy brochure for fantasy and unrealistic dream trips, but revels in the hilarious, gritty, heart wrenching, stupid, maddening, culture clashing, wonderful adventures, and misadventures of travel. The launch issue contains the winning local guides & services and the winning travel stories from our competitions. And it has my own story,
"Thou Shalt Not Snore"
, about a diabolical night in Jordan, in the WTF (weird travel files) section of the magazine.