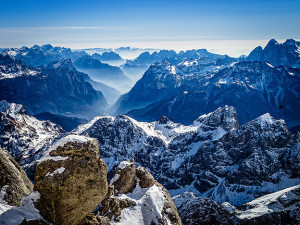 THIS PAST EXPEDITION IS COMPLETED  – STAY TUNED FOR NEW KYRGYZSTAN EXPEDITION
Writers' Expeditions: Itinerary, Prices and Details (Aug 14-25, 2014)
Kyrgyzstan Silk Road and Off Road: a four-wheel-drive adventure of a lifetime through remote landscapes to capture the nomad horse competitions and eagle hunting festival (that's hunting with eagles not for eagles). In three 4x4s (driven by local award winning tour operator, Travel Experts of Kyrgyzstan) our small group will cross the Tian Shan mountains often by dirt track on an expedition hosted by professional photographer Dave Sloan of Sloan Shoots (with more than 30 years of experience that you've seen in most magazines and even in huge corporate ad campaigns such as IKEA and other household names, banks, museum posters, and gigantic images on the sides of 18-wheelers hauling your favourite food right now); and also hosted by author, adventure travel writer, journalist, and humourist, Kirsten Koza.
Small Group (8): This journey is designed around exciting experiences and cultural curiosities. It's for anyone with a camera or device that takes photos; no matter your photography skill level, we'll cater shooting tips to suit your needs and wishes.
Kyrgyzstan is in Central Asia and borders China, Uzbekistan, Kazakhstan and Tajikistan. It was formerly part of the USSR. The people speak Kyrgyz and/or Russian. Visiting Kyrgyzstan is like taking a magic carpet ride back in time to see Genghis Khan or dine with Marco Polo's caravan. You'll definitely know you're no longer in Kansas when in Kyrgyzstan.
Itinerary, Prices, and Highlights About Your Expedition Hosts: 
14.08, Day 1: Bishkek city tour
Your guides will pick you up at Manas International Airport and accompany you to the capital city of Kyrgyzstan, a 30-minute drive from the airport. We'll explore the city of Bishkek which is thought to get its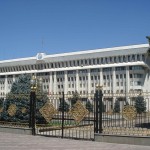 name from the Kyrgyz word for "churn," the device used to make the national drink, fermented horse milk. Bishkek is a city of contrasts; glorious marble facades, trees sprouting through dangerous pavement cracks, domed roofs with a backdrop of the Ala-Too mountains, ugly Soviet-style apartment blocks and the odd statue of Lenin, plus a colourful bustling Asian bazaar and market.  Traditional dinner will be served at 7 p.m and then back to The Grand Hotel (with free wi-fi and air conditioning) where we can charge our batteries (metaphorically as well).
In the morning we'll start our journey to the second largest alpine lake in the world (Peru's Lake Titicaca being the largest). On route we'll visit Burana Tower (an 11th century minaret) the remnants of a mosque from the medieval city of Balasagun. The minaret is surrounded by intriguing 6-10th century Balbals (Turkik ancestors, stone warriors that look like mini versions of Easter Island's mysterious moai). After a traditional lunch, we'll continue on our way to Issyk Kul lake (stopping when we see something worth capturing). Although surrounded by snow capped mountains, salty Issyk Kul never freezes. We'll swim at a wild beach before heading to our guesthouse at Tamga village. A "tamga" (from Mongolian language) was a stamp or seal used by an individual clan of nomadic peoples. Dinner will be served at 7 p.m.
16.08, Day 3: Tamga – Eagle Hunting Festival!
Today will be a photographer's wet dream.  We'll sample Kyrgyz cuisine, experience national folklore, and we'll get to witness a show of
eagle hunting. The eagles are a lifetime commitment; a man bonds to bird and bird to man. The skill is passed down for many generations. The hunt is executed with the help of taigans (Kyrgyzskaya Borzaya Taigan dogs), a special breed of sighthounds (used since ancient times) trained to hunt wolves, foxes, marmots, badgers, hares; animals used for both sustenance, clothing and the fur trade.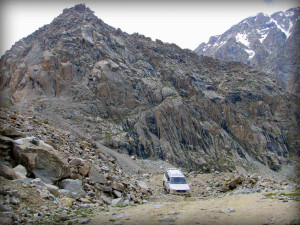 17.08, Day 4: Tamga – Tosor – Naryn
After breakfast we'll begin the back country, off-road & dirt track portion of our 4-wheeling adventure into the wilds of Kyrgyzstan. We'll drive up over Tosor pass at more than 3,000 metres above sea level. That's 600 metres higher than Machu Picchu. If you're worried about altitude sickness talk to your doctor or travel health clinic about getting a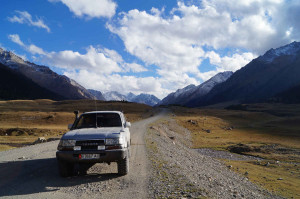 prescription of Diamox (acetazolamide). Kirsten finds it works well and enjoys the pleasing tingly fingers and tingly toes side effects.  The day promises breathtaking views. It will be possible to meet and photograph nomadic families. If you're offered fermented horse milk, it's probably best to politely decline or pretend to sip unless you enjoy vomiting. Night will be spent in a Khan Tengri Hotel  in Naryn (2,044 metres) a town situated on either side of the river gorge.
18.08, Day 5: Naryn – Tash Rabat
After breakfast we  journey to the Tash Rabat Caravanserai (a 14th century stone castle) on the spectacular Silk Road; the ancient trade route used by merchants, soldiers and monks, connecting West and East. Tash Rabat is not far from the Chinese border and is at the very heart of the Tian Shan Mountains.  The castle is built into the inside of a mountain at an elevation of 3200 metres above sea level. There are around 31 rooms in the mountain, some being former cells used to incarcerate thieves. The intimidating stone block walls are 1 metre thick. There will be a traditional dinner again this night but this time the night will be spent in yurts near Tash Rabat Caravanserai. This might be a good night for us to use our collective flashlights to create eerie long exposure images.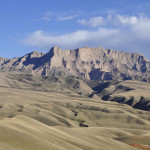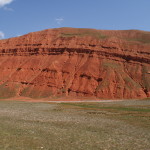 19.08, Day 6: Tash Rabat – Son Kul
After many half-cups of tea (that's how they serve it in Kyrgyzstan)  we'll start our drive over rugged terrain to the second largest lake in the country. Son Kul is also the highest alpine lake in Kyrgyzstan, situated at an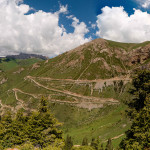 altitude of 3013 meters above sea level. Herders of the Naryn region go to the lake every summer to graze their livestock on the fertile pastureland. After our arrival, you will be free to indulge in your surroundings. Dinner and overnight is in the nomadic collapsible dwellings – yurts. They are made of a wooden skeleton, covered with felt. Yurts are usually heated by dung burning stoves and the nomads provide toasty warm, heavy, handmade blankets.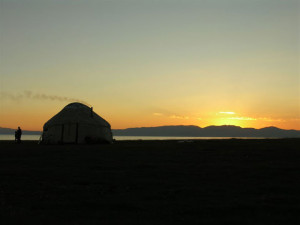 20.08-21.08, Day 7-8: Son Kul Lake – saddle up for a horse ride
These 2 days will be spent exploring the shores of Son Kul Lake. This is a chance to experience real nomadic life. We'll also get to take a 3 hour horse ride (but you don't have to do this) or you can keep your horse for an entire day. We'll have multiple chances to capture sunrises and sunsets over the scenic lake, dotted with yurts and grazing horses along its pristine shores. And this is a great chance to get acquainted with nomadic people, their traditions, ways of life, and many superstitions. You'll see women milking horses to make kumis (the fermented mare's milk) and children who ride so well you'd think they were born on a horse. All nomads are very hospitable. They are not used to seeing many tourists and are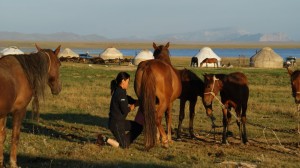 always happy to speak with you. Hospitality is one of the main unwritten laws among nomads. They have a saying: "A guest is sent by God." So they cannot just let you pass without inviting you to visit with them. Meals and accommodation will be in genuine nomadic dwellings – yurts.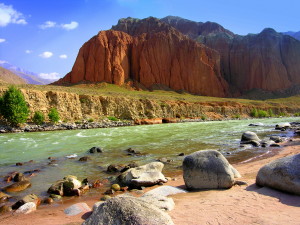 22.08, Day 9: Son Kul – Kyzyl Oi
After making sure you don't put your bread upside down on the table at breakfast (another superstition that brings bad luck upon the yurt) we will start to make our way to the very remote village of Kyzyl Oi, which means Red Valley. The drive to Kyzyl Oi traverses over one of the most beautiful passes in Kyrgyzstan, right along the top of a mountain. You will have magnificent climbs, thrilling descents, and panoramic vistas. On the way we will drive over Kara Keche pass which is 3364 meters high. After driving to the top of the pass there's a long sweeping descent. Night and dinner will be in a home stay.
23.08, Day 10: Kyzyl Oi, Nomads' National Horse Games (we're privileged travellers because these games are for nomads, not tourists)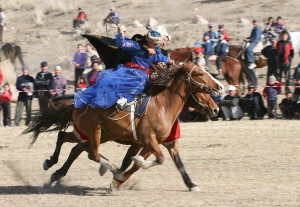 Today we'll experience the Nomad's National Horse Competitions at their annual festival. Nomads come from all over the steppes and mountains of Kyrgyzstan to partake and compete. Beside the horse games you will also get to listen to Folklore perform (music) and taste Kyrgyz cuisine. Below is the description of the main sporting events:
Kyz Kuumai: translates as "Chasing the Girl." This demonstrates the riding talent of  both man and woman. After a head-start is given to the woman a man at full gallop starts to chase after her and tries to reach her and win or steal a kiss. The woman tries her best to escape him so she can reach the finish line and turn back and start chasing after the man in order to whip him all the way to the starting line. It is considered a huge shame for the man to be beaten, the pressure for him to show his superiority is significant. In former times this game was played by young couples in love with each other, so a girl who was on the way to winning would purposely slow down so as not to humiliate her beloved in front of the people.
 Tyiyn Engmei: means "Grab the Coin." Coins are laid upon the ground and a young man has to grab them while galloping on a horse at full speed. This game was played a lot in former times as a way of training for riding in battle. This game taught the young how to be solid on a horse and also helps develop flexibility.
Er-Enish or Oodarsyh: Two tough shirtless men on horses wrestle. They also cover their bodies with oil to make it more difficult to pull their opponent off the horse. The rules do not allow them to punch the face, kick, bite, or whip. Technically they are just supposed to use their bare hands to pull the other from his mount. The participants demonstrate strength at the same time as skillful management of horses.
24.08, Day 11: Kyzyl Oi – Bishkek
After socializing with locals, we'll start our journey back to Bishkek. The road to the city goes through the southern part of Kyrgyzstan. Once again we'll encounter impressive mountains and gorges and the panoramic views of Tue Ashuu pass which is more than 3000 meters high. This road is considered to be one of the most beautiful in Kyrgyzstan. There will be many photo stops and opportunities to stretch one's legs and maybe to buy some mountain pasture honey from a local beekeeper so you can taste the floral scent of Kyrgyzstan's meadows when you return home. We'll have dinner and a traditional concert just for us performed by the Kyrgyz band Folklore. The night will be passed at The Grand Hotel again in the capital.
25.08, Day 12: Bishkek – Airport
If you are departing Kyrgyzstan this morning you will be transfered to the airport.
More Details About Your Expedition Hosts, Prices and Inclusions: 

Dave Sloan will guide you on a journey (catered to your skill level and goals) to take stunning images, ones that you'll want to frame when you get home. Anyone interested in writing, whether for personal pleasure, or in expectation of having work published, will have Kirsten Koza there to give feedback and share valuable hard earned tips.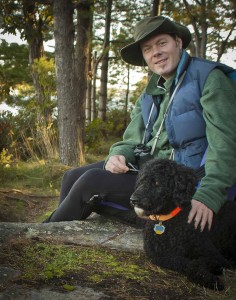 Dave Sloan (www.sloanshoots.com) completed a Bachelor of Applied Arts in photography at Ryerson in 1985 and for 30 years he has been shooting professionally. You'll have seen his incredible photos in ad campaigns for IKEA, or perhaps the award winning campaign for the Buskers Festival in Toronto, Molson's beer, Rogers, TD Bank, Royal Ontario Museum, City of Toronto, T.T.C. and more. His food images drive down highways on the sides of President's Choice trucks (making Canadians drool and buy insurance),and his work decorates bus shelters,  is blown into posters, and has been in most magazines. He's an experienced traveller, outdoorsman, mountain biker and snowboarder.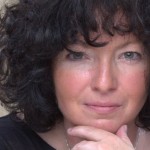 Your other host is Kirsten Koza a 48 year-old author, adventure travel writer, journalist and humourist. Kirsten made the front page of Kyrgyzstan's national newspaper for "discovering" Kyrgyzstan for travellers. She mountain biked across Kyrgyzstan and found the perfect guides and ultimate experiences for this expedition and will be happy not to have her bike on this trip. Her stories and images (including ones about Kyrgystan) have been published in books, magazines, and newspapers around the world: The Guardian.uk, Travelers' Tales anthologies, DreamScapes travel and lifestyle magazine, Central Asia Business & Society magazine, Outpost, Guatemala Times, Iquitos Times, TheBlot (Wall St., New York) and many more.
Meet your support team at Travel Experts in Kyrgyzstan in this dynamic YouTube video which also gives a good feel for the terrain we'll be encountering on our expedition. Travel Experts have won the distinction of being the best tour operator in Kyrgyzstan two years running.
Prices and Inclusions: 
$2600 USD (a $350 deposit reserves your spot. Then the later payments are made to Travel Experts in Kyrgyzstan for the tour portion of your trip and to Writers' Expeditions for the workshop.)
Service includes:
All meals
Accommodation
Photography & Writing workshops (on the move, on location – not in classroom setting – these are optional but are fabulously fun and skill building)
English speaking guide
3 drivers
Eagle hunting show
Horse games
Folklore music show in Bishkek
Transport 3 4×4 Mitsubishi Delica vans
Horse riding at Son Kul for 3 hours
Mineral water during the tour
Service does not include:
Single rooms: $100 supplement for entire trip (during the nights in the yurts, however, we have to sleep 4 or 5 to a yurt – nomad style)
Early check-in upon arrival: $40
Single early check-in $70
airfare
extra horse hire (keep your horse at Son Kul) for the full day for an additional $15
Travel insurance (must be obtained)
Visa and visa support (Canadians no longer need a visa for Kyrgystan)
alcohol (vodka is cheap like borscht in Kyrgyzstan)
Can't come in August–then perhaps you'd be interested in spending Halloween in Transylvania, Romania? 
Contact Kirsten: info@kirstenkoza.com or on Facebook at the Writers' Expeditions page. She responds quickly so try the contact form on her website if you don't hear back within 24 hours.