SOLD OUT – tour finished – March 7-17, 2017: We can bring 8-12 adventurous foodies with us on an 11-day eat your way across Vietnam expedition—a gastronomy and photography escapade by speedboat, motorbikes (pillion or driving), cyclos/rickshaws, sampan boats, vintage Vespas, overnight cruise boat (Chinese junk), basket boats, airplanes, etc. Yes, "etc." because we're hoping someone will ride a water buffalo at some point.
This tour will take you to Ho Chi Minh (Saigon), Mekong Delta, Hue (Forbidden City), Red Beach, Hoi An (for full moon festival), Danang, Hanoi, Ninh Binh, and Halong Bay. We'll be staying at boutique and spa hotels and in UNESCO world heritage sites, while on this food adventure that screams "Anthony Bourdain, Jamie Oliver, and Top Gear dudes, eat your freaking hearts out!"
(Eleven participants have booked already!)
Scroll Down for Itinerary, Prices and Info about Your Expedition Hosts and Guides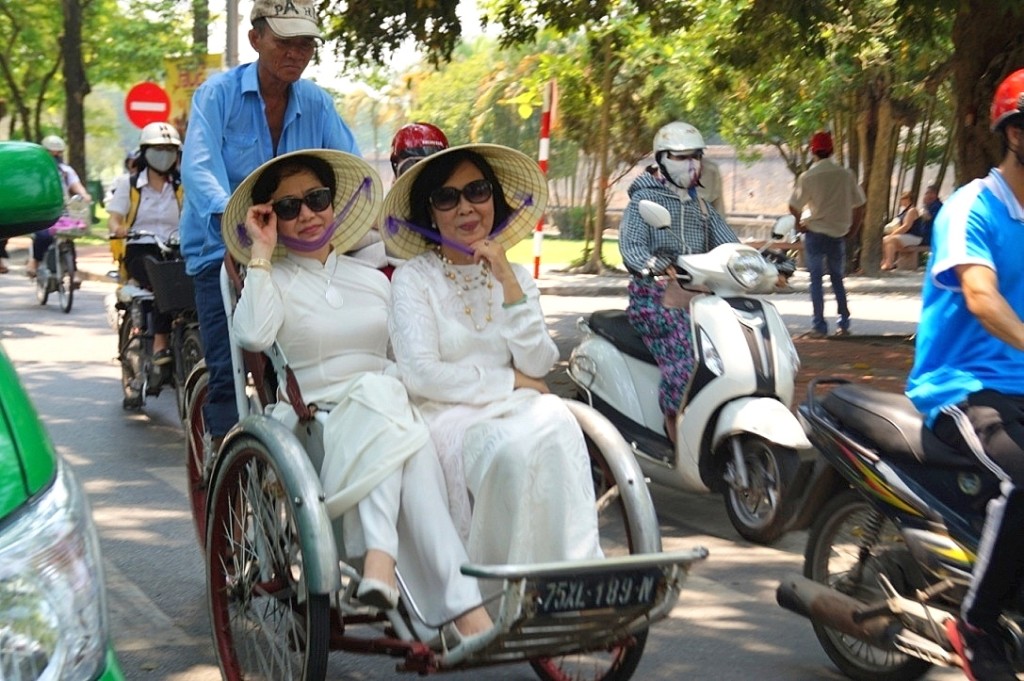 DAY 1, March 7th (2017): Ho Chi Minh (Saigon)
– Street food tour traveling between venues on the back of vintage Vespas!
You will arrive at Tan Son Nhat International airport (HCMC, Saigon) and will be met with a warm welcome. Some of you may arrive on flights the night before – we can arrange for an extra hotel night and for you to be greeted then, as well.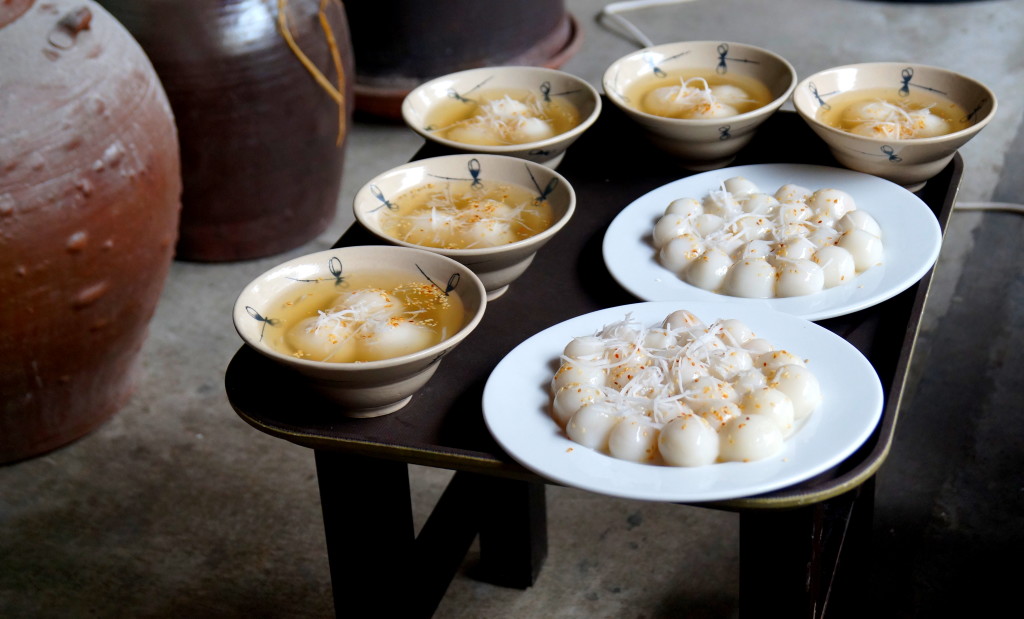 Late afternoon (after check-in and after you've rested) we'll all go for a traditional Vietnamese coffee at a local café to get fueled up for our evening adventure—a four-hour sampling of the best street food in the city plus a taste of cultural nightlife while traveling between venues on the back of vintage Vespas. You'll be riding pillion with an experienced local driving the motorcycle because the alcoholic beverages are free flowing on this all you can eat extravaganza, that will also take us to see live music (cabaret style) and a final stop at a bar with Vietnamese performers who will knock your socks off (well, hopefully you won't be wearing socks since you'll probably be wearing sandals.)
Meals: afternoon coffee, dinner (food tour, 6:00-10:00 p.m.) and drinks
Overnight: Deluxe room in Paradise Saigon Boutique Hotel
DAY 2, March 8th: Ho Chi Minh to Can Tho (in the heart of the Mekong Delta in south western Vietnam)
– Private speed boat from Ho Chi Minh to Mekong Delta with food and locally made booze tastings on route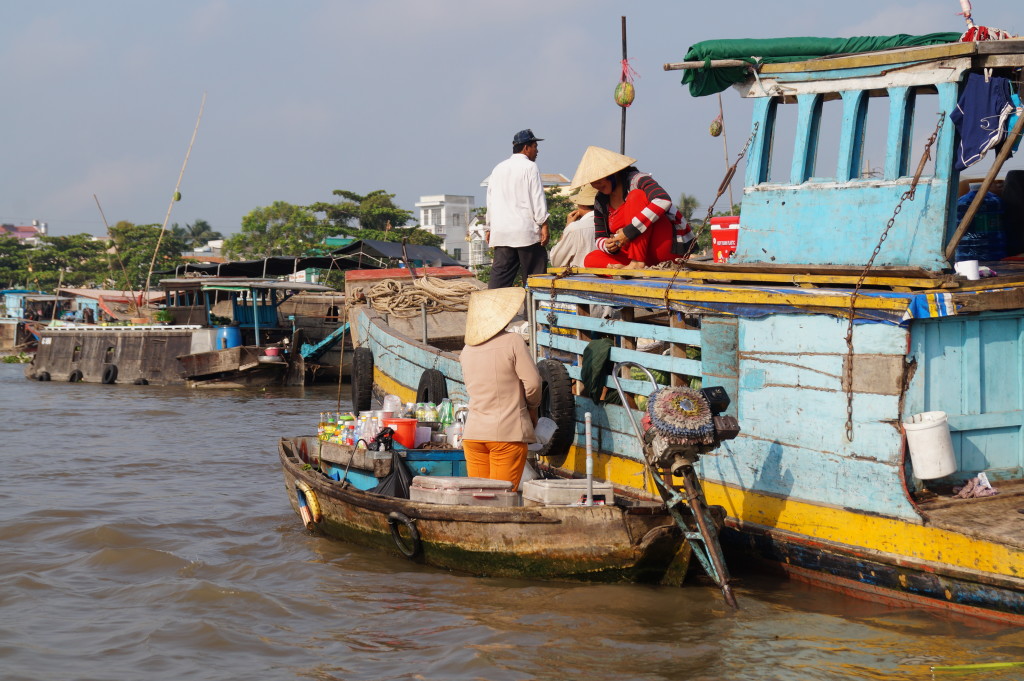 Our guide will meet us at 8:00 a.m. to take us to the Ho Chi Minh city pier where we'll board our private speedboat to take us through a region of the Mekong Delta that few tourists get to experience. The area was once part of the Khmer empire and we'll be making cultural stops to visit pagodas and Buddhist and Cao Dai Temples (Cao Dai is the religion that worships Victor Hugo, yes, the author of Les Miserables), plus we'll be stopping at riverside markets, workshops, historical sites, then for lunch at a local's house, and to take spectacular photos as we travel the expanses of the Delta of Nine Dragons.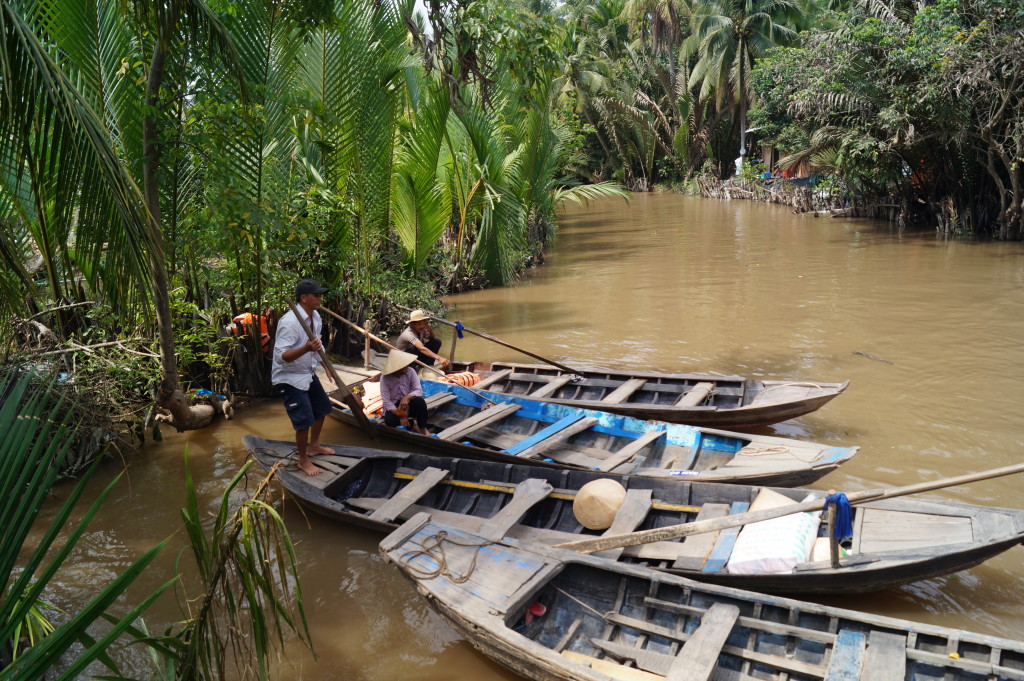 Late in the afternoon we'll meet our private minibus and will drive the rest of the way to Can Tho to our hotel to freshen up before our evening (walking) street food tour of delectables. On this night, the more daring might like to sample some snake wine.
Meals: Breakfast (twice if you'd like, as you can have a 2nd breakfast on the boat), lunch, dinner (street food tour)
Overnight: Superior rooms at The Fortune Land Hotel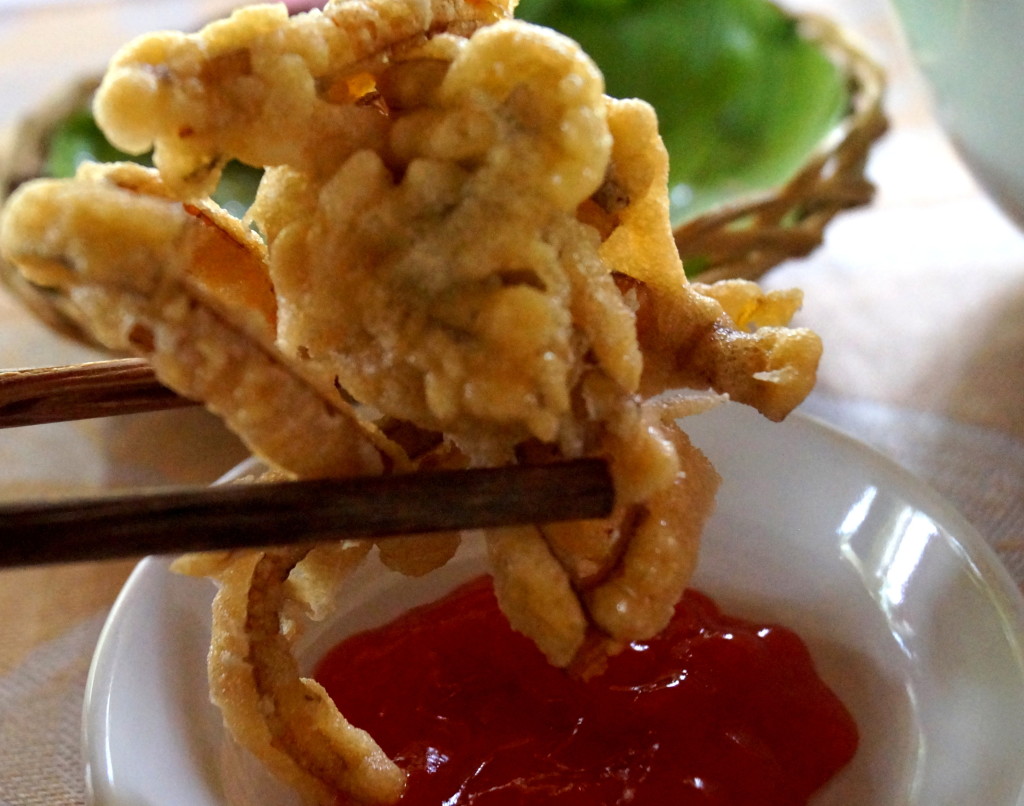 DAY 3, March 9th: Can Tho – Binh Thuy – and back to Saigon
– Today might be the day you have your first ever exotic fruit orgasm, plus more beauty boat rides, some crazy tastings, and back to Saigon for a family style dinner in a local restaurant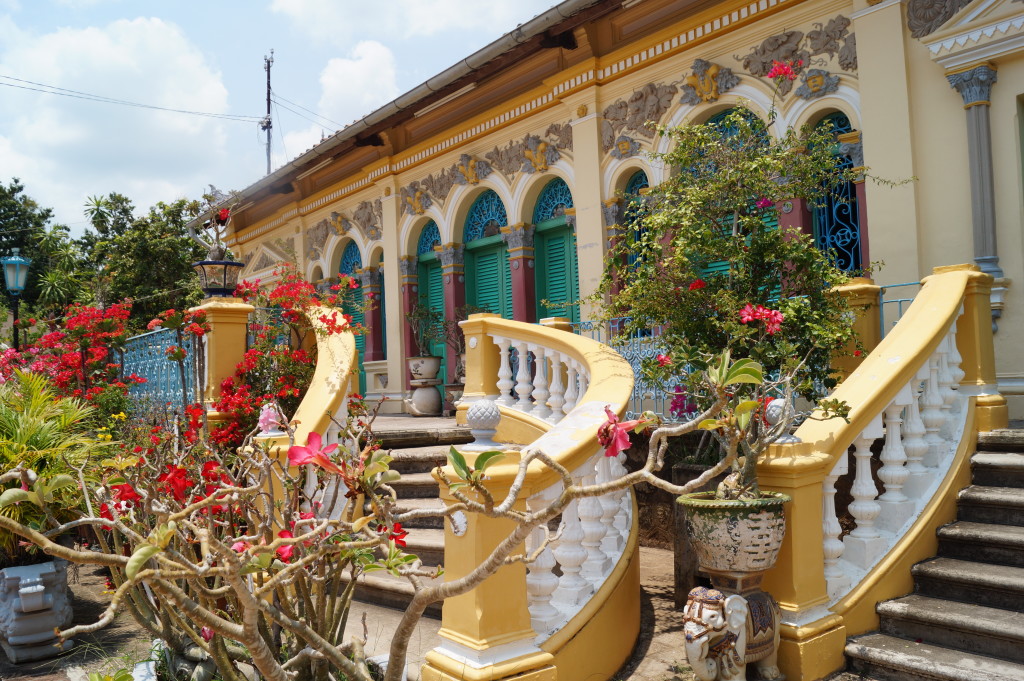 We'll explore more of the Mekong Delta (a massive labyrinth of  distributaries which covers around 39,000 square kilometres) by boat, including the Cai Rang floating market, and will take narrow canals to a village to sample dishes special to the region. Then we'll disembark at Ninh Kieu quay and will head back to Saigon along a highway through rice paddies, in our private vehicle, via Binh Thuy (stopping for banh bao, cakes, and ice coffee). Then after a break at our hotel, we'll have dinner (Vietnamese family style) at a local restaurant downtown and perhaps crash a few birthday parties while there.
Meals: Breakfast, Tastings, Lunch, Dinner
Overnight: back at the Paradise
 DAY 4, March 10th: Fly from Ho Chi Minh City to Hue
– Market, monks, and rickshaw food tour along Perfume River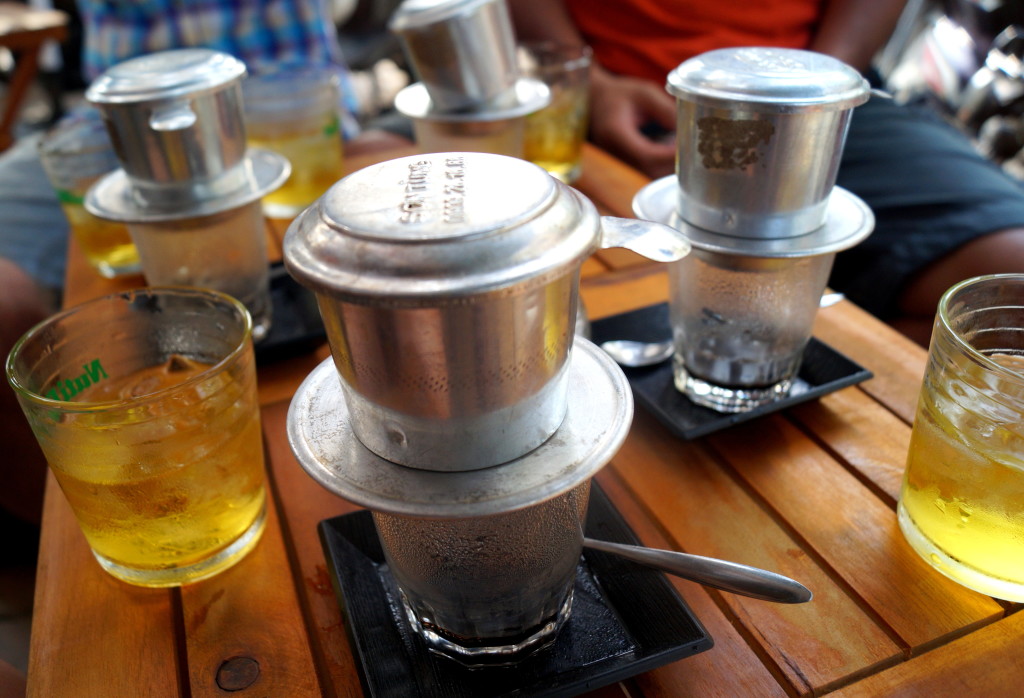 This morning we fly north to Hue in central Vietnam, once home to the Nguyen dynasty of emperors. Upon arrival in Hue we'll go for a Vietnamese coffee and then to Dong Ba market for a bowl of pho and to capture fabulous photos of daily life, or to buy some coffee beans to bring home, before visiting with a monk at Thien Mu Pagoda overlooking the Perfume river. If you have seen the unforgettable image taken by Malcolm Browne, of the monk who in protest set himself ablaze, in 1963 (the image that John F. Kennedy said this about: "No news picture in history has generated so much emotion around the world as that one."), then you'll remember the car behind the burning monk. That car is enshrined here.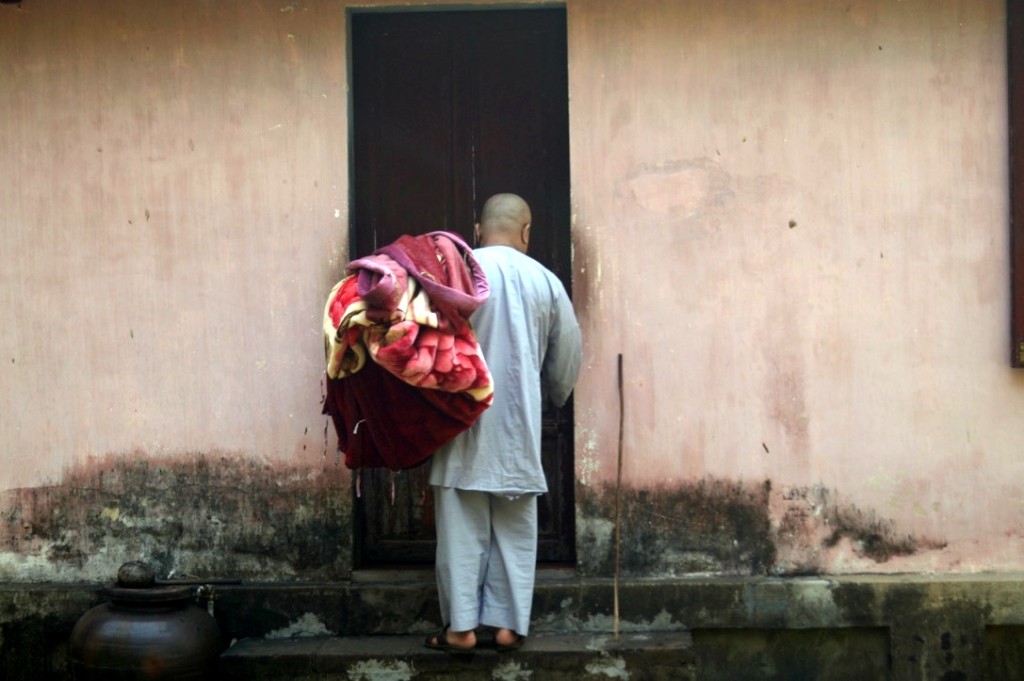 In the evening we'll enjoy a food tour of the specialties of Hue by cyclos (rickshaws).
Meals: Breakfast, coffee, lunch, dinner (food tour)
Overnight: Deluxe rooms at the Asia Hue Hotel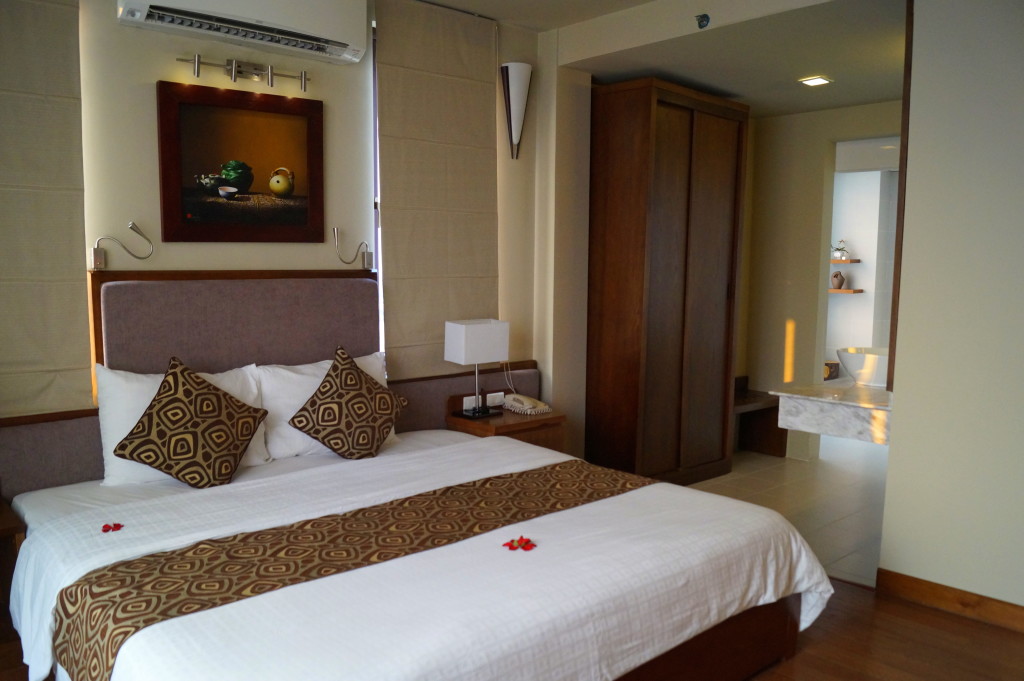 DAY 5, March 11th: Hue – Red Beach – Danang – Hoi An
Purple Forbidden City, Khai Dinh's Tomb, Hai Van Pass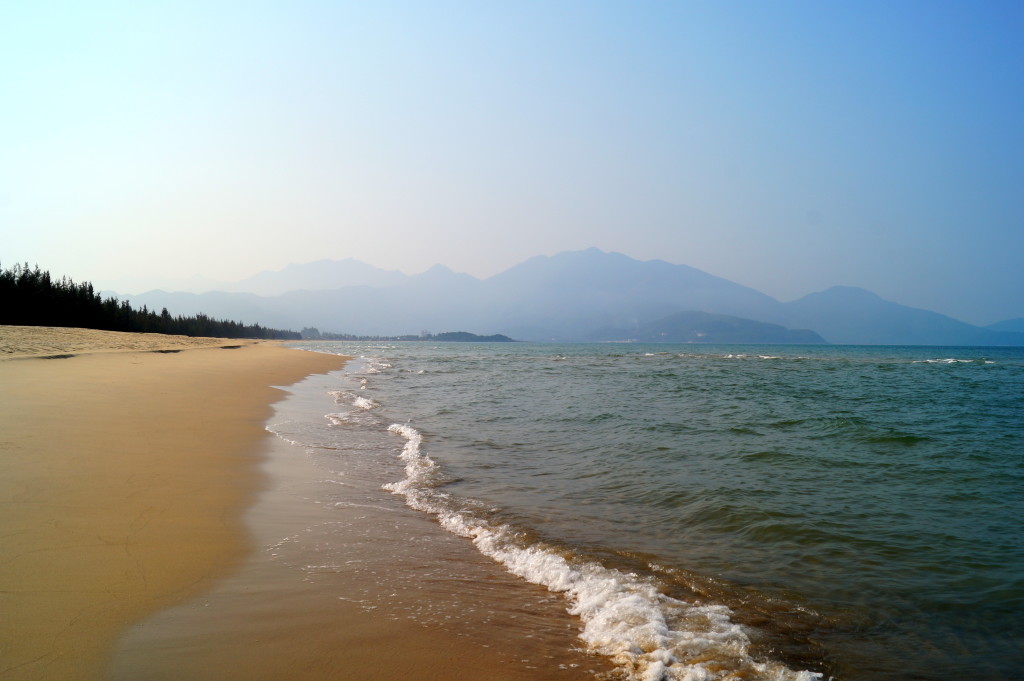 This morning we'll cross the moat into the vast walled fortress of the Imperial Citadel which contains the Purple Forbidden City. This UNESCO world heritage site has visible battle scars from the Vietnam, or as the Vietnamese call it, the American War, yet is astoundingly exquisite. Then we'll drive a short distance to Chau Chu mountain where we'll explore Khai Dinh's tomb before the breathtaking drive on the winding road over Hai Van Pass (Ocean Cloud Pass), a road that the Top Gear dudes drooled over, in fact Jeremy Clarkson described this route as "a deserted ribbon of perfection—one of the best coast roads in the world." We'll have a break at pristine Red Beach before heading to Hoi An to check into our hotel. We thought you might like the freedom to dine tonight on your own in this lantern lit ancient town, but you also have the option of accompanying our local guide for the best sandwiches in all of Vietnam.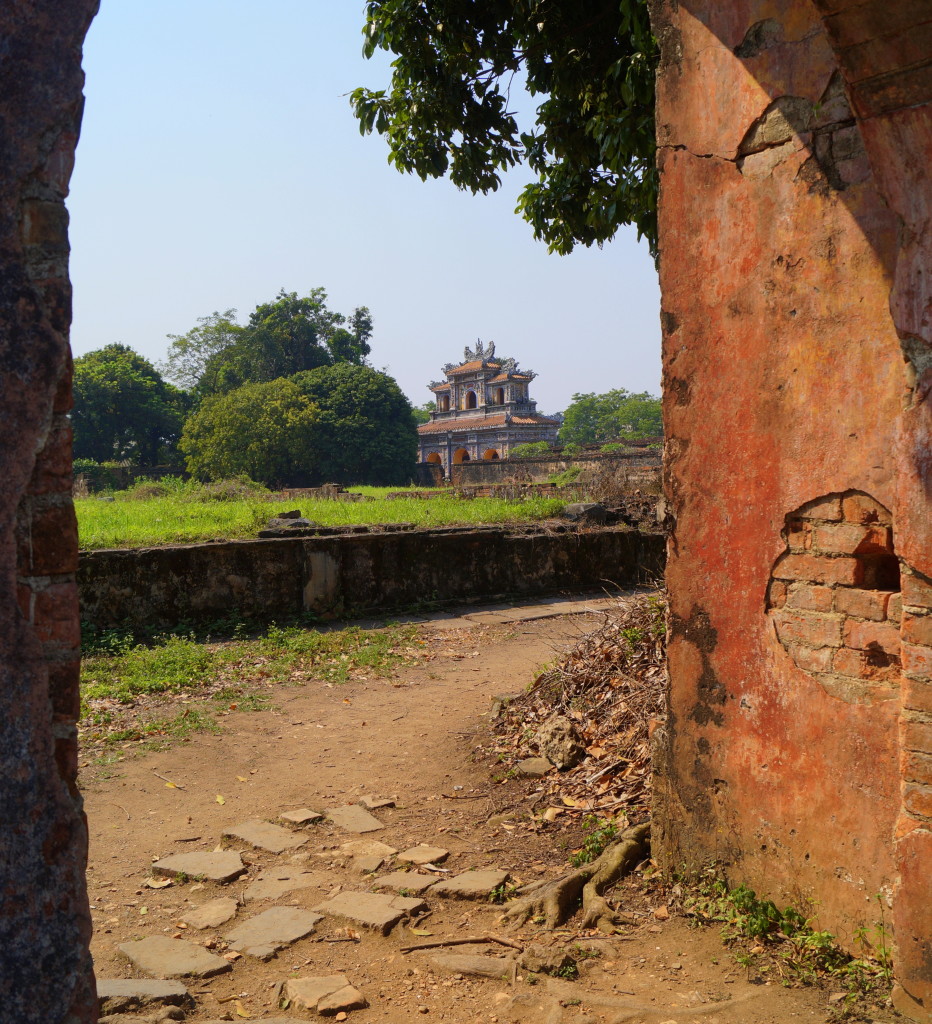 Meals: Breakfast, lunch
Overnight: Deluxe rooms at the Library Hotel in Hoi An
DAY 6: March 12th Hoi An (Full Moon Festival)
– Ancient town, a rural motorbike ride, egg coffee and street food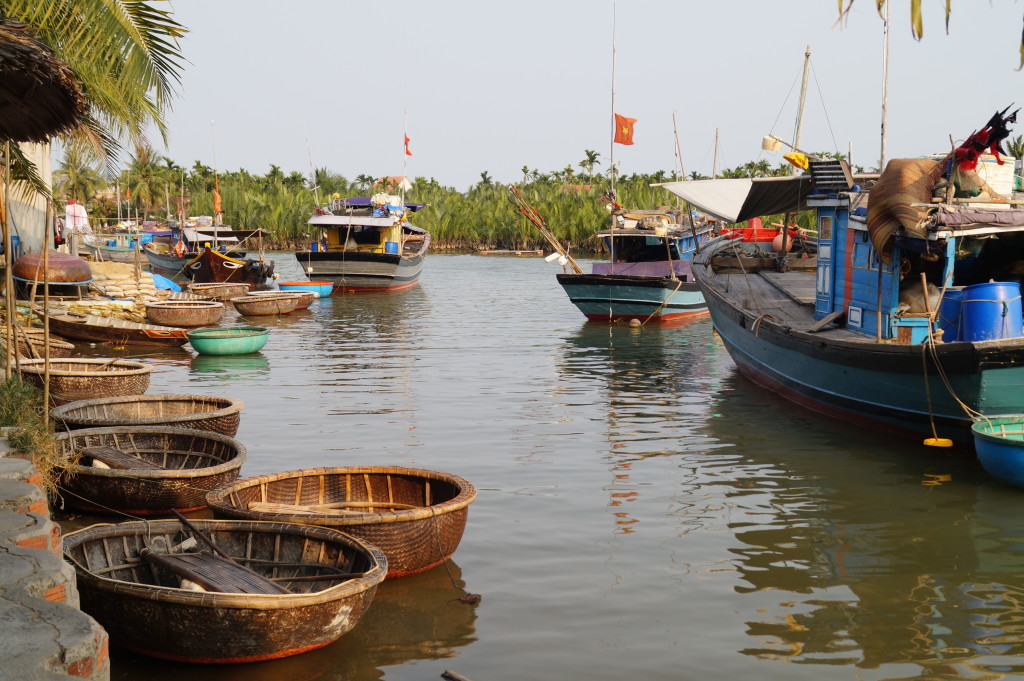 Hoi An is an exceptionally well preserved trading port and UNESCO world heritage site. During the first century it was the largest harbour in South-East Asia and by the seventh to tenth centuries it dominated the spice trade. During the Full Moon Festival the streets of the old town are closed to motor traffic and colourful lanterns are lit making this delightful for night photography. During the day you'll get to navigate the historic alleys and shops, try Vietnam's famous egg coffee (so good), sample street food, and sniff your way through clouds of incense. In the afternoon we'll take motorbikes (you can drive or be a passenger) along rural lanes through rice paddies and along rivers. Then in the late afternoon we'll head to another beach to swim and have dinner where you choose (this allows you to select the beachside bar or bistro you'd like). After dinner we'll head back to the old town for the Full Moon Festival.
Meals: Breakfast, lunch (food tour)
Overnight: Deluxe rooms at the Little Hoi An Central Boutique & Spa Hotel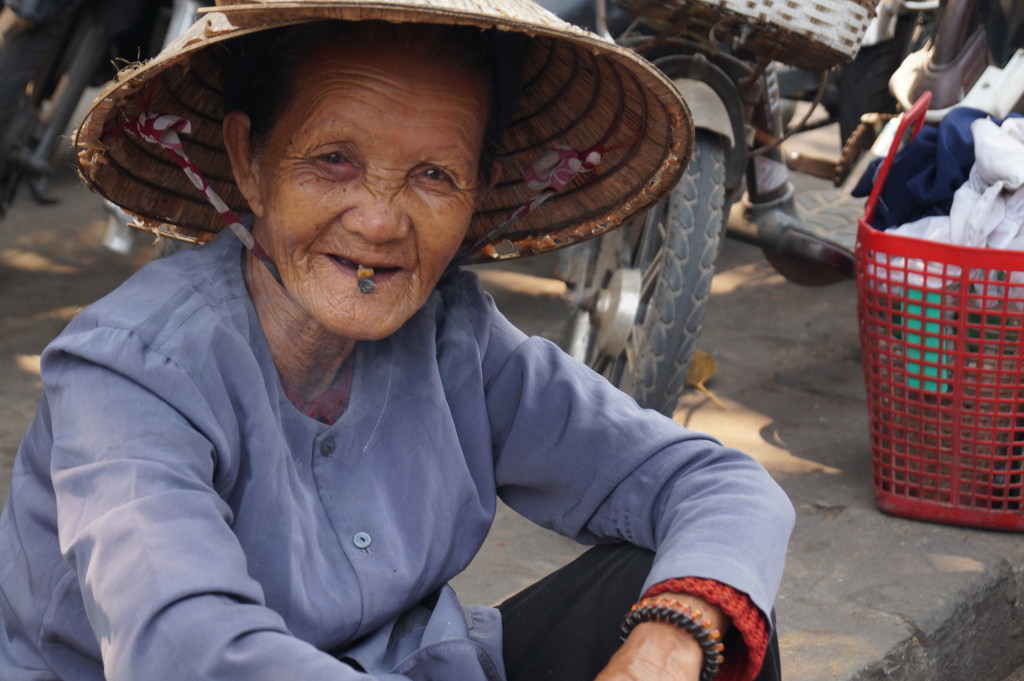 DAY 7 March 13th: Hoi An – fly to Hanoi
– Spice, Vietnamese traditional medicine, cyclos, dumplings and spring rolls, and Ho Chi Minh's mausoleum
Hanoi is the capital city of Vietnam. You'll have seen the communist government signs throughout the country before this, but the pomp and circumstance is in Hanoi, yet, like Blade Runner, is intertwined with old world street life. After a quick visit to the iconic sites we'll spend more time in the old quarter with the spice merchants and and practitioners of ancient medicine.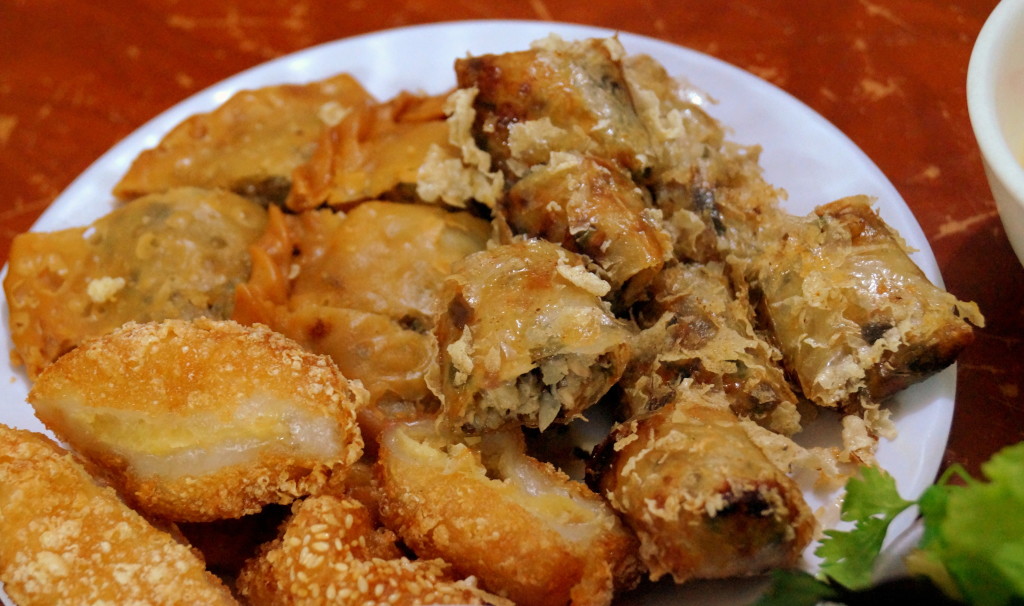 Meals: Breakfast, early dinner (street food tour) – since we'll be flying during lunch we thought we'd have an early dinner today.
Overnight: Luxury rooms at MK Premier Boutique Hotel
DAY 8, March 14th: Hanoi – Tam Coc – Hanoi
– Limestone mountains, sampan boats through stalactite caves, motorbike tour, ("temple of doom" – today is the Indiana Jones-esque day of our adventure)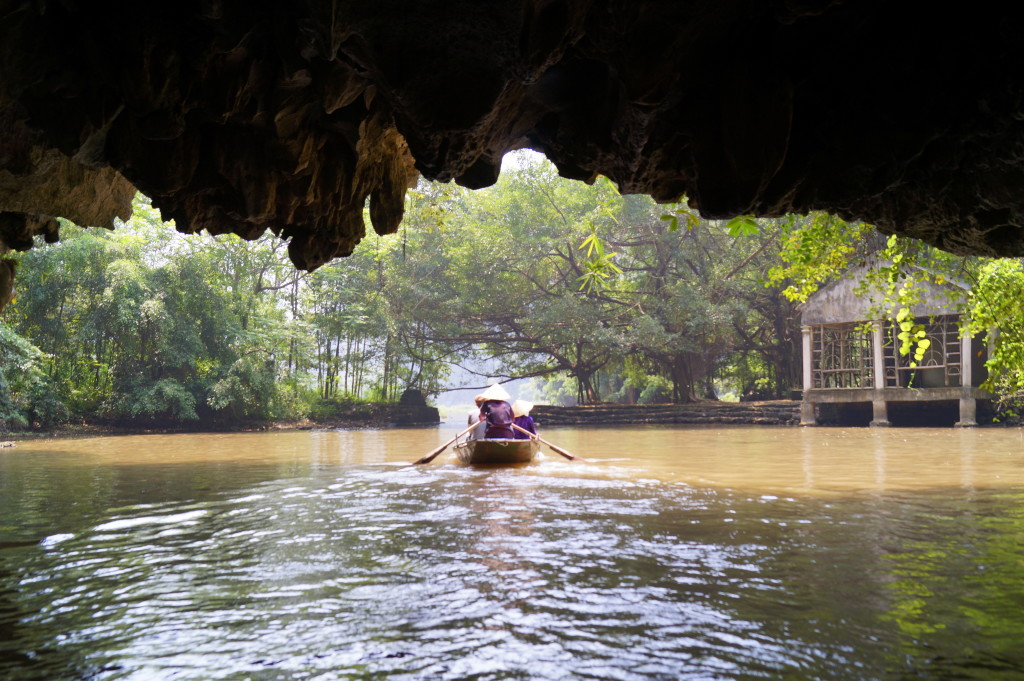 After yet another fabulous buffet breakfast we drive through the fertile Red River Delta to get to Ninh Binh where we'll be taking a two-hour sampan boat trip through the Three Caves (Tam Coc). The area is dotted with vertical limestone mountains jutting out of rice paddies. After we dock we'll have a multi-course Vietnamese lunch (last time I was at this restaurant a large group of Vietnamese war vets were having a government paid for luncheon). Once feasted we'll swing our legs over motorbikes (the water buffalo I mentioned at the start of this comes soon) and will travel by back roads through villages to the temple of Hoa Lu, which was dedicated to a Heroic 10th century King. Overlooking the temple is Yen Ma mountain – and we'll climb it for the panoramic views and because we've been eating a lot. Back in Hanoi, you'll be given free time this evening to either rest or negotiate the night market. Our Vietnamese guide will recommend great nearby dining, or you might decide that tonight is the night you want room service. It's up to you.
Meals: Breakfast, lunch
Overnight: Luxury rooms MK Boutique Hotel 
DAY 9, March 15: Hanoi to Halong Bay (also spelled Ha Long Bay)
Overnight cruise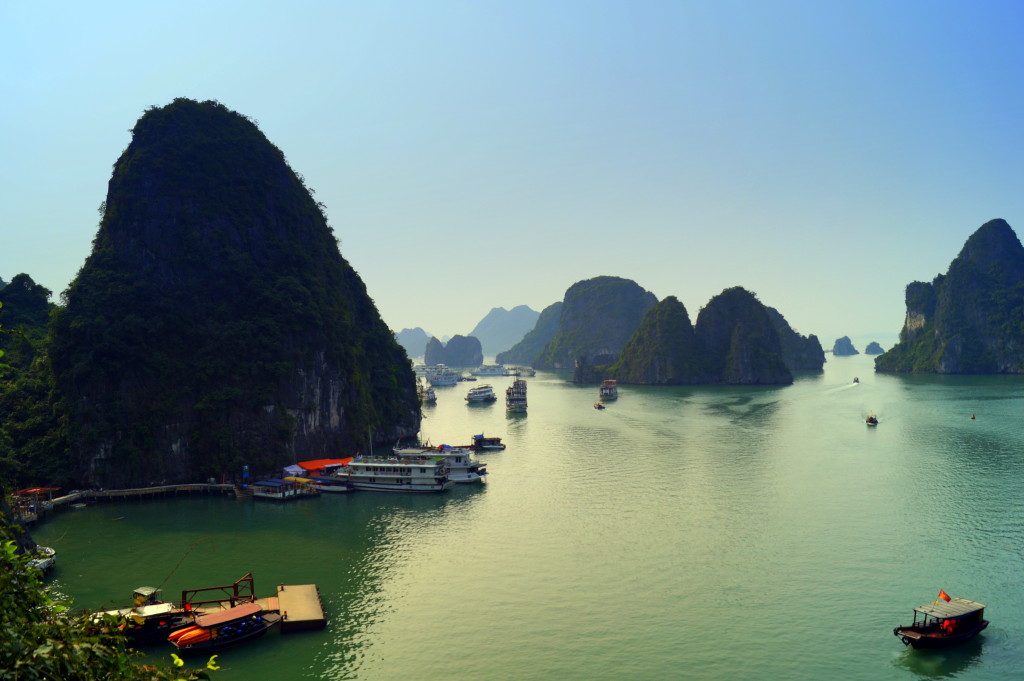 We'll arrive at Tuan Chau marina before lunch and will board our cruise boat (a Chinese style junk) for our overnight cruise in Ha Long Bay, a UNESCO world heritage site featuring thousands of karst mountains and islands rising from the bay and intricate systems of caves. After meeting the captain and crew, checking into your cabins, and enjoying a welcome drink, we'll have lunch on board as we set sail. We'll make stops so you get to explore a gigantic cave, take a panoramic photo from a mountain top, go for a swim, or maybe do some squid fishing, or just embrace the sunset with a cocktail in hand.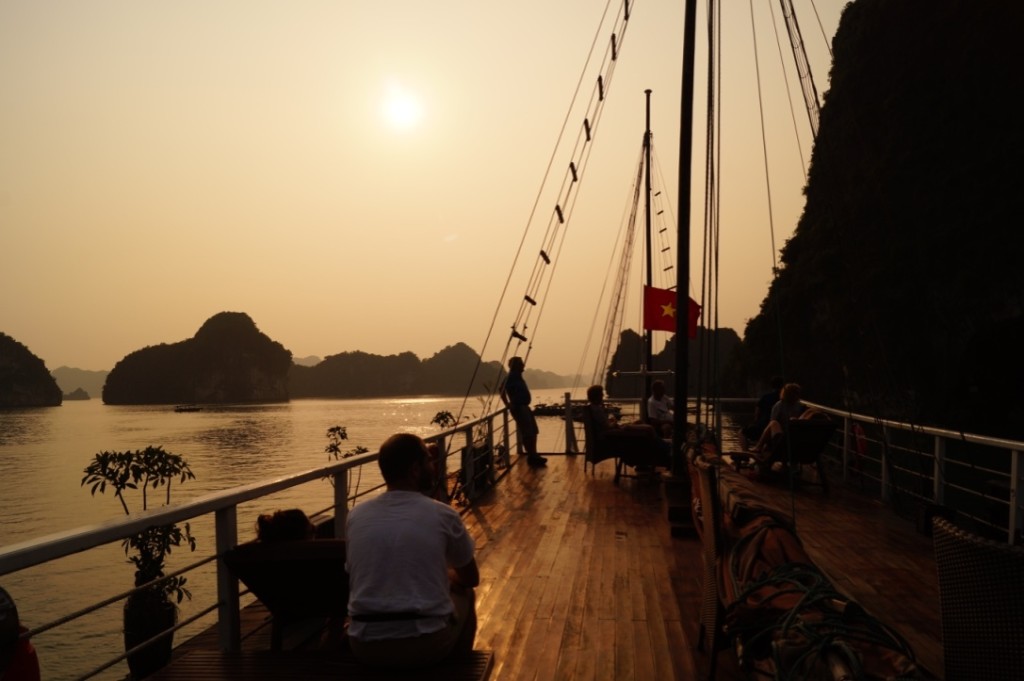 Meals: Breakfast, lunch, dinner
Overnight: Cruise
DAY 10, Ha Long Bay – Hanoi
Cruise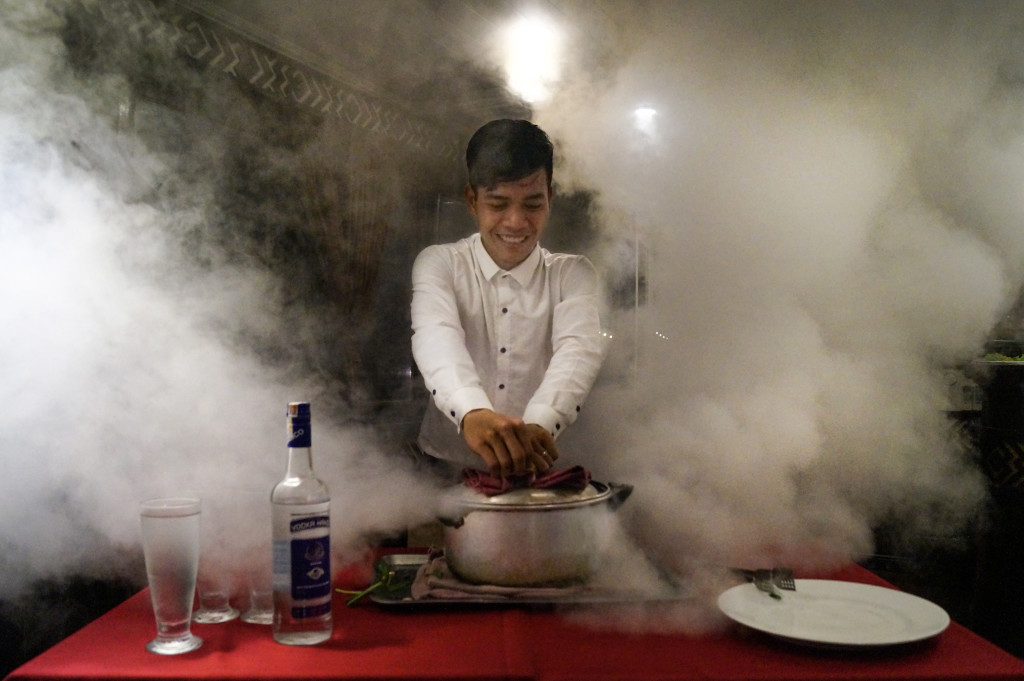 There are before breakfast activities aboard the cruise such as Tai Chi. After breakfast you'll have the option of either kayaking or taking a bamboo boat paddled by a local fisherman around the floating villages. Those who choose can take a quick cooking course and learn to make Vietnamese spring rolls (you'll be rolling our lunch appetizer). A multi course lunch will be served before we dock and return to Hanoi. Tonight we'll have a farewell dinner at a popular local spot in Hanoi, including rice wine (which has a kick) and locally made beer.
Overnight: luxury rooms at MK Boutique Hotel
Meals: Breakfast, lunch, dinner
DAY 11: Hanoi 
After breakfast we can take you to the airport for your flight home or help you arrange your onward plans. By ending in Hanoi, you are much closer to possible connecting flights from Hong Kong or Tokyo. Our Vietnamese experts can also assist you with plans to stay longer in Vietnam.
EXPEDITION HOSTS (keep scrolling for prices and inclusions):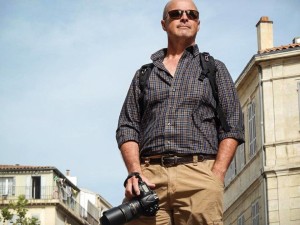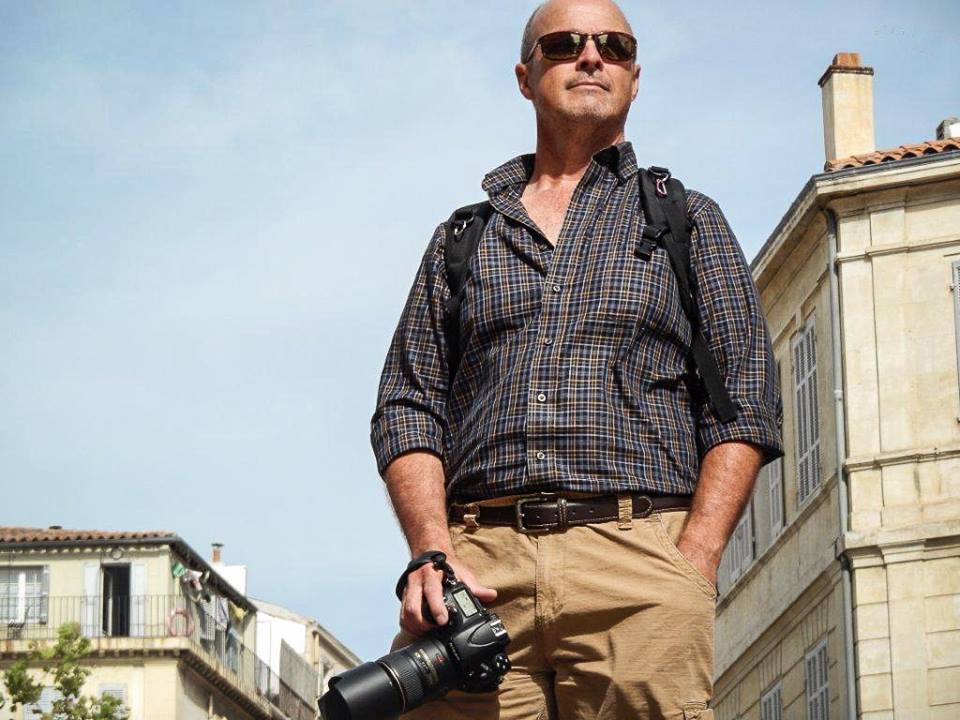 Christopher Campbell is your photography host and will be guiding you to take fantastic images throughout the trip (if you'd like to learn), no matter the devices you bring. He will also provide you with digital images he takes of your adventures. Chris hosted our photography and eating expedition across Jordan in 2014 and our Dracula Expedition in Transylvania, Romania, Halloween in 2015 and again in 2016. Chris is a renowned food photographer. His work can be seen on TV's Food Network cooking shows and in publications as varied as Chatelaine, Spa Magazine or Harper Collins cookbooks–and most definitely in ads–he's the one you can blame for making you crave Absolut Vodka, Kahlua, Gordon's gin, Florida oranges, or even test driving a Mercedes.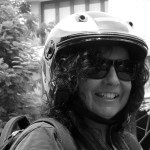 Kirsten Koza is the leader and organizer of Writers' Expeditions. She designs the adventures with her expert hosts, international tour operators, and local guides and ruthlessly test drives each expedition. She is an author, humorist, journalist, editor, and adventurer. Her articles and photos have been published in newspapers and magazines around the world. She's a contributor to the "travel publishing giant" Travelers' Tales (USA): The Best Women's Travel Writing, and humor anthologies, and is the editor of their recent travel humor book Wake Up and Smell the Shit.  Kirsten is a journalist and writes on topics as varied as cannibalism, tornadoes, disease, politics, bullfighting, dildos, Putin, and gluten, and covered Syrian refugees, when she went to Zaatari, in a three-part series. CBC Radio Canada International declares Kirsten's book, Lost in Moscow, "the ultimate what-I-did-last-summer essay ever."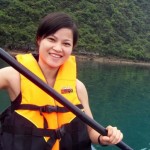 "I am Minh Ninh, a local tour operator in Vietnam. I have over nine years experience in the tourism and hospitality industry. I like travelling and that's why I chose this work. Travelling means discovering new lands, meeting new friends, listening to new stories and having new experiences. I love my beautiful country, Vietnam, and I am lucky to have many chances to visit the most famous and beautiful places in Vietnam as well as in Indochina, and I enjoy sharing my part of the world with you.
My team and I specialize in high quality, memorable private custom tours in Vietnam, Laos and Cambodia. We organize unique trips and take travellers to both the most famous places and the less-visited destinations, to uncover the authentic cultures and beautiful landscapes."
PRICES FOR EAT YOUR WAY ACROSS VIETNAM: $2645.00 USD per person (double room), $350.00 single supplement (additional rate to have single room for trip)
To Reserve your spot a 20% deposit is required. Please contact us first: info@kirstenkoza.com
INCLUSIONS:  
Two internal airfare (flights) from Ho Chi Minh to Hue, and Danang to Hanoi
 Professional photographer: Photography host (who will guide you to take fantastic photos and will also provide you with images of his throughout the journey and when you get home for your personal use)
Travel Writer/ Author: Host and tour organizer (who will also provide writing and publishing tips for all who are interested)
 English speaking Vietnamese tour guides
Accommodation in hotels
Overnight cruise in Halong Bay
Most meals (as indicated in the itinerary – and by the way – the breakfasts are great – with big selections)
Tastings (as per itinerary)
Private air conditioned vehicles with professional drivers
Vietnamese coffee as per program
Sightseeing and cycle fees and permits during guided time
Private speedboat to visit Mekong
Motorbike in Hoi An and Ninh Binh
Boat trip in Ninh Binh
Cyclo in Hanoi and Hue
Night food and culture tour in Saigon, and Street food tour in Can Tho, Hue, Hoi An and Hanoi
Water puppet show
Water bottles in car
 Visa approval letter to enter Vietnam (this is not your Visa but is helpful when you apply)
All service charges and taxes included
EXCLUSIONS: 
International flight tickets to and from Vietnam
Visas and airport departure tax
Health and travel insurance (you need to get this)
Tips / gratuities
Drinks (when not listed on itinerary) and other meals
This expedition is operated in conjunction with a licensed tour operator in Vietnam.
CONTACT KIRSTEN KOZA IN CANADA: info@kirstenkoza.com
(she can arrange to phone you as well, or SKYPE, if you'd like to chat)
Now more food from Vietnam!