THIS PAST EXPEDITION WAS COMPLETED IN 2014
There is only room for five women on our Amazon River Boat Adventure. We'll be departing from the bustling jungle capital of Iquitos, and leaving civilization to head to the jungle wilderness. The boat is owned by the proprietor of my favourite restaurant (Dawn on the Amazon – same name as the boat) in Iquitos, Peru.
Our Captain told me: The middle of November is a transitional water level period that varies from year to year. Water is rising from the low. How high it is will be will determine our destination. The Nanay River always has a navigable channel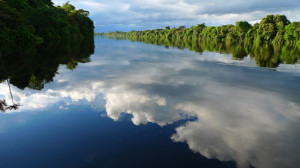 with beautiful white sand beaches and the fewest mosquitoes of any place he knows in the Amazon. If the water is below average we will go up the Nanay into Allpahuayo Mishana National Reserve. If the water is above average we will travel up the Amazon River to the Tahuayo River and then into Tamshiyacu Tahuayo Reserve.
This is a real adventure. We'll sleep on deck in hammocks listening to jungle noises each night and will eat fresh food from our surroundings prepared on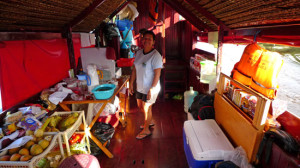 board by our cook. This is a fruit fiend's paradise. And for this foodie; it's a treasure trove of El Dorado, a fish that I became hooked-on last visit to the Amazon. The really adventurous diner might like to try suri (see my story Grub's On! Big Fat Juicy Ones in TheBlot magazine, Wall St. New York). I'll be giving suri a second chance.
Price: our river boat adventure will cost between $650 US and $750 US per person depending upon our numbers. If we get just a few of us it is $750, and if we're a full compliment  it is $650 each (2 have already joined). We'll have a captain, guide and cook. On board there is an enclosed bathroom with a bucket shower and an outhouse style toilet. We will be supplied: towels, soap, shampoo, toilet paper, hammocks or roll out mattresses (which ever you prefer) with sheets, pillows, pillow cases, and mosquito nets. (This trip was designed as an extension to the Inca Tale Machu Picchu Writing Workshop but is open to non-writing-workshop participants. The price doesn't include airfare to Peru. Writers' Expeditions is not profiting from this adventure. This private, custom trip has been arranged through Dawn on the Amazon.)
If you have any questions please contact me: info@kirstenkoza.com (I respond fast, so if you don't hear back in 24-hours, please try the contact form on my website, or message me at Writers' Expeditions on Facebook or on Twitter @KirstenKoza.)
Kirsten Koza (author, humourist, adventurer, journalist, and Writers' Expeditions Host)
CBC Radio Canada International: "Some writers are famous for writing love poetry—Pablo Neruda, for instance. Others, like Scott Adams, have managed to pin to the page the preposterousness of corporate America. Rohinton Mistry is known for his poignant portraits of Mumbai; Sir Arthur Conan Doyle changed the face of detective novels by creating Sherlock Holmes. But no one can describe an unfamiliar bathroom quite like Kirsten Koza."