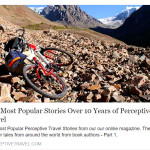 My crazy Kyrgyzstan story, which was published a few months ago in
Perceptive Travel
 magazine, made their top ten list for most popular stories. Here's the link to all the stories: 
http://www.perceptivetravel.com/issues/0117/best-travel-stories-decade.html,
and here's the direct link to my story
The Mountain Men Who Don't Exist in Kyrgyzstan
. That's my bike in the image. My KHS has since died, but it conquered first ascents and has been to Romania, Easter Island, Peru, Jordan, and Kyrgyzstan. My new Ghost is eagerly awaiting taking over the cycling adventures.