I understand why you shouldn't use words such as "retarded" when you mean "stupid" – wait, that's not right, um, when you  mean, asinine. But Upworthy has an infographic that's being shared on social networking with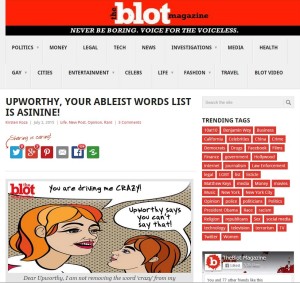 suggested replacement words for common ableist expressions, and the suggestions are nonsensical. It made me crazy, so I pitched my editor at TheBlot in New York with my rant and here it is:
Dear Upchuckworthy: I am not removing the word crazy from my vocabulary, and your list of alternative words that is circulating Facebook is asinine…(read more at TheBlot magazine).