Kirsten's suspenseful comedy
Meet the 

Teacher

 Creature
received a week workshop at 
Lighthouse Festival Theatre
in Port Dover. At the end of the process was the first public reading of the play.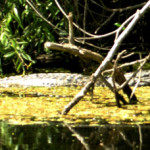 Kirsten is home from kayaking where the alligators swim. Biggest gator count was 79 in one day!
Kirsten moderated the judging debate for the 
Leap Local
 travel story competition, not that Kirsten or any of the 
judges
 are moderate — for example, one of them accidentally urinated on Idi Amin, and another did time in a Pakistani torture prison and his 11th book was lauded by
Time
as a top ten book of the year.