This is sold out for 2023 and for 2024, but we can put you on a cancellation list (follow link for 2024 details): http://kirstenkoza.com/expeditions/vlad-dracula-expedition-romania-halloween-2024/
You're invited to join our annual Vlad Dracula Expedition, a seven-day dinner party and Halloween celebration through Romania which includes the ultimate Halloween costume party at Bran Castle, and our private dinner on October 31st in the room where real-life Vlad Dracula (Vlad the Impaler) was born.
2023 Expedition dates: October 26th – November 1 (we'll be running this adventure again in 2024).
Maximum group-size for this expedition is 15.
Scroll down past the itinerary for prices, inclusions, and the hosts' biographies.
We've made all the reservations—you just need to pack a costume and your inner child (or demon) for this howling Halloween party across Romania. Our seven-day (small group) expedition includes attending the Halloween festival, at Bran Castle (known as Dracula's Castle, built circa 1377), which was owned by Vlad's grandfather (Mircea the Old). And on Halloween night our group will have a private dinner in the chamber where real-life Dracula, Vlad Drăculea (known as Vlad the Impaler), was born, in 1431. We'll be spending Halloween night at an inn of similar vintage, just a few doors down from the house where Vlad was born, inside the (UNESCO) medieval walled city of Sighișoara. We were the first people (and are the only) to ever host a Halloween dinner party in the room where Dracula was born, and each year we barely make it through cocktails before we are regaling each other with spine-tingling ghost stories and scary and experiences from our lives.
Our Transylvanian guide (with whom I explored Romania extensively) and I have designed a journey that will take us to the best local haunts: medieval castles with gruesome history, torture chambers, moody cemeteries, all contrasted with one of the most beautiful times of year to visit Romania which will be glowing in autumn colours.
And Christopher Campbell, professional photographer (Chatelaine, Food Network, HarperCollins), will be guiding you during our escapades to capture photos of a lifetime, whether you're using a mobile device, point & shoot, or a DSLR with multiple lenses. Plus he'll be providing you (throughout the expedition and when you get back home) with digital images of your adventures.
Keep scrolling for itinerary, prices, inclusions and hosts' bios.
Day 1: October 26th – Meet in the lobby of our hotel, in the old town of Bucharest, at 5:00 PM. Next door to our hotel are the ruins of the Princely Palace, the castle that Dracula built in celebration of his own greatness or evilness. In the evening we'll explore the historic pedways of the old town which was first settled in 70 BC and by the 1400s was the wealthiest city in Eastern Europe. Then we'll dine at The Beer Chariot, a dazzling 19th century restaurant which is always packed with locals and boasts an extensive menu of tasty Romanian dishes. – Dinner. Palinca shots. Overnight at Europa Royale Bucharest Hotel ****
Day 2: October 27th – After a hot buffet breakfast in the hotel's award winning restaurant, we'll travel along the grand boulevard outside the Palace of Parliament, the heaviest building in the world (according to Guinness World Records) and the second largest administrative building in the world (following the Pentagon), and it's also a legacy of a more recent "Dracula," the communist dictator Ceaușescu (executed in 1989). Then we'll break out the treat bags for our scenic drive towards Poenari and Curtea de Arges.
The townsfolk of Targoviste were blamed by Vlad for their involvement in the assassination of his brother by the Turks. Vlad killed nobles and enslaved the townsfolk to build his clifftop castle at Poenari. Poenari is where Vlad Dracula's wife plunged to her death to avoid capture by the invading army of Turks. Breakfast, Lunch, Dinner – Overnight in Curtea de Arges****
Day 3: October 28th – Halloween Party at Dracula's Castle and the mind-blowing Transfăgărășan!
We'll cross the Carpathian Mountains on the Transfăgărășan Highway. Then we'll wine and dine family-style at our guide's gorgeous inn and don our costumes for the Halloween festival at Bran Castle.
We'll be spending the next two nights in a mountain village near Bran Castle ("Dracula's Castle").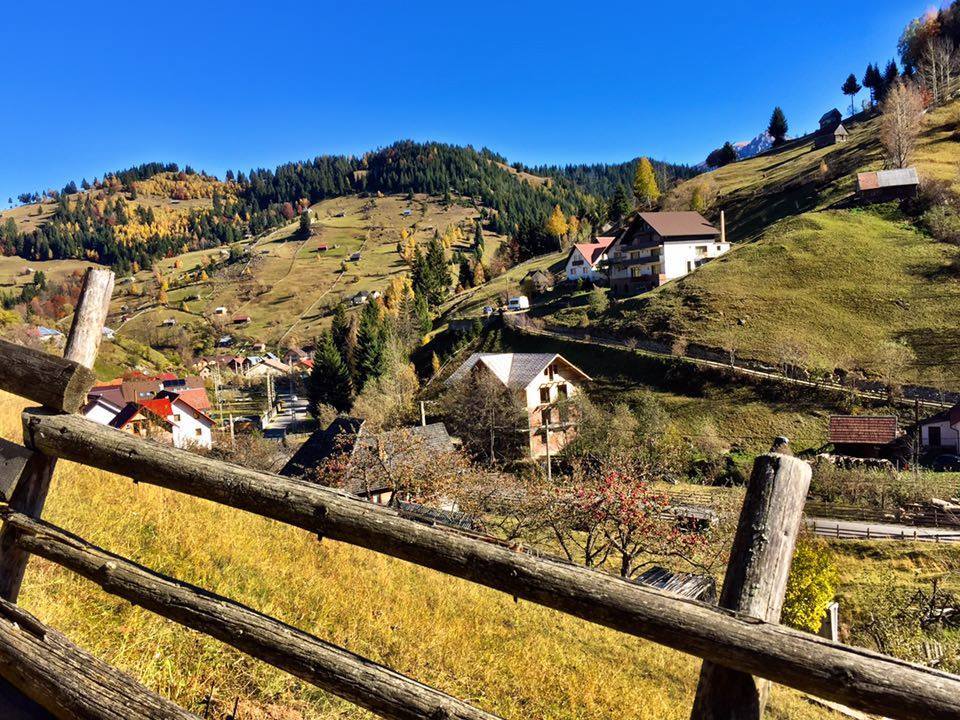 (A small sample of food on our expedition. We can cater to omnivores, vegetarians, vegans, vampires and carnivores.)
Tonight is the ultimate costume party – at Dracula's castle, Transylvania. Adults of all ages come from around the world for this festival. Every year they decorate the castle differently. You'll get to photograph some fantastic costumes. Whoever wants to stay to dance into the night is welcome to do so. If anyone would rather return to the inn, they'll be driven back to Moieciu.
Day 4: October 29th Brasov and then to Rasnov Fortress: We'll have a sleep-in after the party followed by a hearty farm breakfast (or lighter if you wish). Then we'll drive to Brasov where we'll conquer the medieval ramparts, watchtowers, and Saxon churches (if they don't conquer us). But best of all, this walled city boasts one of the narrowest streets in Europe. – All meals, overnight at our guide's Transylvanian mountain farm inn, in Moiecu, and yes there's high speed internet and private ensuite bathrooms, and a breathtaking view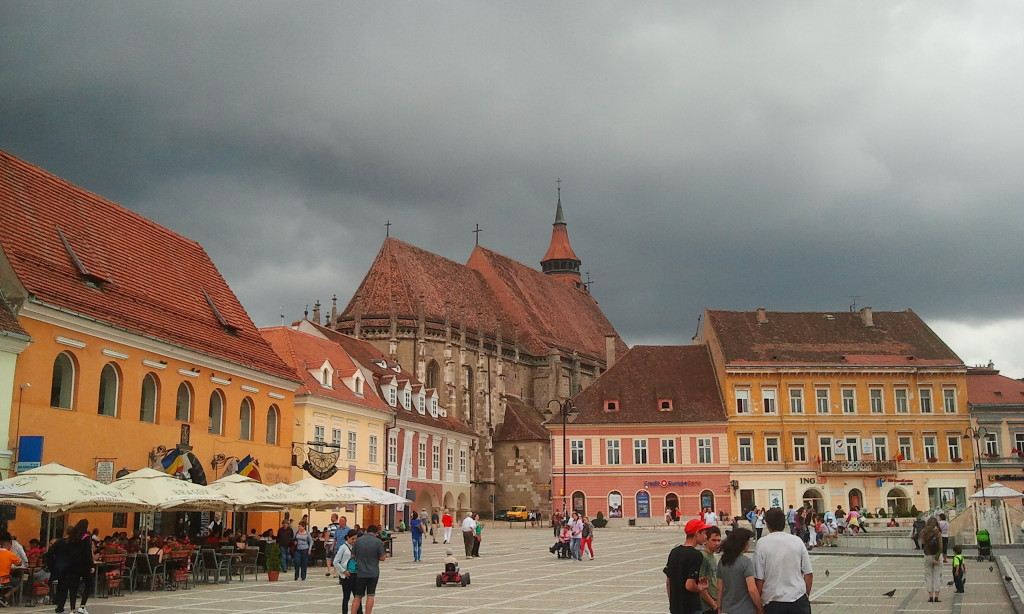 Day 5: October 30th – ghosts and legends
We continue on our Vlad Dracula Expedition, stopping in Sibiu, a town steeped in legend and named by Forbes magazine as one of the 10 most idyllic places to live in Europe. It was here that Mihnea the Evil, Dracula's son, was murdered in front of the cathedral. We then plunge further west into Transylvania to Corvin Castle where Vlad Dracula was fugitive, or some argue prisoner. This is one of the largest castles in Europe and has been host to many paranormal investigative television shows from around the world. You'll see why, or maybe some of you will feel it. – Breakfast, lunch, dinner – Overnight in Hunedoara ****
Day 6: October 31st – Hunedoara to Sighișoara – tonight we have our private dinner party in the room where Vlad Dracula (Vlad the Impaler) was born in 1431!
After exploring Corvin Castle and the grisly torture chambers at its gates, we'll take a picturesque drive to Sighișoara, which is on the UNESCO World Heritage list.
We'll be spending Halloween night inside this preserved walled town, in a medieval hotel, a few doors down the street from the house where Vlad Dracula was born in 1431, which is where we'll be dining. After scaring each other with spine-tingling stories around the dinner table, we'll also pay a nighttime visit to the cemetery. – Breakfast, lunch, dinner. Palinca tasting. Overnight in hotel which is over 500 years old!
November 1st: Day 7 – we'll travel from where Vlad the Impaler was born to the island of his grave – then back to Bucharest
We'll revisit the cemetery of Sighișoara by day and will explore the rest of the fortified Saxon town before heading away from Transylvania back to Wallachia, stopping for the climax of Vlad's life – his death – and his unusual burial wishes.
Farewell: We'll then drop you off (near 6:00 PM) at the airport, or your Bucharest area or airport hotel, or the train station for the next leg of your journey. – Breakfast, lunch, return to Bucharest
PRICES AND INCLUSIONS (FOLLOWED BY HOST BIOS): This trip includes tons, so please do scroll down to inclusions – it is $2000 USD per person in a double/shared room for two (either twin beds available or queen/double for couples). If you want a single room and don't want to share, the single room supplement (to have your own burp and fart space) is $250 USD for the entire trip, which is nothing more than the extra cost to have that single room. A deposit (which comes off your total) of $300 USD reserves your spot. Anyone from around the world is welcome, and you can check the currency conversion from USD to yours in a quick google search. Please contact us with questions or to join the expedition at: writers-expeditions@mail.com (and cc kirstenkoza@gmail.com). We respond quickly (if you don't hear back within 24 hours, check your spam bin). You can also message us at our Writers' Expeditions Facebook Page.
Inclusions:
All accommodation (the delightful inns are small and unique – three and four star, with private bath, and wifi)
All meals (don't blame us if you gain weight – the food in Romania is fabulous, and you're the one ordering what you want from the menus)
Some alcohol (see itinerary)
Photography sessions for those who wish
Professional digital images of your journey
Writing tips for any who wish (however, please note this is a roving dinner party and photography adventure, not a writing workshop)
All transfers and transportation on tours
English-speaking, Transylvanian guide
Our own driver and private vehicle
All entrance fees to castles and museums
Exclusions:
Airfare
Alcohol (unless listed on the itinerary)
Visa
You have probably seen his images displayed on TV's Food Network cooking shows or in publications as varied as Chatelaine, Spa Magazine, or HarperCollins cookbooks–and most definitely in ads–he's the one you can blame for making you crave Absolut Vodka, Kahlua, that dew dripping glass of Gordon's gin, Florida oranges, late night fast food at Wendy's or McDonald's (blame him for that), or test driving a Mercedes—that's Christopher Campbell's fault too. This is Chris's sixth year hosting our Dracula Expedition. He's also been our photography host twice in Jordan and in Vietnam.
I ruthlessly pretest the Writers' Expeditions trips to find the best local guides, tour operators, and unique adventures, so you can have a great experience. I've had more than seventy-five stories published in books, magazines, and newspapers around the world, on topics as varied as going inside the largest Syrian refugee camp, bullfighting, cannibalism, tornado chasing, mountain biking, dildos, dictators, Putin, gluten, mutants, and politics. I've even made the front page of Kyrgyzstan's national newspaper. I'm the author of Lost in Moscow: A Brat in the USSR and edited the Traveler's Tales anthology Wake Up and Smell the Shit: Hilarious Travel Disasters, Monstrous Toilets, and a Demon Dildo.
And we leave you with some photos of Halloween costumes, food and fun from past expeditions (just click on images to expand) and a three-minute documentary made by a participant from a previous expedition. Turn up your speakers for it! The Dracula Expedition Video!