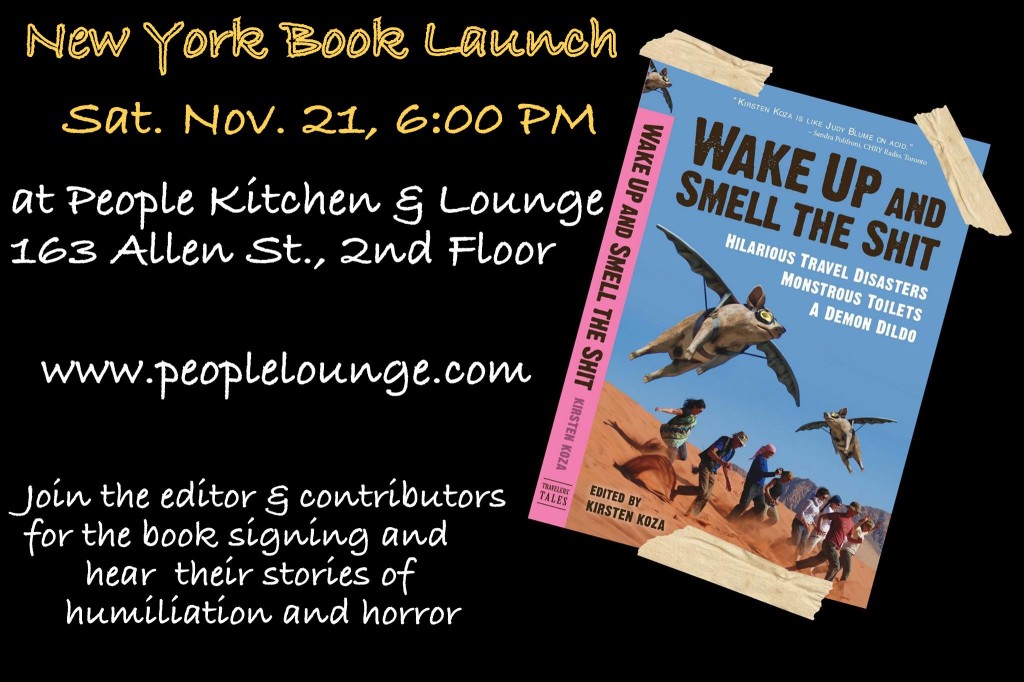 The New York launch for Wake Up and Smell the Shit: Hilarious Travel Disasters,  Monstrous Toilets and a Demon Dildo is on Saturday November 21, 2015, at 6:00 PM at People Kitchen and Lounge (163 Allen St., 2nd floor). The event is free but there are cocktails and food for sale from an exciting menu and of course autographed books (cash sales for books only), so you can put some signed shit in a loved one's Christmas stocking. (I've been just itching for a chance to say "put some shit in a loved one's stocking.")
The editor and contributors will be entertaining you with their shockers and sexy times abroad:
Sarah Enelow
A Real Piece of Americana (in Moscow)
"What's black-black?"
Kirsten Koza (volume editor)
Don't Push the Button!
Kyrgyzstan
"Schadenfreude: (noun) delight in another's misfortune" — Collins English Dictionary
Katka Lapelosová
"Allo! 'allo, 'allo 'ahhhhhllo!"
Naked men in Budpest.
Gazelle Paulo
Friendly Skies
Coffee, tea, or Gaga?
Nigel Roth
Cold London Summer
A tale of how sex changes everything.
Emma Thieme
You Go in the Morning, I go at Night
"Thank God I have done my doody duty." –Admiral Horatio Nelson
And someone (we can't name for reasons she might reveal at the launch) will be reading her story:
The Wind that Shakes the Barley
The best worst Thanksgiving ever in Dublin.
Wake Up and Smell the Shit is now available from bookstores and online sellers: Amazon, Barnes and Noble, Powell's and many more:
Stand back! The 31 tales in this raunchy round-the-world romp might get you dirty.
We've all had unspeakable experiences while traveling that we're ashamed to admit, but these often become our best stories in the retelling. The writers in this collection cast inhibition aside and reveal their weirdest and worst moments and how they made the best of them. And memorable moments in exotic destinations come in all shapes and sizes: insects as big as Pam Anderson's left tit, regrettable sex, stink-eyed officials, horrible healers, Lady Gaga's shoes and Madonna's special meal, trigger-happy militants, and peeping Tom rock stars…