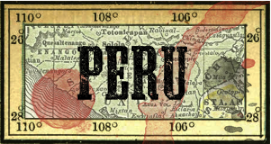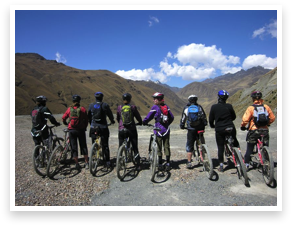 Thanks to Mountain Equipment Co-op's trip partners listing, Kirsten found nine women who happily left their boyfriends, partners, pets, families, a tuba, and one imaginary tortoise at home to go mountain biking for 17 days in Peru.
This mercury-mad adventure started in Lima, then headed down the Pacific coast to Nasca for sand boarding on the highest dunes in the world, a flight over the mysterious Nasca Lines and some accidental handling of 2000-year-old human remains.
Then over to Arequipa, up Misti Volcano, down into the Colca Canyon (where they ended up surprise guests inside a bullring with ten bulls and no matador. (Oh, he was there but he was boozing it up outside the bullring.)
Then they gasped and barfed their way up to Puno, Lake Titicaca, Cusco, through the Sacred valley of the Incas, Santa Maria Jungle, Ollantaytambo, Machu Picchu, through cloud forests and all the while frequently sampling the leaves of coca plantations.
Here's the itinerary that their guide, Saul Ceron, designed for his favourite "chicas" at his Peruvian company Peru Adventures Tours.
Kirsten arrived home in Canada after an exhausting 3-week back-road trip through the Peruvian Andes and desert to discover an ATM in Lima continuing to make withdrawals from her bank account days after getting home.
---
Back to Peru!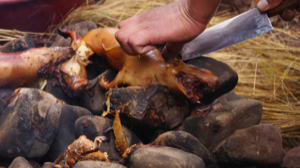 Being a tiny bit of a risk-taker, Kirsten travelled to Peru for a second time with online strangers. Joining her was Geeta Nadkarni (you may know of Geeta from Montreal's CBC News at Six, or from her radio column) and also Geeta's sister, Namrata, from the UK.
Namrata is an editor for SeaTrade Magazine (by the way, Geeta calls Namu "Boy" and now Kirsten knows why — it's a Tarzan thing — and not because Namu screams like a boy when sandboarding. Watch it and hear it to believe it — Kirsten's 19-second video clip of Namu screaming down a dune in Haucachina Peru).
Speaking of boys, the girls had been looking for a 4th muchacha to join them but ended up saying "si" to a muchacho. Josef Seywerd is the director of Chilliwack Search & Rescue and is a school librarian (yup, it's a Clark Kent/Superman kind of thing).
While, Kirsten hadn't met any of her trip partners before, Geeta had written a very funny review of Kirsten's book Lost in Moscow a couple of years previously.
On arrival at Lima's airport, they rented "Christine", a small Suzuki Jimmy with a psychotic alarm and Boston Strangler seatbelts. They immediately escaped Lima's entanglement of writhing traffic and headed straight up (15,800 feet above sea level — way up) and over the Andes for ten days, finally arriving in Ollantaytambo, located between Cusco and Machu Picchu, where they stayed in welcomed serenity at the newly opened Apu Lodge.
There, in the Central Highlands they test drove a Mother Earth and Goliger'sTravel, Voluntourism-tour and swilled some chicha with Aly Ponce de Leon (it was not the chicha made from spit). They also tucked into Peru's "other" national dish, cuy (guinea pig) that was marinated for days at Aly's mom's house.
From Ollantaytambo it was west to Nazca (gotta love that hooky pooky Nazca link) to see a lady about some mummies, then back north up the coast to Lima.
Taking Reservations Soon NOW for Two Writing-Workshop Expeditions in Peru: I have posted the full details about two adventures for both writers who like to travel and travellers who like to write. The first two-week expedition will navigate through Peru's south (in August, 2013), and the second (in June, 2014) will travel throughout the north.
We will excite all the senses (and maybe find some that you never knew you had) as our Peruvian guide immerses us in the real Peru.
(below image: sandboarding, Olympic-skeleton-style, at Huacachina)
Our small ensembles will seek out the best local Afro-Peruvian music, eat chocolate, smell the guano, dance with bulls (literally), drink pisco and chicha (not the kind made with spit), hike in lush rainforest to the base of the world's third tallest waterfalls, stuff our faces with pachamanca, go sandboarding and cross dunes on super-charged dune buggies, see spatuletail hummingbirds and condors in the wild, soak up the humidity in high elevation Amazon jungle in the north and shrivel like the mummies in the dry heat of Nazca.
(below image: writing workshop hosts Lavinia Spalding and Rolf Potts)
Lavinia Spalding (writing workshop host for August 2013): is an award-winning writer and a journaling advocate. She's the author of Writing Away: A Creative Guide to Awakening the Journal-Writing Traveler, named one of the best travel books of 2009 by the L.A. Times, and co-author of With a Measure of Grace, the Story and Recipes of a Small Town Restaurant. She is also the editor of the 2011, 2012, and 2013 editions of The Best Women's Travel Writing. She is a regular contributor to Yoga Journal, and her work appears in a wide variety of publications, including Gadling,The San Francisco Chronicle, and The Best Travel Writing Volume 9.
Rolf Potts (writing workshop host for June 2014): is the author of Vagabonding, and Marco Polo Didn't Go There. He has reported for National Geographic Traveler, The New Yorker, Outside, Guardian UK, New York Times Magazine, Sports Illustrated, National Public Radio, the Travel Channel, and his stories appear in dozens of anthologies.
"Potts is one of the best travel writers to emerge in the last decade. Intrepid and thoughtful, he's a Paul Theroux for the backpacker generation."—San Francisco Chronicle
Rolf Potts is "Jack Kerouac for the Internet Age" —USA Today
(Kirsten Koza) I will be hosting and organizing both June and August's workshops:
"Some writers are famous for writing love poetry—Pablo Neruda, for instance. Others, like Scott Adams, have managed to pin to the page the preposterousness of corporate America. Rohinton Mistry is known for his poignant portraits of Mumbai; Sir Arthur Conan Doyle changed the face of detective novels by creating Sherlock Holmes. But no one can describe an unfamiliar bathroom quite like Kirsten Koza." —CBC Radio Canada International