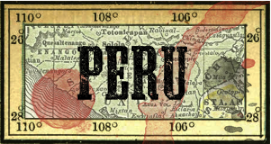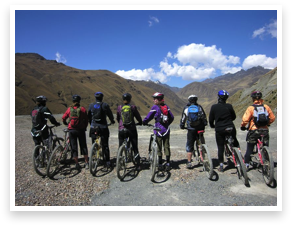 Thanks to Mountain Equipment Co-op's trip partners listing, Kirsten found nine women who happily left their boyfriends, partners, pets, families, a tuba, and one imaginary tortoise at home to go mountain biking for 17 days in Peru.
This mercury-mad adventure started in Lima, then headed down the Pacific coast to Nasca for sand boarding on the highest dunes in the world, a flight over the mysterious Nasca Lines and some accidental handling of 2000-year-old human remains.
Then over to Arequipa, up Misti Volcano, down into the Colca Canyon (where they ended up surprise guests inside a bullring with ten bulls and no matador. (Oh, he was there but he was boozing it up outside the bullring.)
Then they gasped and barfed their way up to Puno, Lake Titicaca, Cusco, through the Sacred valley of the Incas, Santa Maria Jungle, Ollantaytambo, Machu Picchu, through cloud forests and all the while frequently sampling the leaves of coca plantations.
Here's the itinerary that their guide, Saul Ceron, designed for his favourite "chicas" at his Peruvian company Peru Adventures Tours.
Kirsten arrived home in Canada after an exhausting 3-week back-road trip through the Peruvian Andes and desert to discover an ATM in Lima continuing to make withdrawals from her bank account days after getting home.
---
Back to Peru!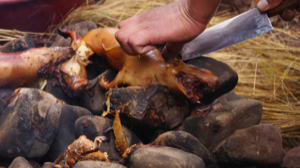 Being a tiny bit of a risk-taker, Kirsten travelled to Peru for a second time with online strangers. Joining her was Geeta Nadkarni (you may know of Geeta from Montreal's CBC News at Six, or from her radio column) and also Geeta's sister, Namrata, from the UK.
Namrata is an editor for SeaTrade Magazine (by the way, Geeta calls Namu "Boy" and now Kirsten knows why — it's a Tarzan thing — and not because Namu screams like a boy when sandboarding. Watch it and hear it to believe it — Kirsten's 19-second video clip of Namu screaming down a dune in Haucachina Peru).
Speaking of boys, the girls had been looking for a 4th muchacha to join them but ended up saying "si" to a muchacho. Josef Seywerd is the director of Chilliwack Search & Rescue and is a school librarian (yup, it's a Clark Kent/Superman kind of thing).
While, Kirsten hadn't met any of her trip partners before, Geeta had written a very funny review of Kirsten's book Lost in Moscow a couple of years previously.
On arrival at Lima's airport, they rented "Christine", a small Suzuki Jimmy with a psychotic alarm and Boston Strangler seatbelts. They immediately escaped Lima's entanglement of writhing traffic and headed straight up (15,800 feet above sea level — way up) and over the Andes for ten days, finally arriving in Ollantaytambo, located between Cusco and Machu Picchu, where they stayed in welcomed serenity at the newly opened Apu Lodge.
There, in the Central Highlands they test drove a Mother Earth and Goliger'sTravel, Voluntourism-tour and swilled some chicha with Aly Ponce de Leon (it was not the chicha made from spit). They also tucked into Peru's "other" national dish, cuy (guinea pig) that was marinated for days at Aly's mom's house.
From Ollantaytambo it was west to Nazca (gotta love that hooky pooky Nazca link) to see a lady about some mummies, then back north up the coast to Lima.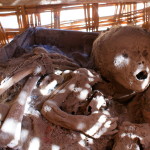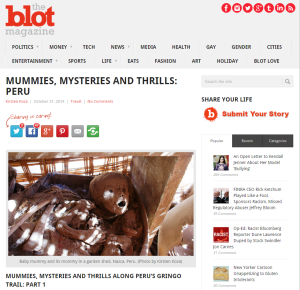 MUMMIES, MYSTERIES AND THRILLS ALONG PERU'S GRINGO TRAIL: PART 1
(from my Peru series, published in TheBlot Magazine, Wall St. New York)
"Where's the baby mummy?" I can't find the infant Nazca mummy in the backyard garden shed where it is kept by a family at Paredones, Peru. The 2,000-year-old baby (that I've returned to Peru to see for a third time) is missing. I send Leo, our local tour guide, to interrogate a family member outside the woven grass shack. For once, our 68-year-old translator isn't taking photographs of my friend Beth, which has become almost as disconcerting as the missing mummy.
As I rifle (delicately) through skulls and boxes of dreadlocked remains (one of the ancient heads has six-foot long dreads and is called Bob Marley) I overhear the family member telling Leo that he doesn't know what has happened to the baby mummy. Bullshit! You don't just misplace a mummy.
If the mummy had gone to a museum, they'd just say that. I also don't think anyone stole the mummy, regardless of the collection not being under lock or key, because there are too many dogs wandering the yard. Yes, there are dogs guarding bones.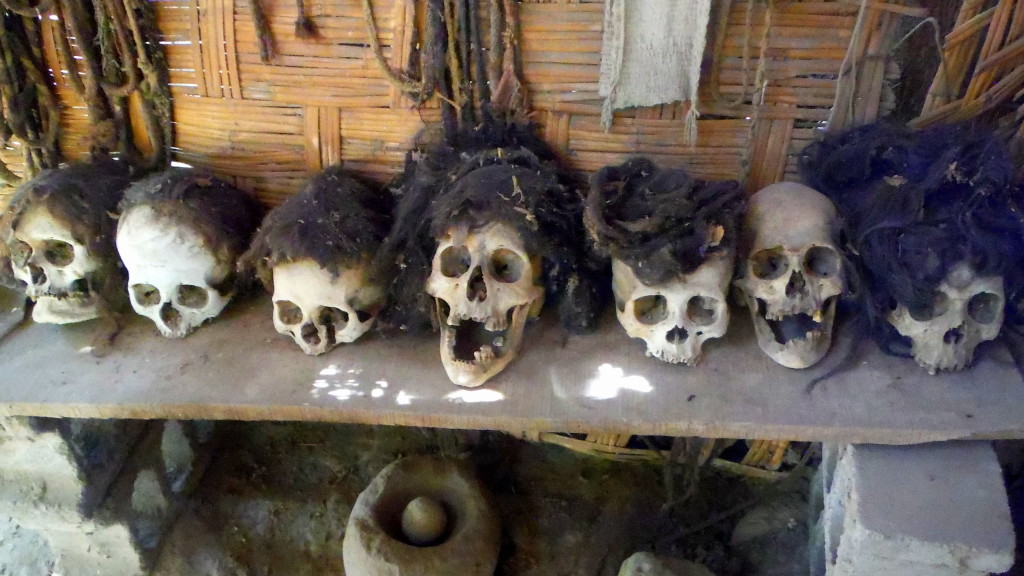 I'm guessing the baby has been bundled overseas. Black market. Perhaps a tourist bought the baby mummy? Peruvian grave robbers are only interested in the gold and riches that the mummies were sent to the afterlife wearing. The afterlife was rebirth; the tendons of the dead were sliced so the bodies could be easily folded and then they were interred by the Nazca people in the fetal position. By the light of the full moon, the Peruvian thieves look for these mummies, which litter the arid landscape of the region. Suddenly, I think I find the child in a box of bones and human hair on a bottom shelf. I get Beth to hold the evaporated milk box open so I can take a photo.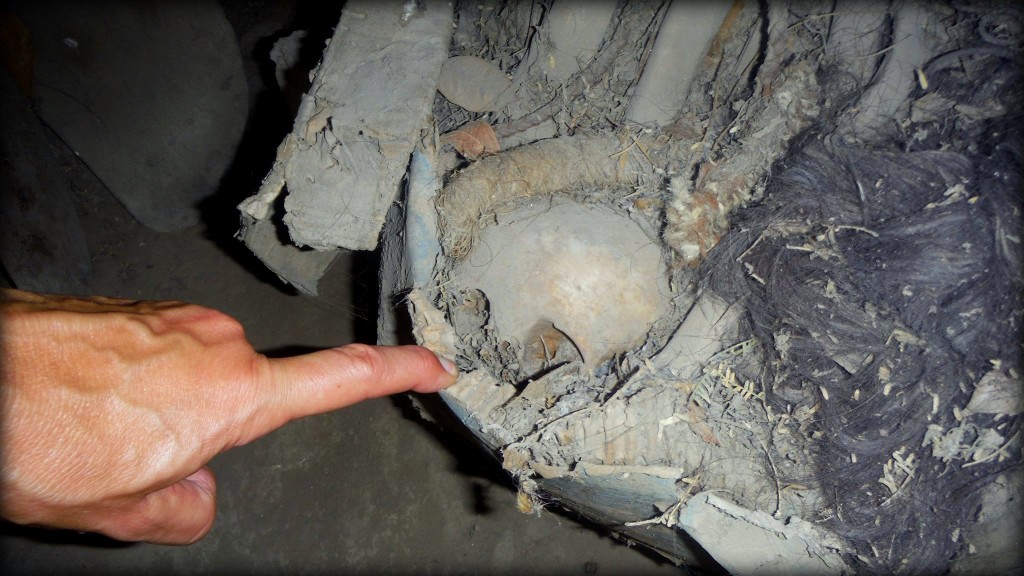 Leo seems satisfied that the disheveled skeletal remains and broken skull are the solution to the mystery, as does the man we paid our two dollars to, to see the secret collection. I'm not an expert, but when I compare the images, I'm pretty certain it's not the baby I'd been seeking. Where's "Bones" inspiration and crime writer/forensic anthropologist Kathy Reichs when you need her?
I admit I'm jealous that someone might now own the baby mummy. I'd love to own a mummy, except Beth watched a documentary about a traveler who brought a piece of skeleton home as a souvenir and then got cancer. Leo says he doesn't believe in such superstitions and nonsense as mummy curses. I don't either, but cancer is a pretty big boogieman, and it's enough to keep my fingers from filching a piece of skull with human hair from the desert. Of course, the thought of ending up in a Peruvian prison also keeps my hands in their pockets.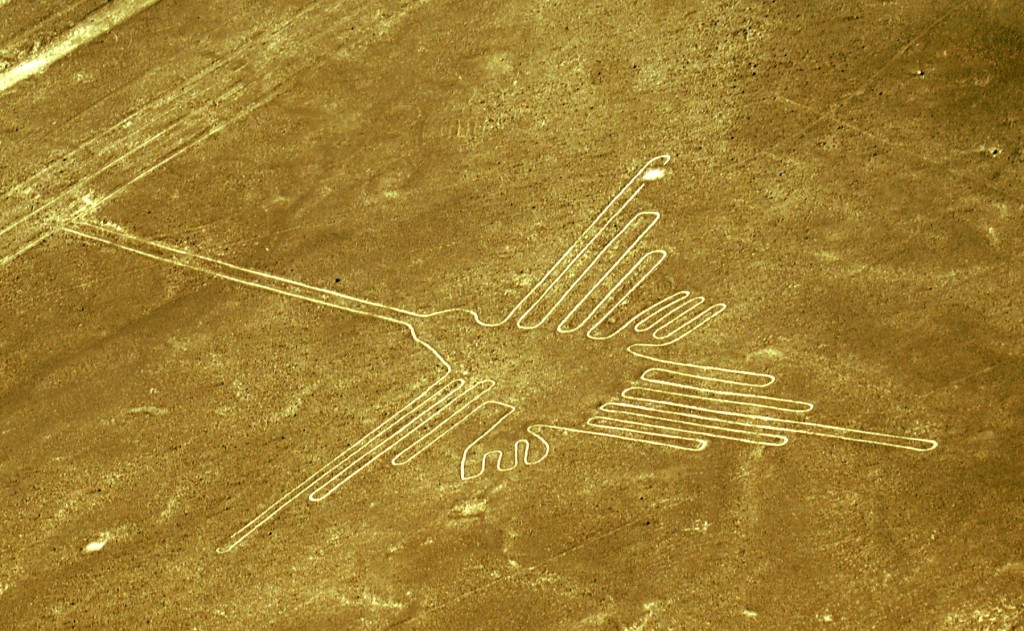 Nazca's desert erupts with mysteries — from mummies below to one of the greatest archaeological mysteries on the planet which decorates the surface — the massive geoglyphs called the Nazca Lines, which include a hummingbird, a monkey and a person who looks a lot like an alien called "the astronaut." There's only one way to see these gigantic drawings properly, and that's from above, in an airplane. Cessnas spiral over the lines from early morning until late afternoon.
The lines were estimated to have been made by the Paracas and Nazca people between 900 B.C. and 600 A.D. The most outlandish theory as to the purpose of the lines came from Erich von Däniken, who theorized that the lines were made for extraterrestrials in his book "Chariots of the Gods." Of course, Leo will tell you that this is nonsense — but nonsense can still be a thrill.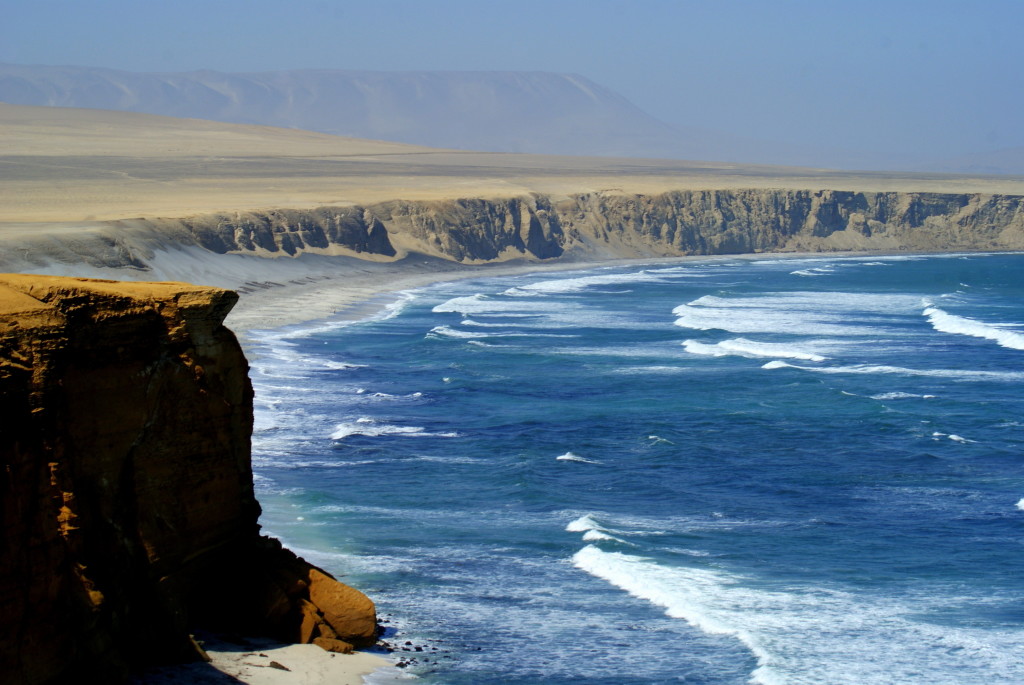 THREE TRAVEL TIPS:
 1. On the beaten Gringo Trail: Most tourists visit the Chauchilla Cemetery 30 kilometers south of Nazca. The mummies are a couple thousand years old, and one lady mummy even has a very well-preserved nipple visible on her saggy mummy breast. Some of the mummies were recovered from tomb-raiders from the nearby village who were given amnesty (no jail time) if they returned the bodies. These same villagers are now guardians of the cemetery, according to Leo.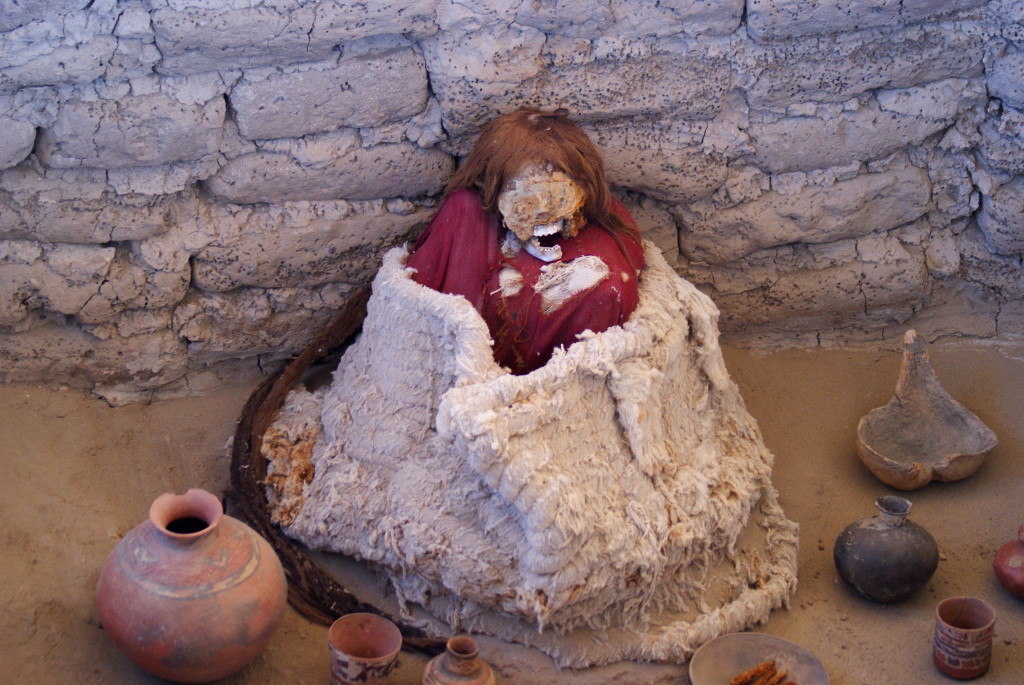 2. Off the beaten Gringo Trail: if you want to visit the mummies in the garden shed, you'll find them at a tiny private residence right by the entrance gates of Los Paredones ruins which are just a couple kilometers outside Nazca. You just shout over the gate to the dwelling's occupants and ask to see the mummies. There is usually someone at home.
3. Flying over the Nazca Lines: if you want to take good photos, you need to do this flight in the morning, which is a lottery as they often delay flights at Nazca's airport, or give preference to flights originating from Pisco's airport. On the three occasions I've been there, this has happened. My morning flight ends up being in the afternoon when the sun washes out the landscape and winds blow sand obscuring the view of the lines. If you really want to see the lines, book a couple of days in Nazca in case of flight interruptions.
FOR MORE THRILLS: Read Part 2, "The Last Train Stop Before Machu Picchu" and Part 3, "Adventure Aboard Dawn on the Amazon."