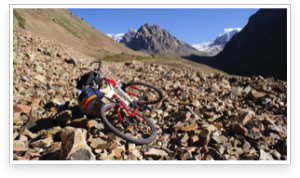 Regardless of a high risk travel advisory, Kirsten went to Kyrgyzstan for three weeks and mountain biked the Kyrgyz Republic section of the Silk Road and the rugged mountain tracks with Elena (a Kyrgyzstan/Russian guide) and drank fermented mare's milk with Cholpon (a Kyrgyz cultural guide) which Kirsten vomited up the rest of the day while carrying her bike up Chok-Tol and then back down again in the dark.
Sergey of Nomad's Dream in Kyrgyzstan put together this incredible adventure of a lifetime (here is the itinerary with details and prices) and supplied a list of cultural Do and Do Nots and some as well — which Kirsten managed to botch.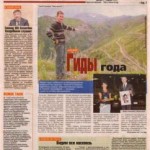 Кирстен Коза (my name in Cyrillic) on the front page of Vecherniy (Kyrgyzstan's biggest newspaper). The article isn't by me but is about my winning guides and breathtaking (literally and visually) mountain bike expedition in a country whose tourism industry was pounded by a revolution. If you can't read Russian (I can't) Sergey Gluhoverov has translated this, just click here. Leap Local's founder has suggested I go to Libya next. But I'm leaning towards the Doors to Hell in Turkmenistan for my next trip.
I want to clean my vomit off my bicycle shoes but I'm low on water. I'm low on oxygen too, nearing the peak of Chok-Tol (4770 metres). The altitude isn't making me sick. I've chosen to blame Kyrgyzstan's national beverage, fermented mare's milk, which was served to me by nomads in the Chong-Kemin valley. My up-chuck tastes exactly like the horse milk did going down. Okay, I'm exaggerating a little because I'm furious with my guide, Elena. Actually, she outdid Marcel Marceau when she mimed 'DON'T drink the kumis'. Regardless, I'm still mad. It's the first day of my three-week mountain bike trip and it's a disaster… (
FULL ARTICLE ON PAGE 8
)