Feast: a photography & eating expedition across Jordan – Petra, Dead Sea, Red Sea, markets, hot air balloons, Bedouin camel trek, & eat like a sheik!
WE CAN TAKE 4 MORE. 8 HAVE BOOKED.
Itinerary, Prices, Details:
Hope you can join us March 22-29th, 2014
This adventure is for anyone with a camera and an appetite. It's for travel junkies, photographers (no matter the skill level or equipment), writers, and foodies
Small Group: 8-12 
Itinerary and Prices: Feasting, Accommodation & Activities Included!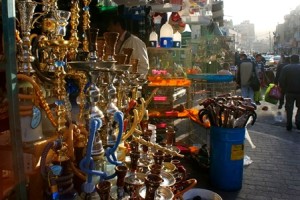 Day 1 (March 22, 2014): Arrival and Downtown Amman markets & dining: Welcome to Jordan! Your guide will greet you at the airport and you will be transported to your hotel in Amman to check-in.
This evening we'll head downtown into the traditional markets for some cultural immersion. Scented Arabic coffee will tempt us into a typical coffee house for delicious pastries so pretty even your eyeballs will drool. Watch Ammanies playing backgammon and cards, reading the newspaper and gossiping. And you can smoke an Argeela (hookah) filled with tobacco so good, it tastes like mom's apple pie (literally). This is the perfect setting to experience and capture real life.
Then we'll head to a local restaurant in Amman to enjoy an authentic dinner before being transported back to the hotel.
Overnight: Amman hotel (3 stars) Meals: D
Day 2: Dead Sea and Dana
Enjoy your breakfast at the hotel and then we're off to the Dead Sea which defies everything one can imagine about buoyancy. Swimming in the Dead Sea must be how astronauts feel the first time they experience weightlessness. You could float on your back to Israel on the saline saturated water while reading a magazine and sipping a lemonade.
The Dead Sea salt crystals look like ice clinging to rocks. The calm waters and startling blues all make for stunning landscape photography but our photography host has some creative shooting planned for us.
Lunch is at the beach.
Early afternoon we'll be transported to Dana village just in time for the sunset. The secluded location and serenity of the eco camp we'll be staying at (and the panoramic views of Wadi Dana below as the sunlight grazes across the tops of the mountains) will be an image probably worth framing when you get home.
Settle down at the camp and enjoy your dinner.
Overnight: Eco campsite in Dana
Meals: B, L, D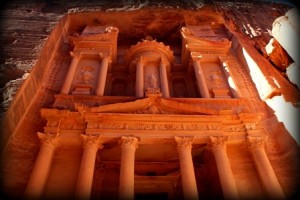 Day 3: Dana and Petra: After breakfast our guide will lead us to Dana Village. We'll hike and scramble over rocky terrain along the rim of Wadi Shagg al Kelbe, and round the steep slopes of Wadi Dana. The trail leads into the terraced gardens of Dana Village, where villagers cultivate fruits and herbs, and where you can see old Ottoman houses and traditional lifestyles.
We'll take a break in Dana village to enjoy a local lunch before hitting the road again.
Next stop is Petra—the red rose city!
You're in for a fantastic experience for dinner tonight. We'll be hosted in a local family's home and we'll feast on the national meal of Jordan—Mansaf. The correct way to eat is with your hands—your right hand to be more specific. This will be an opportunity to discover a local family's traditions, and devour a delicious home-cooked meal. After dinner you will be transferred back to your hotel.
Overnight: Petra hotel (3 stars)
Meals: B, L, D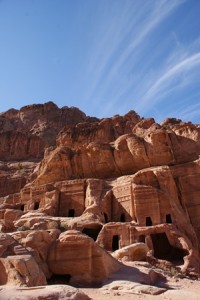 Day 4: Petra: Today is that trip-of-a-lifetime destination for many (or for the few who actually have the opportunity to do this). We'll start early morning to catch the best light.
As we walk through the Siq into Petra you'll quickly realize why this ancient city is a World Wonder. Petra is magnificent and vast.
We'll have lunch at one of the restaurants within the Petra site (because Petra is vast and it would be insane to exit). If anyone gets tired during the day, you can hire a horse or camel or donkey to get out of Petra and re-visit after a nap.
At dinner time we'll head out to a local restaurant to savour a selection of Arabic mezza.
Kirsten and Chris have some nighttime shenanigans with cameras planned. We'll be painting with flashlights while taking long exposure shots.
Overnight: Petra hotel (3 stars)
Meals: B, L, D
Day 5: Petra and Wadi Rum:
We'll have another opportunity to explore Petra and re-capture any shots you missed, but as the archaeological wonder is "vast" you'll get to take brand new ones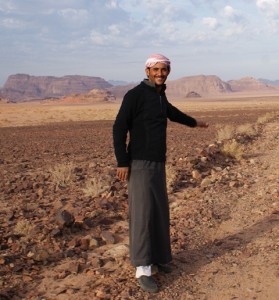 as well.
Then in the early afternoon we'll be transported to Wadi Rum where we'll meet our Bedouin host at Rum Village. We'll head over desert sands that might remind you of the majestic sweeping landscape shots from Lawrence of Arabia because that's exactly where we'll be, in the footsteps, or camel tracks, of Lawrence (and Peter O'Toole too).
Our Bedouin campsite is at a secluded location deep in the desert. We'll settle down and will feast on 'Zarb'—a traditional Bedouin dish of meat and vegetables cooked in a sand oven. We'll gather around the campfire, banter with our hosts and will become acquainted with the extraordinary people who are the Bedouin of Wadi Rum.
Sleeping in the desert: you'll have the option of snoozing in your traditional Bedouin tent made of goat hair, or you can take your mattress out for a night under a starry sky with zero light interference. The camp's facilities are basic and it offers a simple bathroom.
Overnight: Bedouin camp in Wadi Rum
Meals: B, L, D
Day 6: Wadi Rum–Hot Air Balloons & Camels
Today is going to be a fun-packed day. Early in the morning we'll be taken to Rum village for a hot air balloon trip in the cool crisp air! We'll get a 360 degree view of Wadi Rum from up above as the sun starts to rise over the sands and unique rock formations.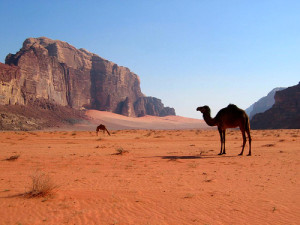 Back on the ground, we'll leave the air ship for a desert ship and will go on a two hour camel ride with a Bedouin guide, exploring the varied terrains and taking artful and fun photos. Camels make the best faces.
Then we'll be going on a combination of Jeep tour and short walks to see the rock arch of Jebel Um Fruth and hike through Abu Khashaba canyon viewing spectacular eroded cliffs. We'll drive around the massif of Jebel Burda and take a walk to see its famous rock bridge at the summit. Then it's time to find a shaded spot for a picnic lunch followed by Bedouin wood-fire tea.
After lunch and a siesta, we'll go by Jeep to Lawrence House, will see ancient rock inscriptions and stop by a huge sand dune for an opportunity to take-off your shoes, and run down the soft sand with wild abandon (or not–maybe you'll just take pictures).
Back at the camp, it's time to lounge back for dinner and relax.
Overnight: Bedouin camp in Wadi Rum
Meals: B, L, D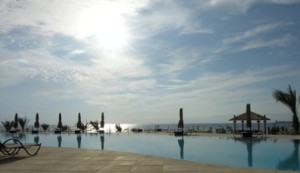 Day 7: Aqaba, The Red Sea
Breakfast will be served at camp and then we're back on the sand road. We'll be transported to Rum village where our driver will be waiting to take us to Aqaba!
We'll head to a Red Sea beach for relaxation. Then it's to the hotel to get ready for an evening adventure in downtown Aqaba, when all the markets come alive. We'll indulge our senses in the heady aromas of heaped spices, the calls of marketers, and colourful fabrics and produce.
We'll then sit down for our last night at a local restaurant. Kick back, relax, enjoy the flavours, share photos and celebrate the end of our trip.
Overnight: Aqaba hotel (3 stars)
Meals: B, L, D
Day 8: Departure
Depending on your flight schedule, you will be transported from your hotel in Aqaba to Queen Alia Airport in Amman. Have a safe flight!
Meals: B
Program ends
Inclusions
Transportation: Transportation according to the itinerary above in an air-conditioned bus.
Accommodation: 4nts in 3 star hotel, 2nts in a Bedouin camp, and 1nt in an eco camp.
Meals: 7 Breakfasts, 6 Lunches, 7 Dinners. (As per itinerary above; B= Breakfast, L= Lunch, D= Dinner)
Guides: Licensed English speaking guide throughout the trip, local hiking guide in Dana, local Bedouin guide in Wadi Rum.
Workshop hosts: Christopher Campbell (professional photographer), Kirsten Koza (professional travel writer)
Entrance Fees: Dead Sea beach access, Petra 2 day pass, Wadi Rum, Aqaba beach access
Activities: photography lessons on location (catered to individual needs and skills), camel trekking, hot air balloon ride, sightseeing, camping, hiking, swimming, culture & eating, photo editing and also valuable tips on getting published for those who are interested
Exclusions:
Flights, Visa to Jordan (North Americans can obtain these easily at the airport in Amman for about $30), Travel insurance (which you must obtain and provide details about prior to departure), Drinks, Tips
Price per person is US$2560 
Price is based on 8-12 travelers in double room accommodations.
Single Supplement: is just US$124 (so if you snore, or are a light sleeper, or get farty from falafels, it's money well spent)
Your Hosts: A note from Kirsten Koza – expedition/photography workshop co-ordinator, travel author, adventurer & humorist (the guinea pig who bicycled across Jordan and researched the perfect trip for you)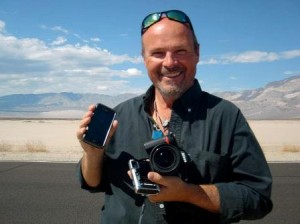 I've invited my favourite food photographer to lead our photographic adventures and share a lifetime of tips, tricks & technique. You have probably seen his images displayed on TV's Food Network cooking shows or in publications as varied as Chatelaine, Spa Magazine, or Harper Collins cookbooks–and most definitely in ads–he's the one you can blame for making you crave Absolut Vodka, Kahlua, filo pastries, that dew dripping glass of Gordon's gin, Florida oranges, late night fast food at Wendy's or McDonald's (blame him for that), or test driving a Mercedes—that's Christopher Campbell's fault too.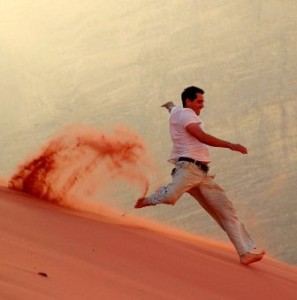 I asked Rakan Mehyar of Terhaal in Jordan to design an epic eating fest and expedition and he has. Rakan received his training at the Cesar Ritz in Switzerland and thus was the perfect man to arrange our activity packed adventure. I've travelled with Rakan's highly qualified team at Terhaal before and this travel writer gives them the maximum number of stars available.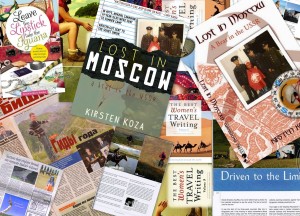 Kirsten Koza: Kirsten's first book, Lost in Moscow, is published by Turnstone. Her story "Chasing Tornadoes" is out now in 2013's The Best Women's Travel Writing (an American series of books celebrating the best travel writing of the year) and her Kyrgyzstan adventure "Mare's Milk, Mountain Bikes, Meteors & Mammaries; a nipply night in nomad's land" is in The Best Women's Travel Writing, Volume 8. Her misadventure "Easter Island: The Chilean with the Brazilian" is in Leave the Lipstick, Take the Iguana, the 9th book in the Travelers' Tales best-selling humour series.
Kirsten's travel writing and photographs have been published in newspapers and magazines around the world such as: DreamScapes , The Guardian UK, National Post, the Iquitos Times in Peru, the Guatemala Times in Guatemala (obviously), Outpost, Open Central Asia business and society magazine, Kerala Tourism Magazine, plus she's even made the front page of Kyrgyzstan's national newspaper.
CBC Radio Canada says Kirsten's book Lost in Moscow is "the ultimate what-I-did-last-summer essay ever" and Gary Buslik, author of A Rotten Person Travels the Caribbean says, "Koza writes with biting wit and delicious irony."
This is a Writers' Expeditions photography & feasting adventure designed by a travel writer, professional photographer, and Jordanian tour operator (Terhaal) for travellers who want to take great pictures, writers who want to develop camera skills, and foodies.
Contact Kirsten: info@kirstenkoza.com or on Facebook at the Writers' Expeditions page. She responds quickly so try the contact form on her website if you don't hear back within 24 hours.
There's a $250 deposit to reserve your spot. Payment is made to Terhaal in Jordan for the tour and to Writers' Expeditions for the photography/workshop. (contact for details)
If you can't make Jordan in March, you might be interested in our Silk Road and Off-Road photography expedition to the nomads' horse games in Kyrgyzstan this August.