Kirsten found five gal-pal travel partners to go caving, kayaking, and volcano-ing with in Guatemala.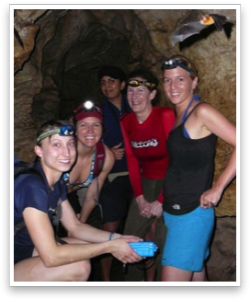 Related articles:
The Guardian: Top 10 Local Travel Guides, with photos by Kirsten Koza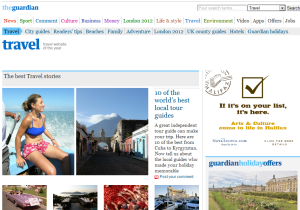 The Guatemala Times: Guatemalan Guide Wins Global Tourism Competition, by Kirsten Koza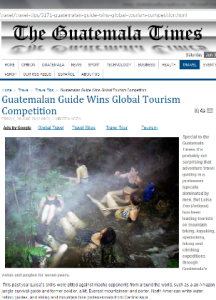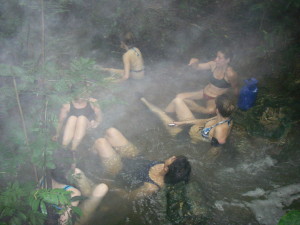 Is it possible to have an adventure on a guided tour? (first appeared in News for Travellers published by Leap Local, a responsible tourism organization funded by Cambridge, UK)
By Kirsten Koza
This adventure-travel snob tests 3 self-propelled 'local' tours to see if they provide the 'adventure' they promise.
An ad for an 'adventure spa' caught my eye, but before mocking them, I opened their website to see if they offered treatments involving bee venom and uric acid. They didn't—it was typical spa-fare, not a leech to be seen.
A Google-search for 'adventure travel' results in over 16-million companies and individuals promising adventure. Estimates on adventure travel industry-sizes vary massively between $40-billion and $245-billion US. But do any of these operators truly offer the adventure they claim in their name? I've parachuted in Russia, was held at gunpoint in Honduras and have a fairly good idea of what an adventure entails, but just to be certain, I looked 'adventure' up in several dictionaries and found these key words: exciting, danger, hazard, risk, uncertain outcome, peril, and mercenary soldier. Armed with this definition and fellow adventure seekers, I tested 3 'local' tour-companies from the Internet.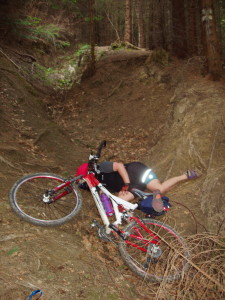 Mountain biking Dracula's stomping grounds with adventuretransylvania.com
'I think I'm going to have to take that bike ride off the tour,' said Horia Matei, Romanian guide and owner of the family business. Horia was referring to an entire day spent lost, not far from his family's farm, in Transylvania's rugged Piatra Craiului Mountains.
The extensive trail network and signs had suddenly changed. Recent felled trees blocked old paths and new paths led to dead ends. Horia's maps from the previous season were suddenly useless. He had to use his knowledge of the mountains to lead us. We'd still be there, if not for him. We escaped a forest fire, battled stinging nettles and as I lay under my bike in a streambed—I looked up at the abundant foliage and puzzled how air rescue would find us, if someone broke a leg.
There's no such thing as helicopter rescue in Transylvania.' We were back in Bran, near Dracula's castle. My trip partner, from Alberta Canada, was soaking in a wood-fire heated bath. Horia's mother-in-law had chopped the wood. My friend paraphrased the Lonely Planet from her steamy cauldron. 'Mountain rescue is voluntary and there isn't a budget for air rescue. They also warn that both trails and signs are being changed.'
Romania had still more unexpected adventure and obstacles for our guide. 'You are the first people in the world to carry your bicycles to the top of Mt.Cocora!' congratulated Ginel.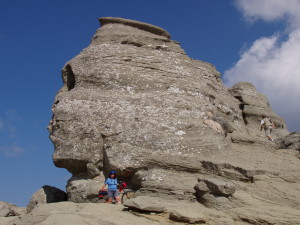 We hadn't planned on setting any records in the Bucegi Mountains. Ginel introduced us to his wife Gina. Gina hadn't left the summit of Mt.Cocora in a decade. They had a record book in their shiny metal chalet. We signed it and were given cooked ham. We'd expected the first gruelling day of ascent but day-2 of our climb was supposed to be inside a cable car. The cable car died upon our arrival and now we are record holders for having to carry our mountain bikes to the top of Cocora. Our trophy—besides the ham—was a rocketing 2-hour downhill ride, followed by swigging intoxicating plum-hooch called Tuica.
Horia jumped through flaming hoops keeping us happy and overfed but still we managed to tick every definition of 'adventure' off the list except 'peril' and 'mercenary soldiers.'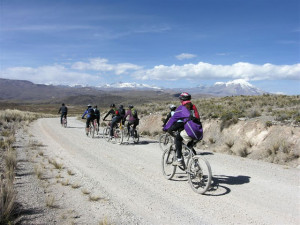 Cycling ruthless terrain with peruadventurestours.com
'Here, try some coca leaves for altitude sickness. I told you not to drink so much Pisco last night,' said Saul (pronounced Sah-ool) Ceron, the indigenous tour leader at Peru Adventure Tours. He passed a baggie to my trip pals and we stuffed the leaves inside our cheeks. We were bicycling at 4300 metres, with a view of Mt.Ampato, where the mummified body of Juanita the Ice Maiden was discovered. From there we had a steep, rocky, descent into the ColcaCanyon, 2-times deeper than the Grand Canyon.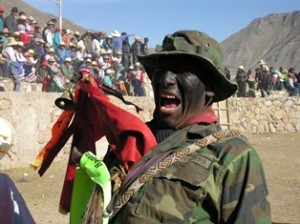 Our off-the-beaten-path route landed us in the middle of a bull fighting festival in Huambo. We were hauled centre ring by villagers. The crowd was whipped into excitement by men in military fatigues with blackened faces. Ten bulls were released into the ring with us. The men were more intimidating. The leader asked me for kisses. I added 'guerrilla' to my definition and crossed it out and ticked 'mercenary soldier'. Saul shook his head and whispered to me, 'conductor of the marching band.'
Hours deeper into the canyon and I was sitting reading the hospital admissions sign. 'Necropsy, 90 Soles.' The $30 autopsy is the most expensive procedure the ColcaCanyon hospital offers. Two of my trip partners had fallen biking. They needed X-rays for broken bones, not an autopsy, but the small hospital doesn't have an X-ray machine. My companions were pumped full of pain meds for the next couple days until we reached Lake Titicaca and Puno, where Saul didn't just have to deal with broken bones but also our festival of vomit—followed by the great debate regarding the cause of so much puke.
Peru Adventure Tours provides massive support and yet they live up to the 'adventure' in their name.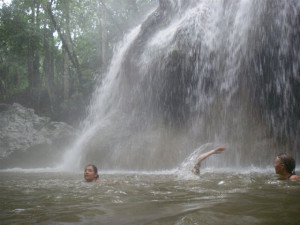 Spelunking & lava leaping with AdventureGuatemala.com
'Uncertain outcome'— we had to cross rapids and climb a cliff to the bat caves at Finca Paraíso, Guatemala. We were below a thermal waterfall, wading waist-deep in a rain-swollen jungle river near Río Dulce. Leslie Belson, from Ottawa, was forced off her feet and was clawing at the cliff wall as she was swept downstream.
'That was the scariest moment of my life,' Leslie said later. This confession came from a woman who broke her back bicycling the previous year.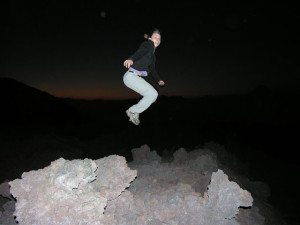 Scarier than the jungle rapids, and scarier than wading ankle deep in hot guano with bats flying around my head— was crossing fissures with molten lava flowing below. I was terrified that my synthetic sports clothes were going to permanently fuse to my skin.  We climbed Pacaya Volcano at sunset when the rest of the tourists were leaving. The freshly hardened lava-crust made an ominous hollow crunch underfoot. The heavy soles of my Merrell boots melted. We cooked dinner over lava, by the light of our head-lamps, while neighbouring Fuego Volcano erupted.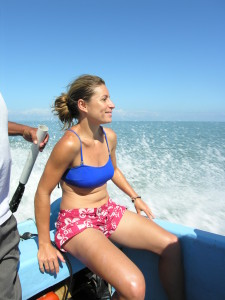 Luisa Zea is a Guatemalan guide, extreme athlete and general manager of the tour company. She said, 'Some guides here will do anything for money. They risk their lives for very little money because they are poor. They take people right to the crater but it is too dangerous.' Pacaya has claimed the life of one tourist according to the US state department. It has injured 12, has been continuously erupting since 1965, and is considered one of the most active volcanoes in the world. Fuego has claimed more lives than Pacaya. Santa Maria Volcano, near the popular tourist destination of Quezaltenango, has killed up to 6000 locals. Happily for us, Luisa Zea offered 'adventure' without 'peril'.
Surprisingly, 'adventure' is available within the safety net of a guided tour. Some companies, such as the spa, misuse the trendy word 'adventure' to create excitement where there is none. These companies also confuse the statistics regarding industry-size. However, my 'mercenary soldier' might find a lavender-rub and manicure to be quite adventurous. To guard against the unwanted-adventure, it is wise to read guidebooks, even when using a tour provider. The Lonely Planet now offers an online service, so you can purchase just the individual chapters you need.
Kirsten Koza is a travel writer and author. Photographs from these trips and others can be seen on her website: www.kirstenkoza.com