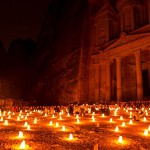 We've made the reservations, and you just need to bring your appetite for our epic epicurean adventure crossing the Hashemite Kingdom of Jordan, from the Dead to the Red Sea and back. Petra, Indiana Jones, Wadi Rum desert, Lawrence of Arabia, jeep tours, camping with Bedouin, night photography, camels, a hot air balloon ride, floating in the Dead Sea (you couldn't sink if you tried), scented spice markets, an orgasm of food, hookah pipes, wine & something far stronger–this is just a taste of what you'll be experiencing.
Scroll down for full itinerary, prices, and your hosts' biographies.
Expedition Dates: November 6-13, 2019
Group Size: maximum 12 (there are just two spots left)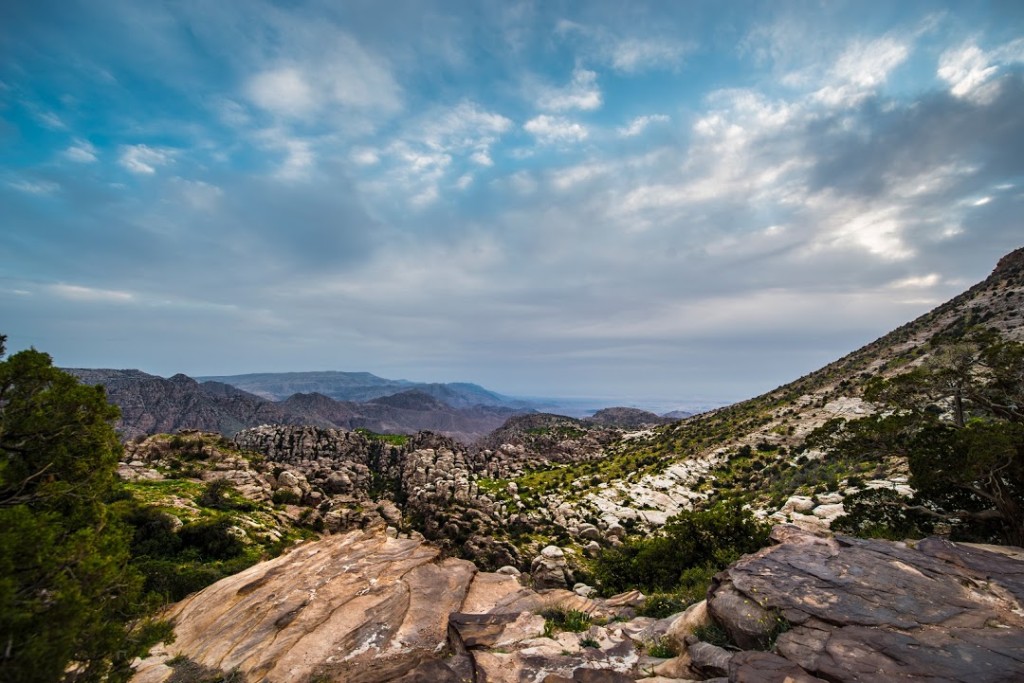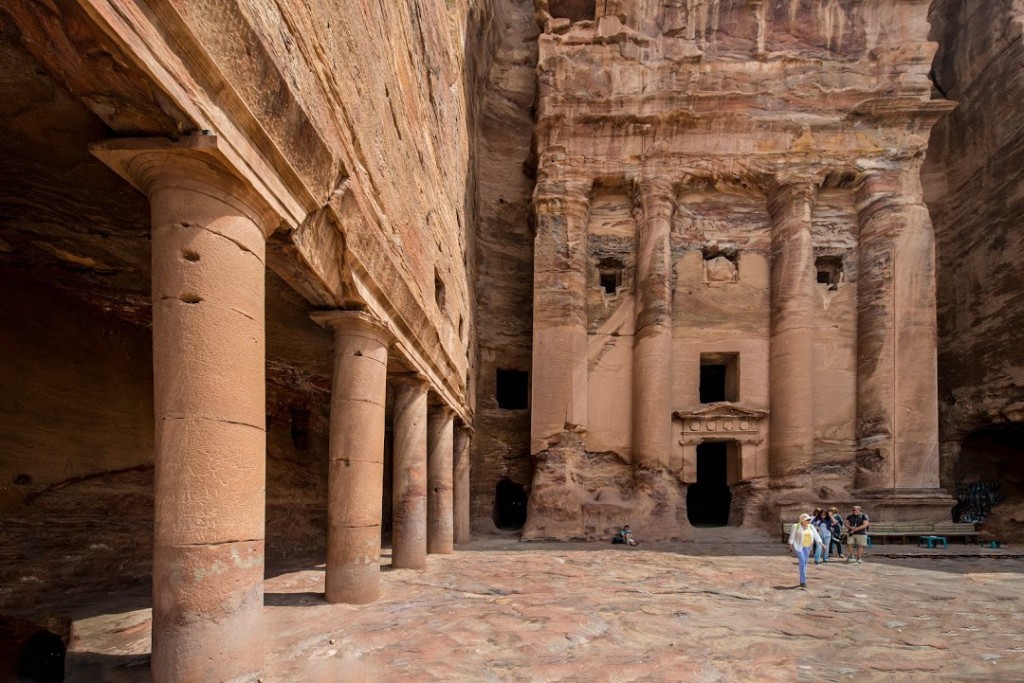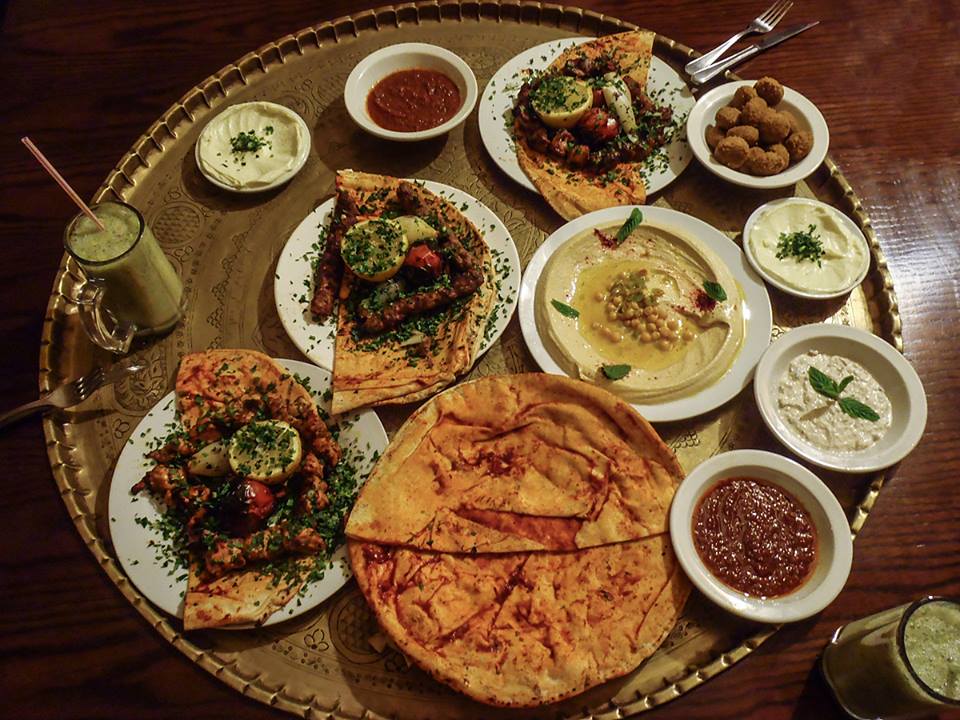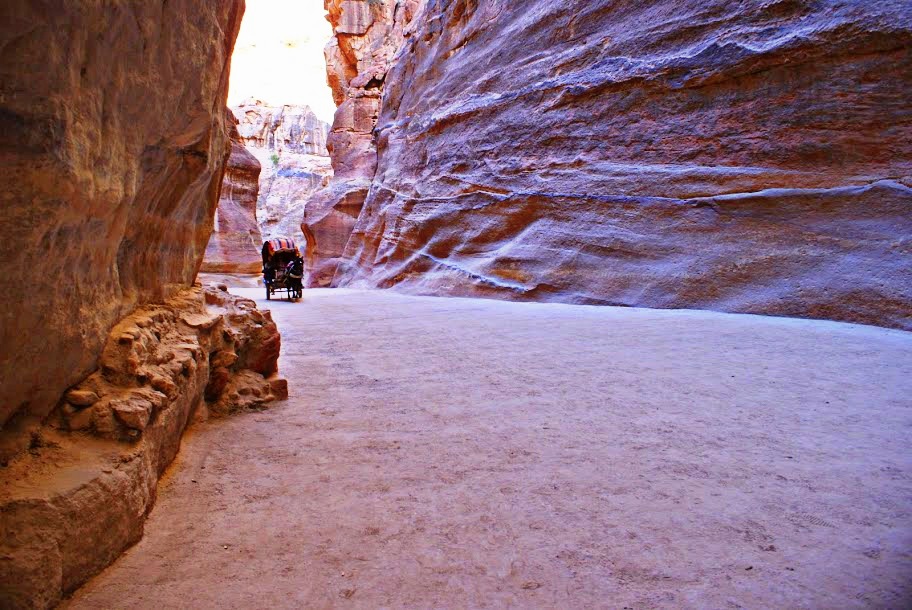 Raiders of the Last Platter – Jordanian food adventure – itinerary
Wednesday, November 6, Day 1: Welcome to Amman! After you've checked into our hotel in the heart of downtown Amman, at the very edge of the historic old town, we'll start our epicurean adventures in the suq at a restaurant famous for its falafels and hummus, followed by indulging in kunafa at a long-time family-run sweet shop, and then we'll venture into an infamous hookah/shisha lounge to smoke pipes (or if you'd prefer, you can just take photos of your new friends smoking) and to enjoy Jordanian wine and sample potent Araq (or you can just have tea or coffee)–but we're not done yet, because then we'll be going to a bakery so we can counteract the effects of the potent Araq. We'll be swimming in the Dead Sea tomorrow, but don't worry; you can't sink.
Dinner, Tastings, Overnight in Amman*** (with 4.5 star reviews, wifi)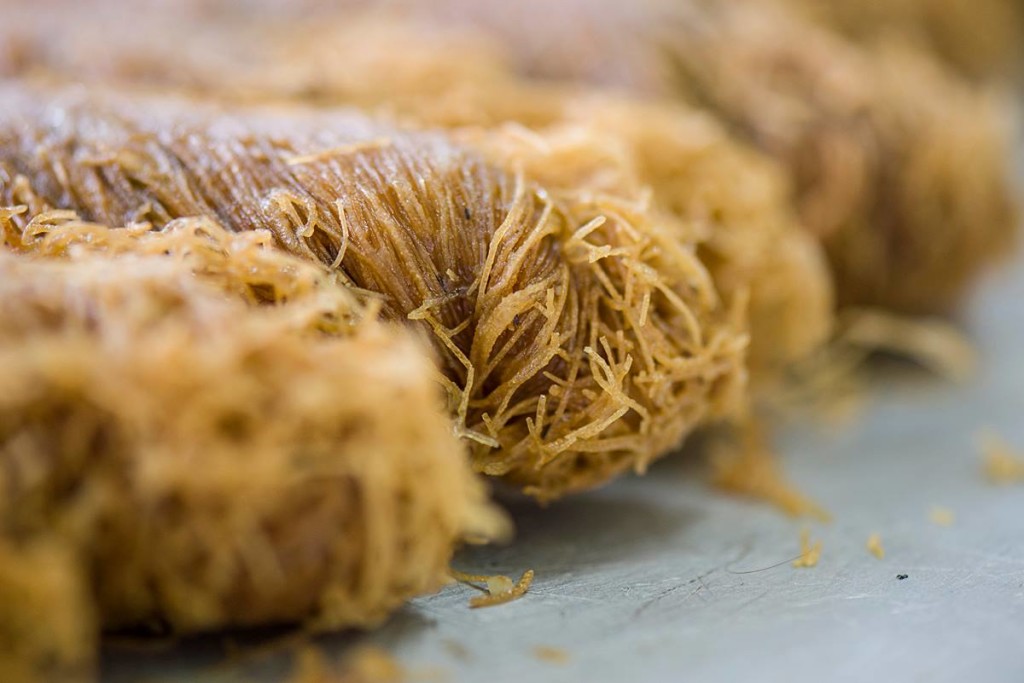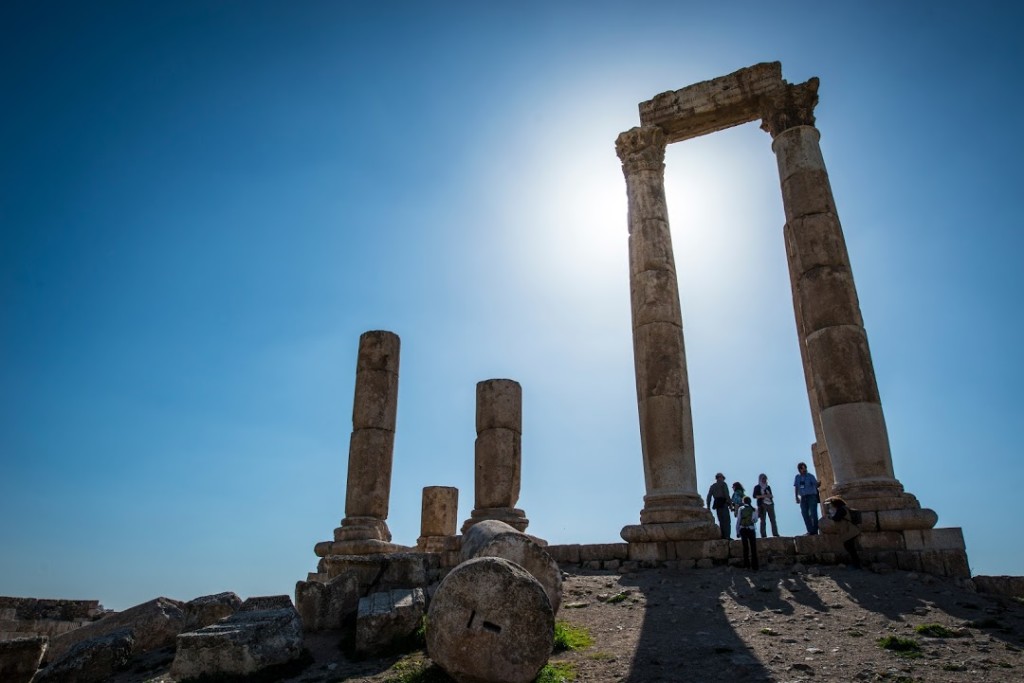 November 7, Day 2 – Dead Sea and Petra – for someone somewhere this is a day of multiple bucket list items to be ticked: After breakfast we'll drive to the Dead Sea, of which the surface and surrounding shore are about 1,400 feet below sea level. This is the lowest place on land on the planet. We'll change into our swimsuits to float and soak in the salty waters. The water is 9.6 times saltier than the ocean making a human being insanely, hysterically, buoyant like a cork.  We'll lunch at the seaside before driving to Petra, stopping on route for a baklava break.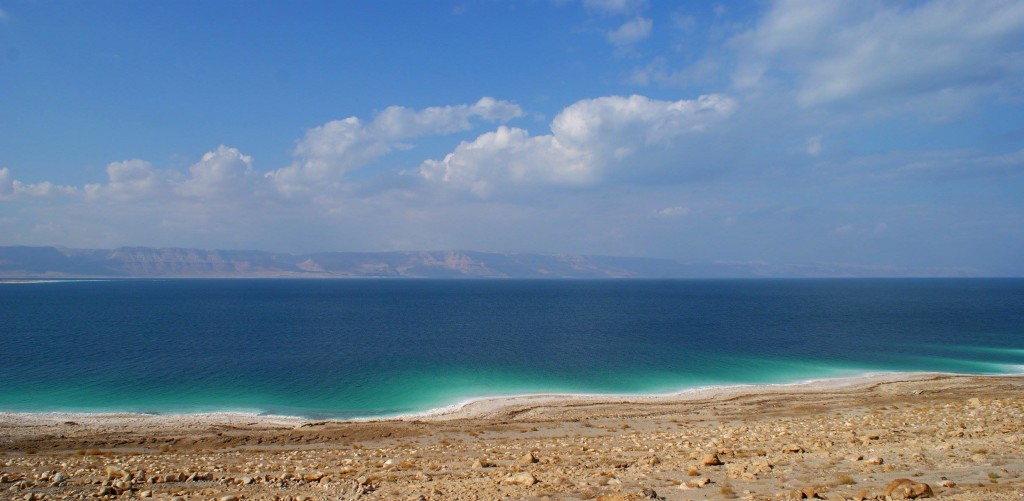 We'll check in at our hotel right by the entrance to Petra, the sandstone, rose city, which is far more vast than you probably anticipate, since many have only seen a few of the most famous buildings on documentaries, in books, and in movies– Petra, an archaeological wonder, is about 60 square kilometres. Before our candlelit adventure into Petra at night, we'll have a hands on culinary experience using local fresh ingredients. For millennia Petra was the heart and soul of the spice trade, and this evening a family of local chefs will guide us.
Breakfast, Lunch, Baklava, Dinner, Overnight Petra*** (pool, wifi) – we'll be spending two nights at this hotel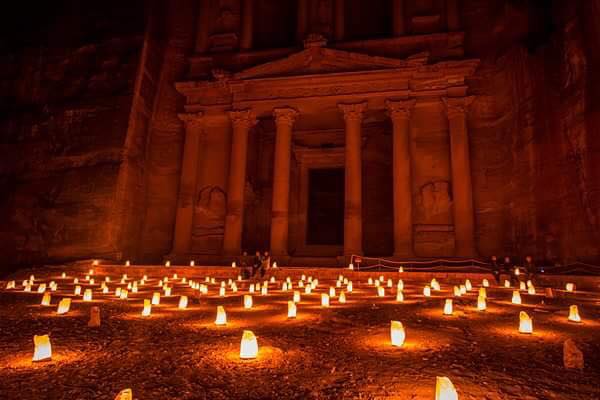 November  8, Day 3 – Petra: This morning we'll time our walk through the siq to catch the perfect light for photos.  You'll quickly realize why this ancient city is a World Wonder. We'll have lunch at one of the restaurants within the Petra site. If anyone gets tired during the day, you can hire a horse or camel or donkey to get out of Petra and re-visit after a nap.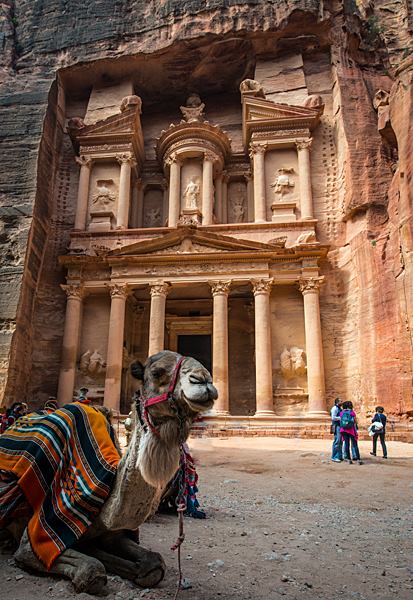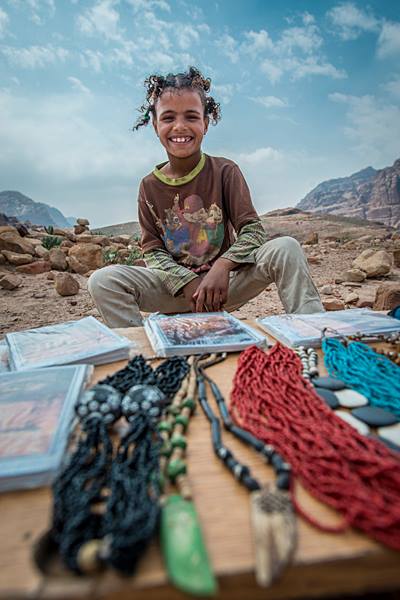 We'll freshen up before dinner and then we'll head out to a local restaurant, and for any who aren't totally wiped after we dine, we'll go to the oldest bar in the world which is inside a cave that is a 2000-year-old Nabataean tomb!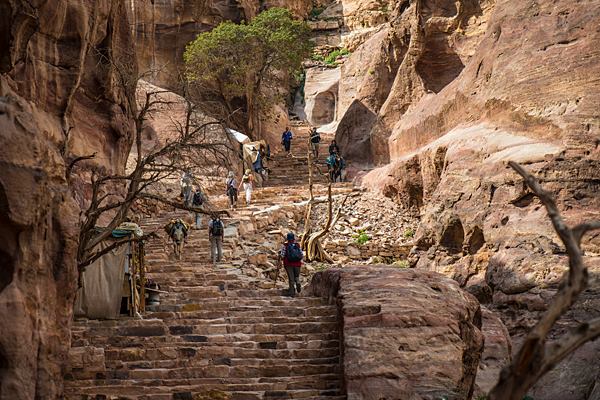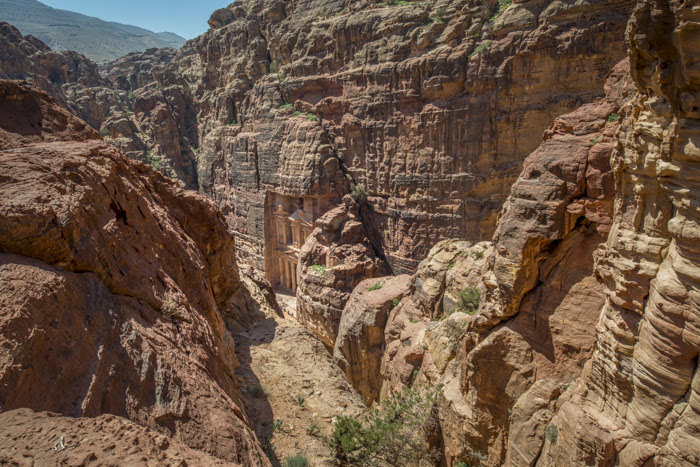 Breakfast, Lunch, Dinner, Overnight Petra Palace
November 9, Day 4 – Dana nature preserve – hiking and camping:
Today we'll transfer to meet our local adventure guide at Feynan and will hike and scramble over rocky terrain along the rim of Wadi Shagg al Kelbe, and round the steep slopes of Wadi Dana. The trail leads into the terraced gardens of Dana Village, where villagers cultivate fruits and herbs, and where you can see old Ottoman houses and traditional lifestyles. Tonight we'll camp in the 380 square kilometre biosphere.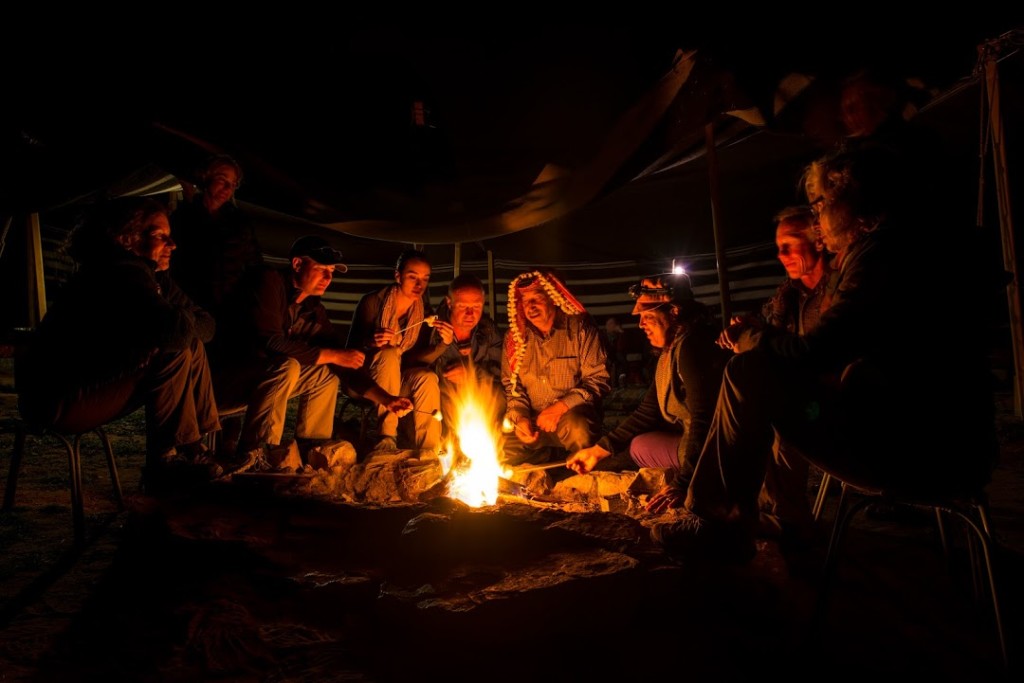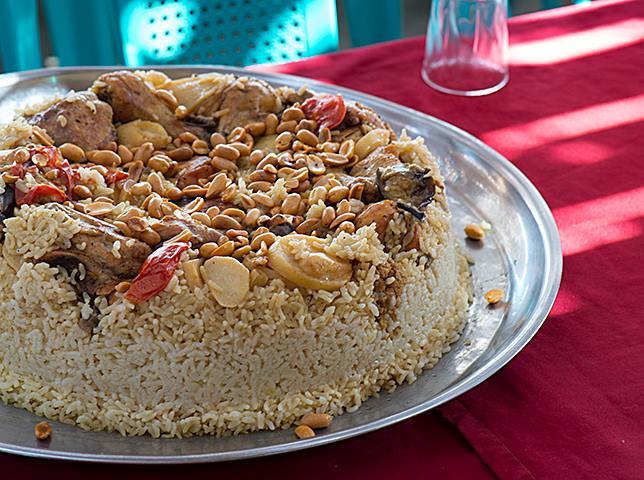 Breakfast, Lunch, Dinner, Overnight camping
November 10, Day 5 – Wadi Rum, glamping with Bedouin –  eat like a sheik – it's Lawrence of Arabia time: This afternoon Salem and his team will greet us in Rum village and will drive us across the desert wilderness of Wadi Rum to to their camp where we'll be spending the next two nights. As we drive across the desert sands it might remind you of the majestic sweeping landscape shots from Lawrence of Arabia because that's exactly where we'll be, in the footsteps, or camel tracks, of Lawrence (and Peter O'Toole too).
Our Bedouin campsite is at a secluded location deep in the desert. We'll settle down and will feast on dishes such as 'Zarb'—a traditional Bedouin dish of meat and vegetables cooked in a sand oven. We'll gather around the campfire, banter with our hosts and will become acquainted with the extraordinary people who are the Bedouin of Wadi Rum.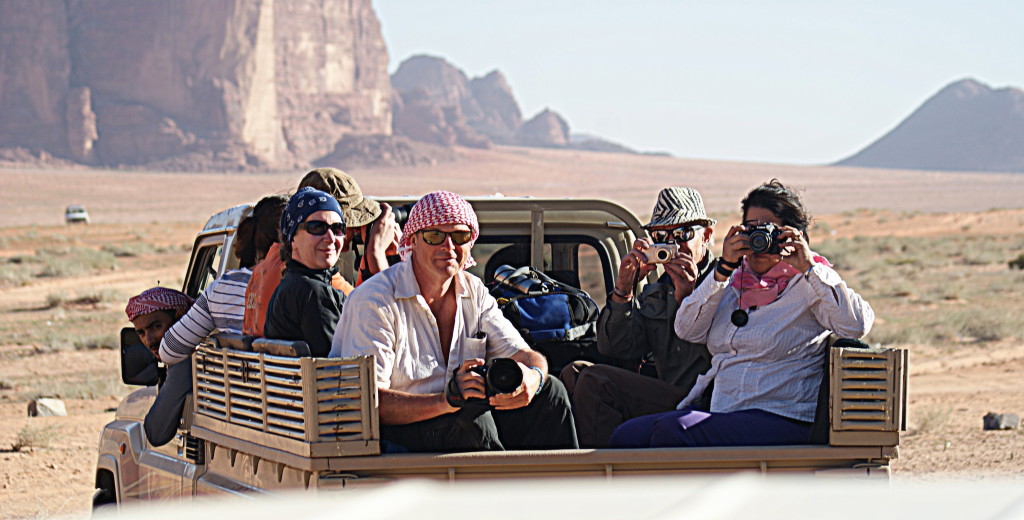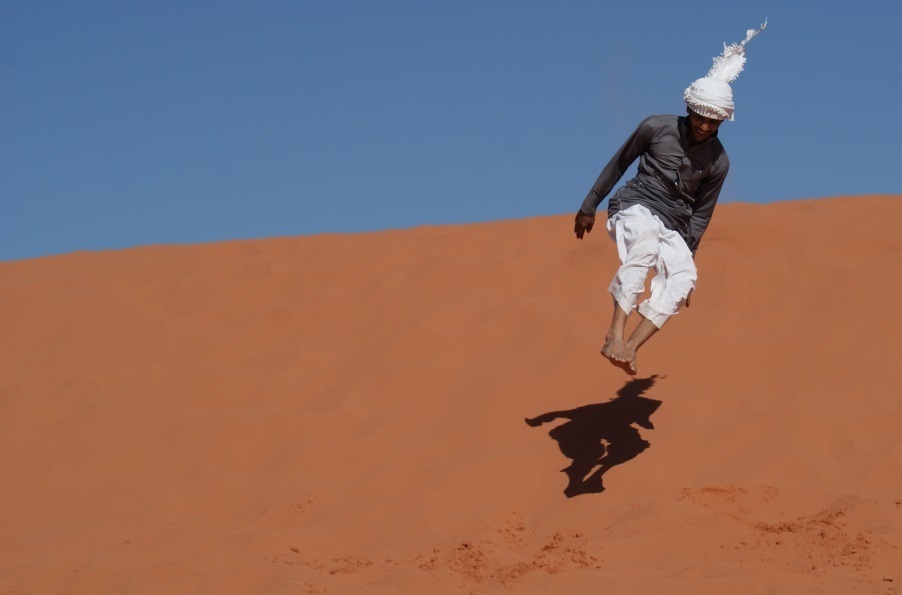 Sleeping in the desert: you'll have the option of snoozing in your traditional Bedouin tent made of goat hair, or you can take your mattress out for a night under a starry sky with zero light interference.
Breakfast, Lunch, Dinner, Overnight in Bedouin camp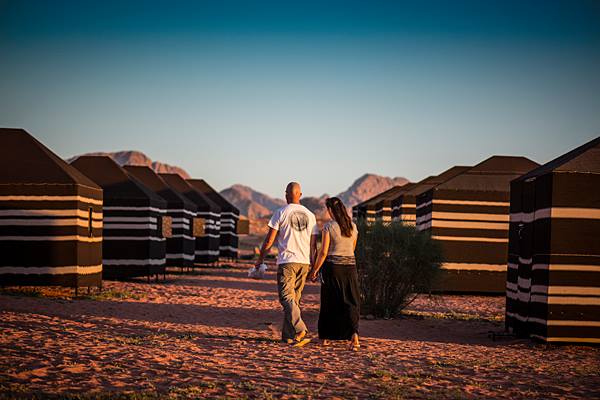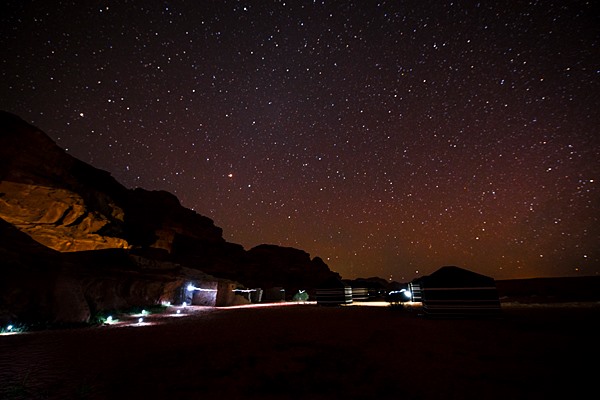 November 11, Day 6 –  camel trek and traditional lunch with Bedouin family at their home: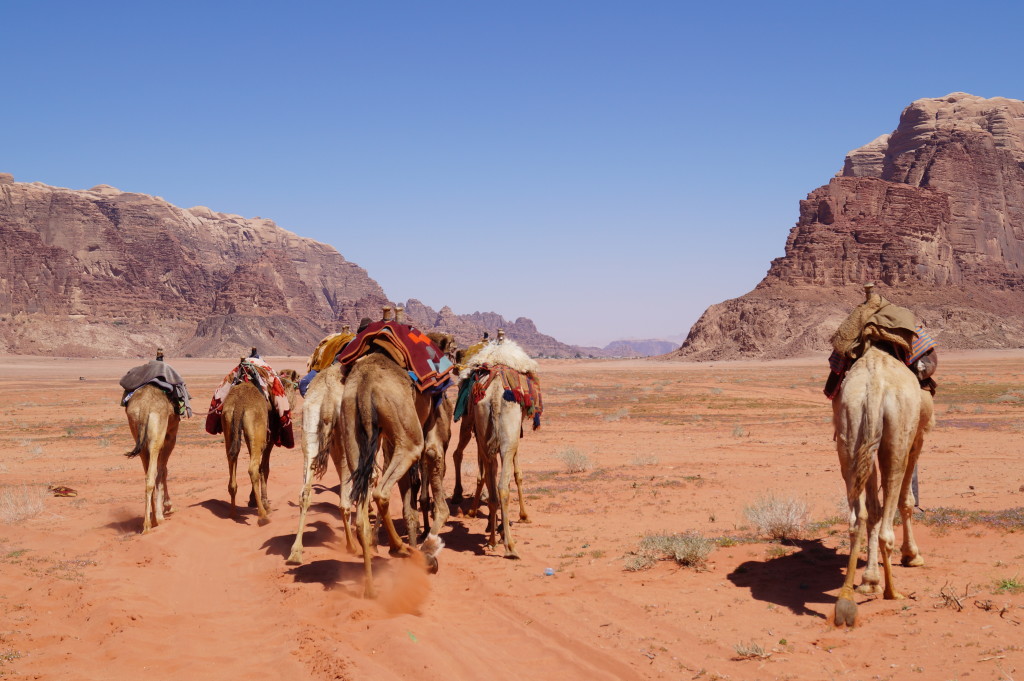 After breakfast we'll ride camels to Rum village where we'll partake in an authentic lunch experience. This is going to be full-on cultural immersion, and it's an honour for us to have been extended this invitation.
Breakfast, Lunch, Dinner, Overnight Bedouin Camp
November 12, Day 7 – hot air balloon ride over Wadi Rum, swimming in the Red Sea, old suqs of Aqaba: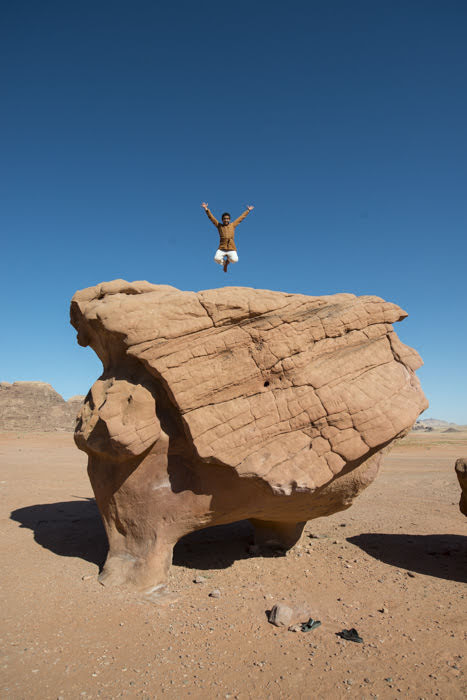 We will rise early this morning for our hot air balloon adventure.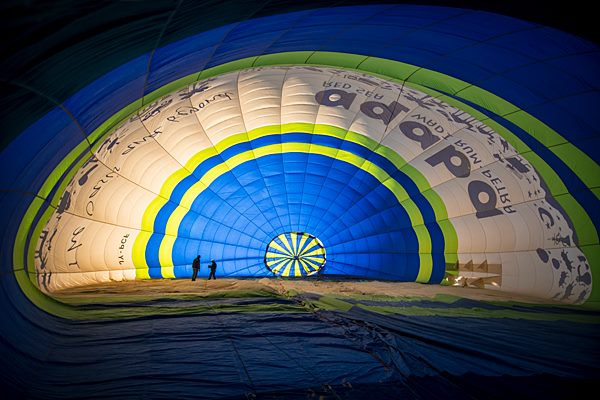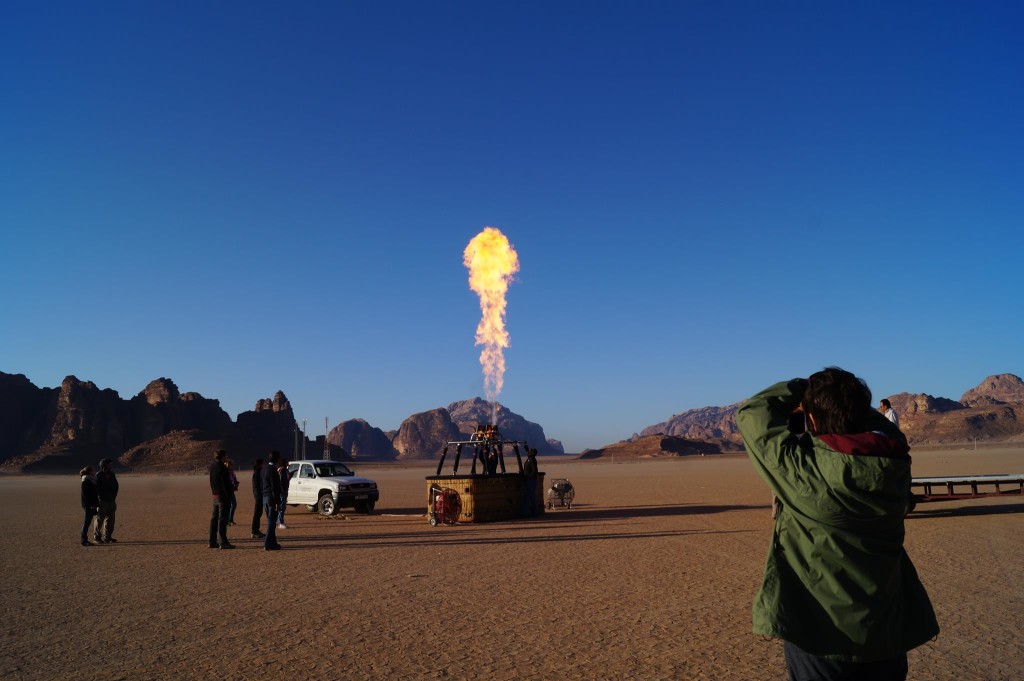 Then we'll drive to Aqaba to swim in the Red Sea.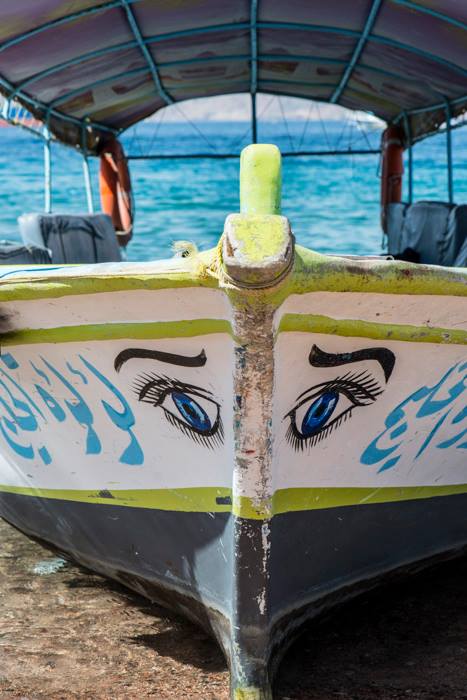 Then we'll lunch and sniff our way through spice shops in the old suqs of Aqaba before heading to ancient Madaba and to your host's favourite restaurant in this town once ruled by both the Roman and Byzantine empires.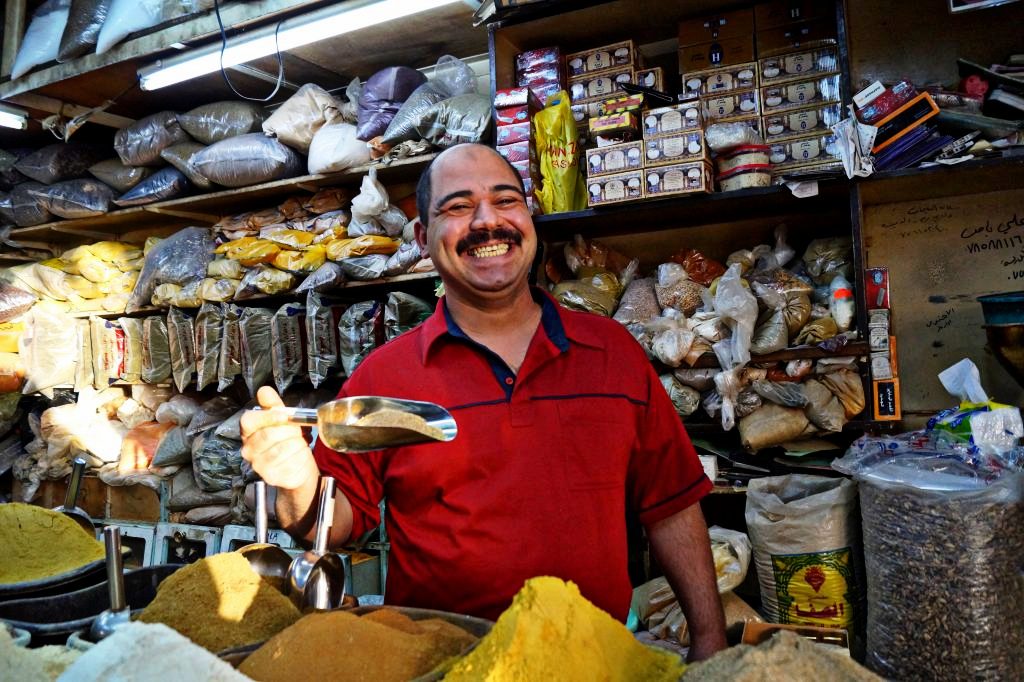 Breakfast, Hot Air Balloon Ride, Lunch, Dinner, Overnight in Madaba (pool, wifi, beautiful bar)
November  13, Day 8: – Breakfast, then farewell, and if you are leaving Jordan today we will transfer you to the airport. The hotel is about twenty minutes from the airport.
Prices, Inclusions, and Exclusions followed by your hosts' bios
Price per person is US$2660 in double room accommodations. Single price supplement for solo travellers requesting a private room is US$160 (so if you snore, or are a light sleeper, or get farty from falafels, it's money well spent).
A $350 USD deposit per person reserves your spot and can be made by credit card. This of course is subtracted from your total. The payments are broken down into three instalments.
Please contact us with questions or to make a booking at: writers-expeditions@mail.com (and also CC kirstenkoza@gmail.com to make sure we get it). You can also reach us in a private message from our Writers' Expeditions Facebook page. We respond quickly so if you don't hear back from us, please check your spam bin.
Inclusions:
Accommodation: 4nts in 3-star hotels, 2nts in a Bedouin camp, and 1nt in an eco camp
Meals: all meals while on tour – 7 Breakfasts, 6 Lunches, 7 Dinners – plus treats throughout the trip
Guides: licensed English-speaking Jordanian guide throughout the trip, local hiking guide in Dana, local Bedouin guides in Wadi Rum
Digital professional photographs of your adventure and assistance with yours
Transportation: in a private air-conditioned bus, by camels, hot air balloon, and open-air military-style Land Cruisers in Wadi Rum
Entrance Fees: Dead Sea beach access, Petra 2-day pass, Wadi Rum, Aqaba beach access
Activities:  photography, sightseeing, tastings, camping, hiking, swimming, culture, cooking class, hot air balloon (should weather be unsuitable for a hot air balloon ride this will be refunded), and for anyone interested in travel or memoir writing – your host is always available to give you tips
Exclusions:
Flights to Jordan
Jordanian visa (single entry) which you obtain at the airport and is 40JD (about 56USD)
Travel Insurance
Drinks (except where listed in the itinerary)
Tips to local Jordanian guides
Your Hosts and Expedition Designers Described by Kirsten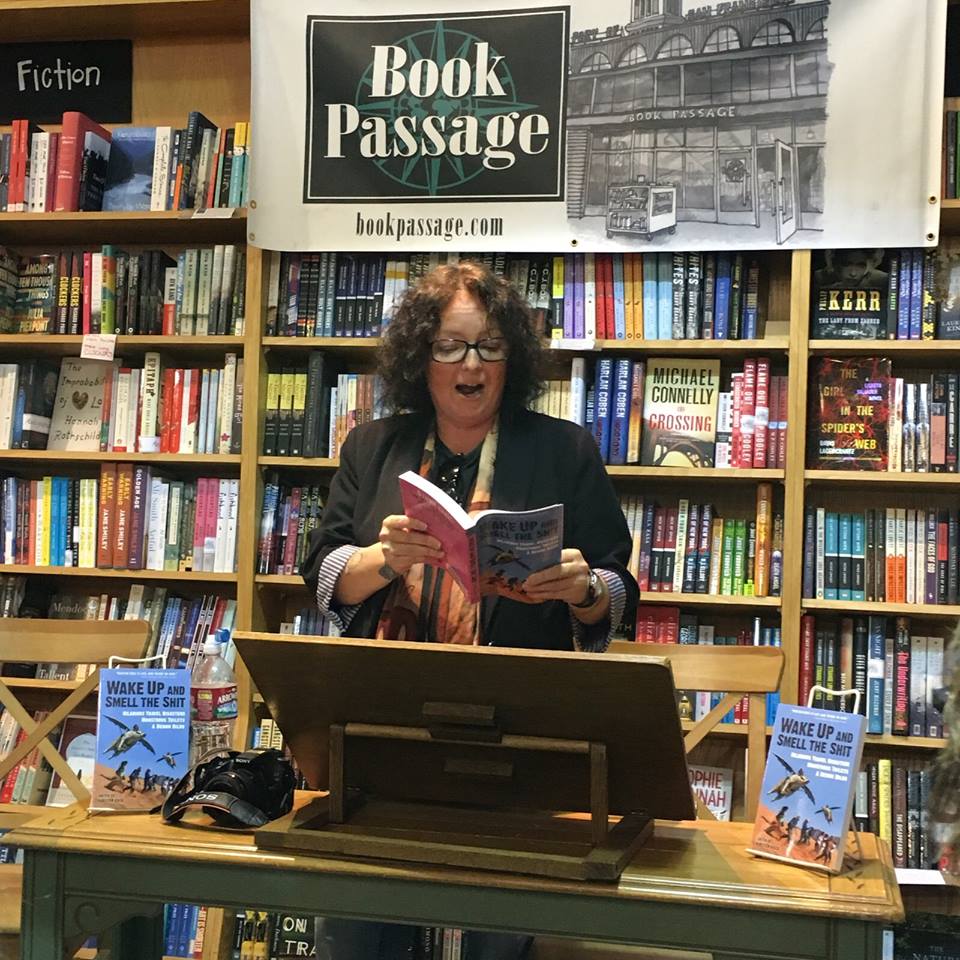 Kirsten Koza: I'm your host and expedition designer and am a professional adventure travel writer, author, humourist and journalist. I ruthlessly pretest the Writers' Expeditions trips to find the best local guides, tour operators, and unique adventures, so you can have a great experience. I've had more than seventy stories published in books, magazines, and newspapers around the world, on topics as varied as going inside the largest Syrian refugee camp, bullfighting, cannibalism, tornado chasing, mountain biking, dildos, dictators, Putin, gluten, mutants, and politics.  I've even made the front page of Kyrgyzstan's national newspaper. I'm the author of Lost in Moscow: A Brat in the USSR and edited the Traveler's Tales anthology Wake Up and Smell the Shit: Hilarious Travel Disasters, Monstrous Toilets, and a Demon Dildo.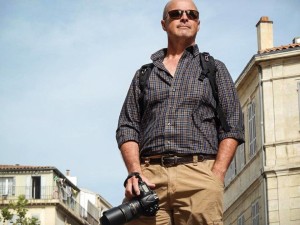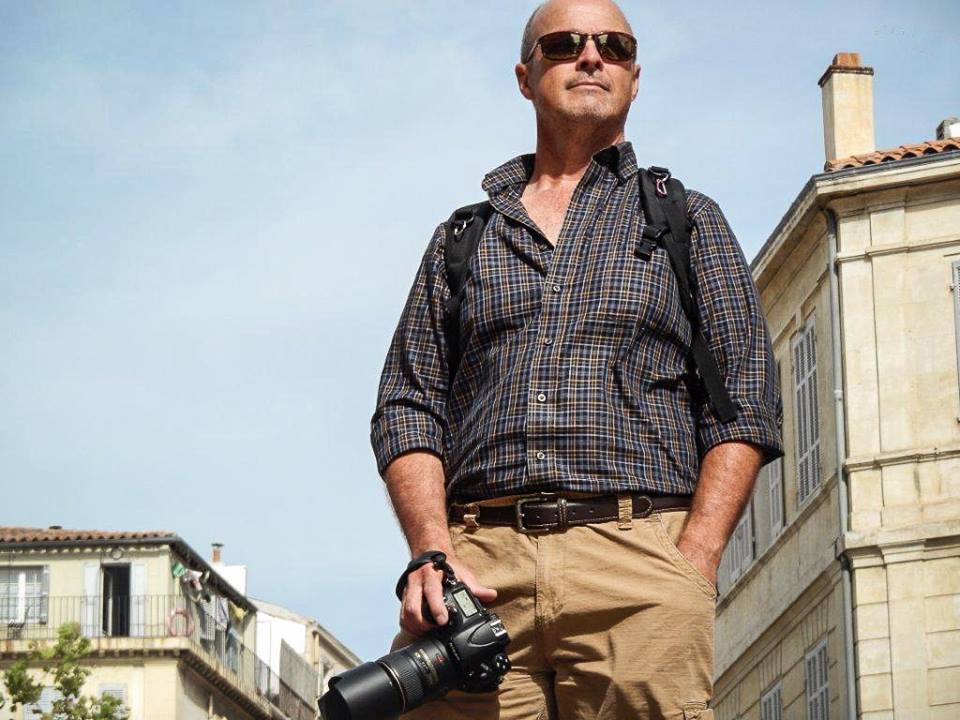 Christopher Campbell: once again I've invited one of my favourite photographers (and one of the best travel companions you'll ever meet) to lead our photographic adventures and share a lifetime of tips, tricks & technique. You have probably seen his images displayed on TV's Food Network cooking shows or in publications as varied as Chatelaine, Spa Magazine, or Harper Collins cookbooks–and most definitely in ads–he's the one you can blame for making you crave Absolut Vodka, Kahlua, that dew dripping glass of Gordon's gin, Florida oranges, late night fast food at Wendy's or McDonald's (blame him for that), or test driving a Mercedes—that's Christopher Campbell's fault too. This is the seventh photography expedition he's hosted for Writers' Expeditions and his second for us in Jordan.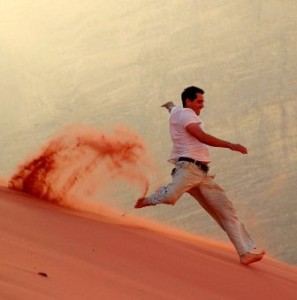 Rakan Mehyar: After first doing a Dead to Red Sea mountain biking tour with Rakan Mehyar's Jordanian company, and falling in love with both the place and his team, I then asked him to organize an epic eating fest and expedition (with no bicycles), which we first ran in 2014. Rakan received his training at the Cesar Ritz in Switzerland and thus was the perfect man to arrange our activity packed adventure.
And we now leave you with some more images from our past adventures in Jordan and hope you can join us in 2019.